Operation Smile continues bringing smiles for HCM's patients
As many as 137 patients screened and 110 patients received free medical service thanks to the Medical Mission program by Operation Smile Vietnam (OSV) on July 8.
Photo: OSV
This medical mission was assisted by doctors, nurses and staff from University Medical Center HCMC, as well as sponsored by Turkey Dash 6
Operation Smile Vietnam is a charity organization that provides free reconstructive surgeries to children born with facial deformities.
In nearly 30 years of operating in Vietnam, Operation Smile has transformed the lives of more than 40,000 children and teenagers by bringing back the smiles to their faces.
In 2018, the organization is targetting to bring 3,000 new smiles to Vietnamese children with facial deformities./.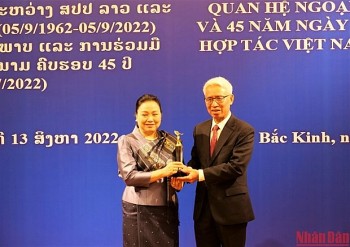 Friendship
The embassies of Vietnam and Laos in China held a friendship exchange in Beijing on August 13 in celebration of the 60th anniversary of the two countries' diplomatic ties (September 5) and 45 years since of signing of the Treaty of Friendship and Cooperation (July 18).