Oscar 2021: A historical winning year for Asian women
After being pushed back by two months, the 93rd Academy Awards were held on Sunday, which was broadcast from two locations in Los Angeles: The Dolby Theatre and Union Station. This year's Oscar is a big winning year for Asian women, with Chloe Zhao won best actor and picture, and Yuh-jung Youn becomes first Korean to win acting Oscar.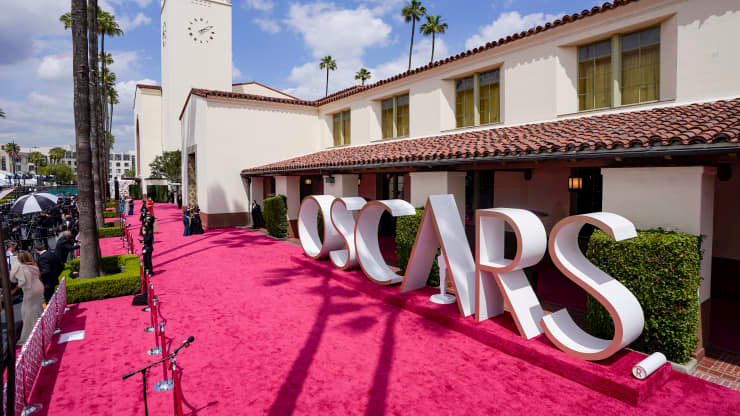 A view of the red carpet during the 93rd Annual Academy Awards at Union Station on April 25, 2021 in Los Angeles, California. Pool | Getty Images Entertainment | Getty Images
The 2021 Oscars Sunday was a little bit different. Play-off music didn't interrupt speeches, it was more relaxed.
Also history was made, with Chloé Zhao becoming the second ever woman to win best director and the first woman of color to nab that award. Minari's Youn Yuh-jung won best supporting actress, the first Korean acting win in the show's 93-year history. Perhaps surprisingly, Anthony Hopkins won best actor for The Father, beating the late Chadwick Boseman, who had been the favorite. On Monday, Hopkins spoke warmly of Boseman in a video posted to Instagram.
Zhao makes history with Oscar wins for Best Director, Film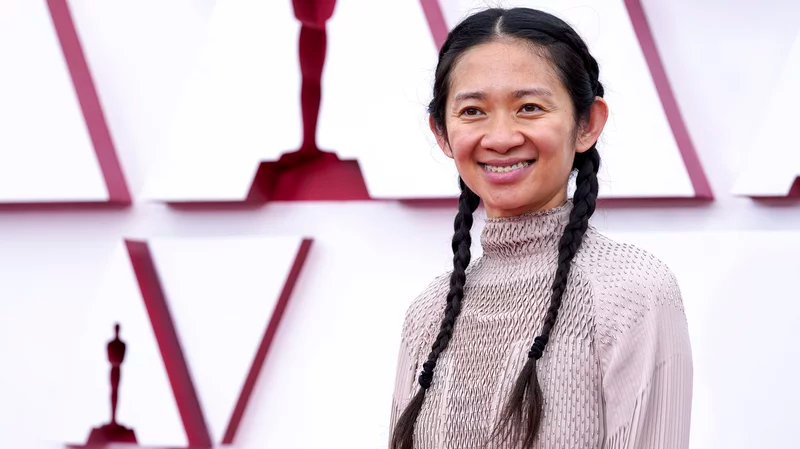 Director Chloé Zhao at the 2021 Oscars. She was the first woman to receive four Oscar nominations in a single year. Pool/Getty Images
Chloé Zhao has won the Oscar for directing Nomadland, becoming the first woman of color to win the award and the second woman to win (Katheryn Bigelow, was the first). Zhao was also the first woman to get four Oscar nominations in a single year, in the Best Film Editing, Best Adapted Screenplay, Best Director and Best Picture categories, NPR reported.
Nomadland offers a glimpse into the lives of older Americans who live and travel in their vehicles, mainly for economic reasons, embracing it as a nomadic lifestyle. The film's cast includes real-life nomads.
Zhao and Frances McDormand, who produced and stars in Nomadland, traversed the country for months, meeting the nomads and incorporating their experiences into the film. "I'm looking for some kind of truth," Zhao told NPR. "I'm looking for some kind of authentic moments."
Zhao grew up in Beijing and attended a boarding school in London before moving to Los Angeles to finish high school. She got her bachelor's degree in political science, then studied film at NYU, where one of her teachers was director Spike Lee. At NYU, Zhao began creating her cinematic style of blending fiction and documentary.
For her first feature film in 2015, Songs My Brothers Taught Me, she also used non-actors. She shot it at the Pine Ridge Reservation in South Dakota. "There was such an American message and identity in these images," Zhao told NPR "The clash between the old and the new, seeing a Lakota boy on bareback on a horse at a gas station, and he's wearing a Tupac T-shirt, is very special. So that's how I first went there." Songs My Brother Taught Me premiered at the Sundance Film Festival.
Her second feature, The Rider, premiered at the Cannes Film Festival in 2017. It told the story of a young rodeo rider who suffers a traumatic brain injury and received the festival's Art Cinema Award. Next up for Zhao: the November release of her directorial debut in the Marvel cinematic universe, The Eternals.
Yuh-jung Youn becomes first Korean to win acting Oscar
South Korean performer Youn Yuh-jung has won the best supporting actress Oscar for her role in Minari at the 93rd Academy Awards, which are taking place in Los Angeles.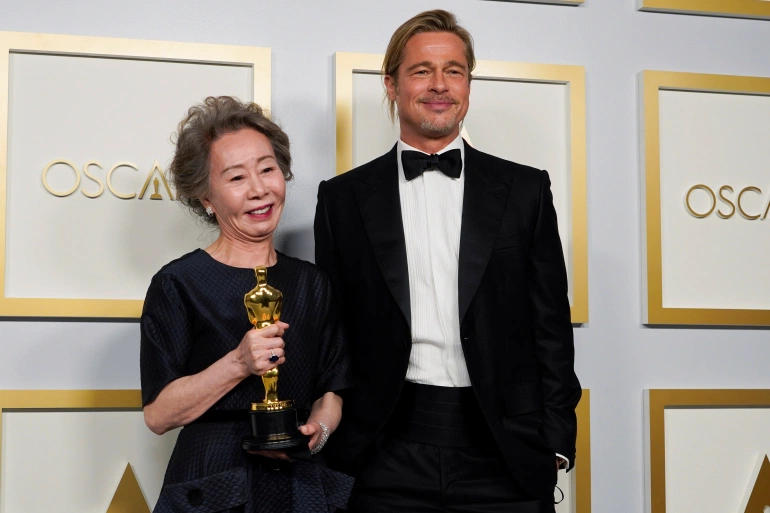 Yuh-jung Youn and Brad Pitt in the press room at the Academy Awards. (Photo by Chris Pizzello-Pool/Getty Images)
In Minari, Youn plays Soon-ja, "grandma" to young David, who comes from Korea to stay with the family on their farm in Arkansas. She brings with her the "minari" seeds that gives the film its title.
Youn defeated a strong field including Glenn Close (for Hillbilly Elegy), Olivia Colman (The Father) and Amanda Seyfried (Mank) but she was considered the favourite to win after taking the Screen Actors Guild and Bafta best supporting actress awards. At the latter ceremony Youn memorably thanked "very snobbish" British voters for her prize, according to The Guardian.
Youn was on relatively restrained form at the Oscars, after kicking off by "forgiving" everyone for pronouncing her name incorrectly. She thanked the Academy fulsomely and praising the Minari "family", particularly the film's director Lee Isaac Chung. However, she did explain that she "usually just watches the Oscar on television". "Me being here myself I cannot believe. Let me pull myself together."
She finished her speech by saying she didn't believe in competition – "How can I win over Glenn Close?" – and said thank you to her "two boys who make me go out and work". She added: "This is the result because mummy worked so hard!"
Oscars 2021: Highlights and winners
The 93rd annual Academy Awards made history before the first award was even handed out.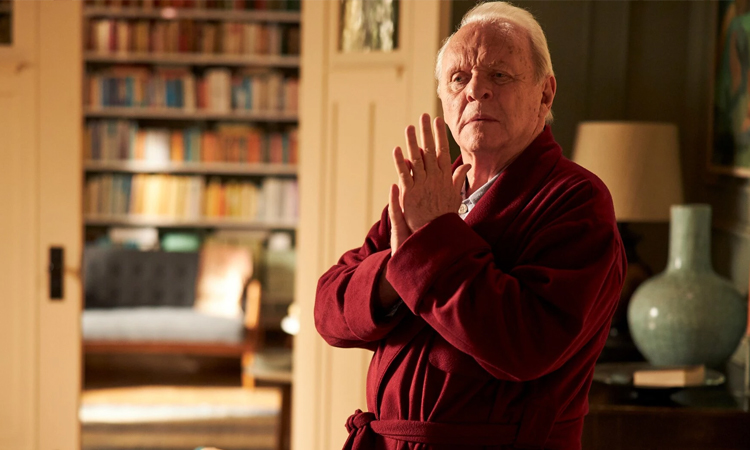 Anthony Hopkins stars in Sony Pictures Classics' "The Father." Sony Pictures Classics
After years of criticism for a lack of diversity, this year's slate of nominees contained some notable firsts. It was the first time an all-Black producing team was nominated for best picture, the first time two actors of Asian descent received a nod for best actor and the first year that two women were nominated for best director. When the winners were revealed, it reflected this spirit of inclusion.
Chloe Zhao took home the best directing trophy, becoming the second woman to claim the title. Her film, "Nomadland," also snagged the top prize of the night, best picture.
Mia Neal and Jamika Wilson, two-thirds of the hairstyling and makeup team behind "Ma Rainey's Black Bottom," also made history on Sunday. The pair are the first Black women to receive a nomination for best makeup and hairstyling and now, the first to win.
"Soul," which took home the best animated feature award, is also Pixar's first film to feature a Black character in the lead.
Yuh-Jung Youn was the first Korean performer to win in one of the four acting categories. Youn won the best supporting actress prize for her work in Lee Isaac Chung's "Minari."
The biggest upset of the night was Anthony Hopkins winning the best actor trophy over the late Chadwick Boseman. Boseman posthumously took home the best acting awards at the Critics Choice, Golden Globes and Screen Actors Guild awards this year.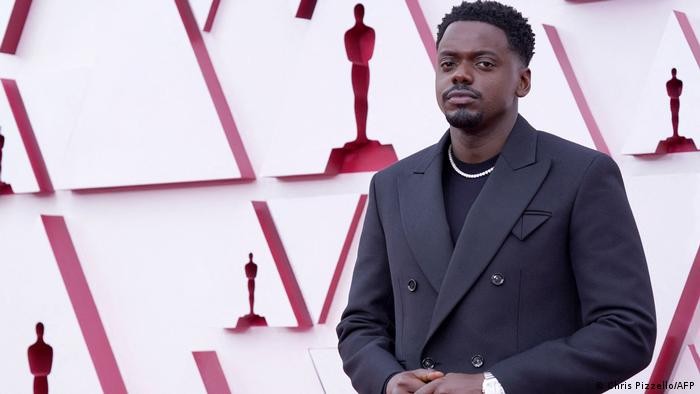 British actor Daniel Kaluuya won the prize for best supporting actor for 'Judas and the Black Messiah'. Photo: AFP
Netflix won the night, taking home seven trophies — two for "Ma Rainey's Black Bottom," two for "Mank" and then individual awards for best live-action short, best animated short and best documentary feature.
Disney had the second-largest haul with five, including three wins for "Nomadland" and two for "Soul."
List of Oscar 2021 winners
Best Picture
"Nomadland" — Winner
Best Director
Chloé Zhao, "Nomadland" — Winner
Actress in a Leading Role
Frances McDormand, "Nomadland" — Winner
Actor in a Leading Role
Anthony Hopkins, "The Father" — Winner
Actress in a Supporting Role
Yuh-jung Youn, "Minari" — Winner
Actor in a Supporting Role
Daniel Kaluuya, "Judas and the Black Messiah" — Winner
Original Song
"Fight For You" from "Judas and the Black Messiah" — Winner
Animated Feature Film
"Soul" — Winner
Makeup and Hairstyling
"Ma Rainey's Black Bottom" — Winner
Visual Effects
"Tenet" — Winner
Cinematography
"Mank" — Winner
Film Editing
"Sound of Metal" — Winner
Production Design
"Mank" — Winner
Sound
"Sound of Metal" — Winner
International Feature Film
Denmark, "Another Round" — Winner
Documentary Short Subject
"Colette" — Winner
Documentary Feature
"My Octopus Teacher" — Winner
Live Action Short Film
"Two Distant Strangers" — Winner
Animated Short Film
"If Anything Happens I Love You" — Winner
Original Screenplay
Emerald Fennell, "Promising Young Woman" — Winner
Adapted Screenplay
Christopher Hampton and Florian Zeller, "The Father" — Winner
Original Score
"Soul" — Winner
Costume Design
"Ma Rainey's Black Bottom" — Winner