Over 350 artisans to show off skills at Hue Traditional Craft Festival
More than 350 artisans and 62 craft production facilities and villages, both domestic and international, have registered to participate in the Hue Traditional Craft Festival, which is scheduled to take place from April 26 till May 2, the festival's organiser said.
Illustrative image (Photo: VNA)
Aside from Vietnamese localities, 25 foreign cities that have established cooperative ties with Hue ancient capital city are expected to join the festival, said Nguyen Van Thanh, Chairman of the municipal People's Committee and head of the organising board
Artisans will come from such countries as Japan, the Republic of Korea (RoK), Turkey, Brazil, and China, he added.
Festival goers will have a chance to enjoy a special performance by famous RoK artists like SinB, Tae Kyu Yun, and Rae Joon, as well as music by the band Vitamin Angel.
The festival, in its eighth version, aims to honour the quintessence of traditional crafts, improve production and business efficiency of traditional craft villages, enhance cooperation across spheres, spur socio-economic growth, and combine handicrafts with tourism development, Thanh said.
He added that the municipal People's Committee expects to organise a large-scale festival to contribute to promoting the image of Hue city, which is home to the five UNESCO-recognised heritages of the Complex of Hue Monuments, Nha nhac (Vietnamese court music), the woodblocks of the Nguyen Dynasty, the imperial archives of the Nguyen Dynasty, and the literature on Hue royal architecture.
VNF ( VNA )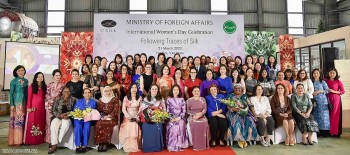 Friendship
Female ambassadors, representatives from diplomatic corps and international organizations, along with spouses of diplomats in Vietnam gathered together to find about more about silk weaving and silk products in Vietnam.