PACCOM, AMPA Education support children to approach creative education
AMPA Education hopes to express the message "Creative Education was a basis of the in depth development of children's future"
AMPA Education hopes to express the message "Creative Education was a basis of the in depth development of children's future"
At the event on April 12. (Photo: VNF)
The meeting was held to point the cooperation between the Academy of Music and Performing Art (AMPA Education) and the People's Aid Coordinating Committee (PACCOM) – one of the body of Vietnam Union of Friendship Organizations (VUFO).
Tran Thi Thu Thuy – Head of the representative office in the South region of VUFO said in the signing ceremony: "It is an idea to help not only urban children, but also children in the poor area to approach the art and music. We promise to be a companion of AMPA Education in the following time to deploy this art-music project in every region and we believe it is going to be successful"
The project which was new in Vietnam contemporarily and in next years was a community's activity.
AMPA Education was founded with a hope of shortening the distance of the education to support talent students who did not had enough financial conditions by Trinh Cong Son's scholarship.
Through art and music, AMPA Education gradually accomplish the mission of bringing the conditions and environment to every children in every region to touch the Creative Education as in the international standard for training them to be global citizens while still preserving the traditional value.
AMPA Education hoped Vietnamese children to reach the creative education comprehensively and accurately.
Dream Space was a main project of AMPA Education to create a space for art, music and cultural education for over 8 million Vietnamese primary school students. AMPA Education step by step deployed the first Dream Space project in Vinh Long and is going to finish in 2019 school year.
Arts Nation – another vital project of AMPA Education was a non - profit center of art and music performance for students in all age. It also had a purpose of connecting education to community's development through art and music. All of the source of funding for educating and other activities of Arts Nation is investing on communal education projects to spread art and music education to every Vietnamese children.
Bui Vu Thanh – Founder and Head of AMPA Education said: "Creation is an ability that children need to have in the future for invention of technology and other aspects. I think the educationalist have to give creative skills to them. This program step by step makes art and music not become far away from them."
Translated by Thanh Van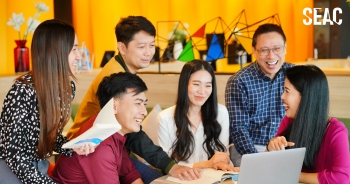 Economy
SEAC, a leading corporate and lifelong education innovator, is shaking up the Thai and ASEAN education market with significant investment to expand its SMART learning solutions across the ASEAN region.