Party Chief Highlights Resolve to Develop Modern Diplomacy with "Vietnamese Bamboo" Characters
Over the past 90 years, under the leadership of the Party and President Ho Chi Minh, Vietnam has built a unique and special diplomacy of the Ho Chi Minh era with strong "Vietnamese bamboo" characters, Party General Secretary Nguyen Phu Trong said at the first National Conference on Foreign Affairs in Hanoi on December 14.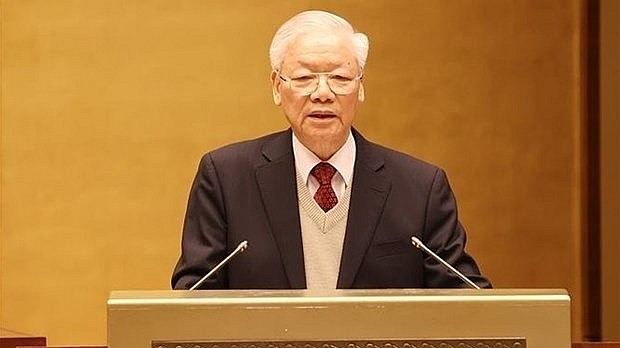 Party General Secretary Nguyen Phu Trong speaks at the first National Conference on Foreign Affairs in Hanoi on December 14. (Photo: VNA)
Like bamboos with strong roots, solid stems and flexible branches, Vietnamese diplomacy is soft and clever but still persistent and resolute; flexible, creative but consistent, valiant and resilient against all challenges and difficulties for the national independence and people's happiness; united and humanitarian but resolute, persistent and patient in safeguarding the national interests, he said.
Vietnamese diplomacy is the combination of softness and powerfulness on the foundation of understanding itself and others as well as the situation, the Party leader said.
Party General Secretary Trong suggested that the diplomatic sector should reform its mindset and seek suitable solutions in external affairs.
"Without continued renovation and properly grasping the situation, we cannot catch up with the development of the reality. We need to build a new stature and position in behaving and dealing with relations with other countries both bilaterally and multilaterally," he stressed.
The Party chief underlined the need to show stronger voice and more positive stance in foreign affairs, while continue to popularise and properly implement the external policy of independence, self-reliance, peace, cooperation and development, multilateralisation, diversification of relations, active and positive international integration for the interest of the country and nation, while combining cooperation and combat, strengthening collaboration and continuing to create the advantages compared to other countries, thus preventing conflicts and avoiding confrontation as well as isolation and dependence.
The General Secretary said the world is changing rapidly and although facing difficulties, Vietnam still has a bright future.
The whole Party, people and army have been united with high determination to successfully implement the Resolution of the 13th National Party Congress, he said, underlining that the conference marked a new milestone of the diplomatic sector and made a new and stronger change towards higher efficiency of external affairs, thus successfully realising the external policy adopted at the Congress.
The National Conference on Foreign Affairs is the first held and directly steered by the Politburo and the Party Central Committee's Secretariat to discuss the Party, State and people diplomacy. It aims to implement the 13th National Party Congress' Resolution regarding foreign relations.
Nhandan