PeaceTrees Vietnam aims to clear 3,000,000m² of contaminated land in 2019
According information released in PeaceTrees Vietnam's (PTVN) fanpage, they aims to clear 3,000,000 square meters of land in 2019.
Photo: PTVN
PTVN' core work is the removal of unexploded ordnance (UXOs). Their teams separate explosives into 7 categories: aircraft bombs, cluster submunitions, fuzes, grenades, mortars, projectiles, and rockets. Due to their relatively high failure rates, (cluster munitions from the Resistance War against America were estimated to have a failure rate of up to 30% for example), a large number of them have remained, viciously and deceptively dormant, waiting for unsuspecting farmers or curious children to come across them.
These unexploded ordnances have the terrifying potential of ending lives and inflicting significant trauma to victims, families, and entire communities all in a second. In the words of Le Thi Thuy Hang, a student from Tan Thanh Middle School attending one of PTVN's Mine Risk Education camps, "left behind are quiet houses with widows and orphans."
In 2016, PTVN's teams have cleared 236,629m² of contaminated land, over twice that amount in 2017 with 533,521m², 1,273,274m² in 2018, and for 2019 they are on pace to clear a whopping 3,,m².
PTVN was founded in 1995 by Danaan Parry and Jerilyn Brusseau — whose brother, US Army helicopter pilot Lt. Daniel Cheney, was shot down and killed during the Vietnam War in 1969.
PTVN's efforts and support have contributed to healing the scars of war, restoring trust, and fostering friendship between the two countries' people. Their activities have helped to mitigate risks regarding bomb and mine accidents, created a safe land zone for local residents, and built multiple social welfare works.
Its economic and social welfare support programmes have benefited victims of bombs and mines, ethnic minority groups, and the poor, focusing especially women and children./.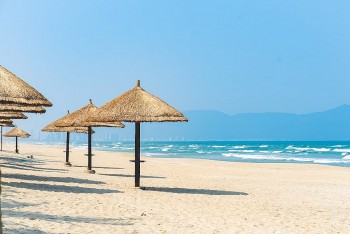 Travel
According to NZ Herald News, Da Nang beach is an ideal place to sunbathe during summer vacation.