PetroVietnam draws up scenarios to cope with double impact of the Covid-19 epidemic
PetroVietnam has set up many scenarios to cope with the double impact of the Covid-19 epidemic and the nosedive of oil prices in the world market.
According to PetroVietnam general director Le Manh Hung, with the two difficulties, PetroVietnam is passing through the hardest times in its history.
"However, there are always opportunities in challenges, and we have to seize them in order to overcome this difficult time," Hung said.
PetroVietnam has made plans to deal with dropping oil prices and a prolonged COVID-19 epidemic
Hung required PetroVietnam (PVN) and its members to restructure business activities in case Covid-19 spreads and to drive the group's business in the safest and most effective direction.
The group's members were instructed to review the work, strengthen governance, implement solutions to reduce costs and research, propose solutions to remove difficulties, offer scenarios to cope with each situation, and prepare with a contingency plan for the worst-case scenario of a shutdown of oil fields and refineries.
PVN's members have prepared carefully calculated plans to begin buying crude oil and petroleum products as soon as the price hits the bottom in anticipation of a bounce back and a return to normalcy.
The world and the Vietnamese oil and gas industries are coping with great difficulties.
In the first three months of 2020, under the negative impact of the COVID-19 epidemic, many major economies in the world and in Vietnam are witnessing a direct downturn in all business sectors as the value chains are seriously affected by disruptions on both the supply and demand side of goods and raw materials.
On March 18, 2020, the price of Brent oil dropped heavily to approximately $24-25 per barrel. With the current reduction rate of 7-8 per cent per day, the world crude oil price is likely to drop to below $20 in the coming days.
In Vietnam, under the impact of the COVID-19 epidemic and the sharp decline in oil prices, many sectors have been facing difficulties, especially oil and gas, taking price to the lowest level in the last more than 17 years.
According to PetroVietnam, if the price of oil is at $60 per barrel, it will have a revenue of $4.668 billion. But if the price of oil drops to $30 per barrel its revenue from selling crude oil will be only $2.362 billion.
The company's state budget contributions will also reduce from $1.594 billion to $806 million only. PetroVietnam, meanwhile, has been strongly impacted by both factors, from exploration and exploitation to manufacturing activities and services.
Currently, Nghi Son petroleum refinery has a very high inventory of about 70-85 per cent and its storage facilities are nearing their capacity in March. The inventory of Dung Quat oil refinery is also increasing rapidly as customers delay hand over timelines due to low consumption and insufficient storage systems.
In terms of oil and gas technical services, similar difficulties are encountered as investors and contractors tend to cut and optimise production costs.
www.vir.com.vn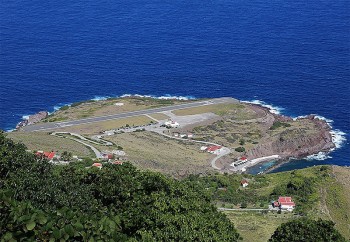 World
Most of the airports in the world are safe, with long and steady landings. But there are also several most dangerous and scariest airports, and here are some of them.