Philippine Foreign Affairs Secretary orders diplomatic protests over Chinese ships spotted in its waters
Philippine Foreign Affairs Secretary Teodoro Locsin Jr. on August 19 ordered the filing of diplomatic protests over Chinese warships passing through Philippine waters.
In this Oct. 18, 2018 photo, Foreign Affairs Secretary Teodoro Locsin Jr. represents President Rodrigo Duterte at the 12th Asia-Europe Meeting Summit and EU-ASEAN Leaders' Meeting in Brussels, Belgium.
According to Philstar Global, in a tweet this morning, Locsin directed the Department of Foreign Affairs' Office of Asia and Pacific Affairs to file the protest.
"Drop the diplomatic crap; say it is ours period; they're trespassing," the Philippines' top diplomat said.
Locsin also said the DFA should file a new protest in case it has already filed on over China's ships in the Sibutu Strait.
"We won't run out and don't wait for formal [intelligence]. This is the Secretary of National Defense no less. Fire at will," the Philippine Foreign Affairs Secretary added.
Philippine Defense Secretary Delfin Lorenzana said that the Department of National Defense is already "getting irritated" at the series of incursions of Chinese warships in Philippine waters.
Lorenzana will be joining Philippine President Rodrigo Duterte in his trip to Beijing on August. He said: "I hope the matter will be taken up in order to put an end to all these, because our people are asking why they (Chinese warships) are there."
He added that Beijing appeared to be "taunting" Manila by deploying their warships in Philippine territorial waters with the vessels' Automatic Identification Systems turned off and without prior notification to authorities.
The Philippine military's Western Mindanao Command earlier said that two Chinese warships were seen along Sibutu Start in Tawi-Tawi in July, while three were spotted in August.
Lt. Gen. Cirilito Sobejana said while the Chinese warships did not appear hostile, the passage was done without any coordination with Philippine officials.
Chinese oceanographic survey ships Zhang Jian and Dong Fang Hong 3 were spotted in the waters of Samar and Ilocos Norte, respectively.
The Philippine Defense chief earlier noted that in February, four Chinese warships have enter and sailed through the Sibutu Strait at least four times. These have been done without coordination with local authorities.
VNF/Philstar Global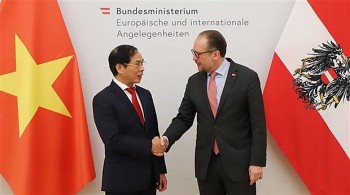 Overseas Vietnamese
Fifty years have passed since the establishment of the relationship, the two countries have enjoyed great strides in bilateral cooperation.