Poor conditions limit investment in Da Nang
Poor infrastructure investment at Industrial Parks (IPs) and underdeveloped conditions at some Industrial Zones (IZs) have limited investment in Da Nang, reported the Vietnam News.
Poor infrastructure investment at Industrial Parks (IPs) and underdeveloped conditions at some Industrial Zones (IZs) have limited investment in Da Nang, reported the Vietnam News.
Opinions were raised at a review meeting on investment promotion last week, focusing on how to remove barriers and create favourable conditions to boost investment this year.
A report from the city's Investment Promotion Centre showed that 11 foreign direct investment (FDI) projects invested US$11.4 million in the first quarter of this year, a nearly 30 per cent decrease compared with the same period last year.
In 2014, the city granted 30 new FDI projects a total of $126 million, and 16 increased capital projects $30 million – a 53 per cent fall from figures in 2013.
The centre said only 100ha of a planned 1,130ha area for IPs and IZs has completed land clearance or infrastructure construction for investors, but waste treatment zones have yet to be built in the area.
Meanwhile, poor supportive industries and materials, a poorly trained labour force, high transport fees and limited locations for industrial parks were major problems in luring investors to the city.
Koichi Akiyama, general director of Japan's Kane-M Da Nang company, said the city has yet to develop bus routes connecting to industrial zones, and land needed for developing worker apartments remained unavailable.
"I have seen many land lots left in the underdeveloped Hoa Khanh Industrial Zone (IZ) when I tour around the zone," Akiyama said. "Meanwhile, the city has allowed more IPs to open over past years that use the land poorly. I think the city should fill up the land area of an IZ before developing other areas for future development. Bus routes have yet set up, so most of our workers and other companies go to work by motorbike."
Akiyama said his company employs 500 workers and most of them are from neighbouring provinces. "We need the city to build apartments for workers, a kindergarten and recreational centres for them so they can live near the IZ," Akiyama said. "The city should support kindergarten fees to helps ease workers' difficulties."
Companies will have trouble finding skillful workers when labour-intensive enterprises from HCM City flock to IZs in Da Nang.
Director of the city's Investment Promotion Centre Lam Quang Minh said efforts were made by the city in previous years, but it hasn't yet seen an investment breakthrough.
A manager of a FDI enterprise said poor infrastructure and supportive industries in Da Nang prevent the city from attracting projects with investments of over $400 million, like HCM City, Binh Duong, Hai Phong and Bac Ninh provinces did.
As an example, the US's Rocky Lai&Associates Inc started a groundbreaking ceremony for the Da Nang Information Technology Park (DITP) in Hoa Vang district in 2013, but land clearance was the only process completed by local sub-contractors.
The park, which covers an area of 341ha with total investments of US$278 million, has yet to see a technical zone or office building built, as investors promised.
Vice chairman of the city's People's Committee, Phung Tan Viet, said the city would reclaim slowly progressing projects after a survey in the first quarter.
Huynh Van Thanh, director of the city's planning and investment department, said an investment promotion agency should be established to deal with poor investment.
Shinichi Iwama, chairman of the Japanese Enterprise Association, said many small and medium-sized enterprises from Japan wanted to invest in IZs, but they could not apply for land because of low capital investment./.
(Source: Vietnam News) ( By VNF )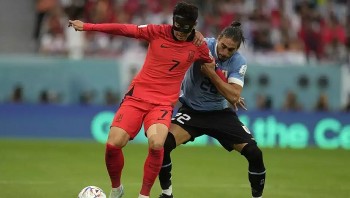 World
Both South Korea and Ghana are searching for their first wins at this year's World Cup. Ghana are facing the prospect of an early elimination from World Cup 2022 Group H when they travel to the Education City Stadium to face South Korea on Monday.