Positive outlook forecast for Vietnam's economy in 2018
However, many experts said Vietnam's economic growth in the first months of 2018 was high but not sustainable due to the dependence on the foreign direct investment (FDI) sector, as the sector's exports in the first five months accounted for about 70 percent of the country's total export turnover. 
The outlook for Vietnam's economic growth in 2018 is quite bright thanks to positive economic performance in the first quarter, said Tran Quoc Phuong, Director of the Ministry of Planning and Investment's National Economic Issues Department.
Phuong said: "After 30 years of attracting FDI, we cannot deny the role played by FDI enterprises as they already have the value chain and take Vietnam's advantages to export".
Measures should be devised to promote links between domestic and FDI firms, thus helping Vietnamese deeply join the global value chain and access more markets, he suggested.
Concerning the quality of Vietnam's growth, Phuong said that the quality of growth was improved by looking at the index of growth.
Illustration photo (source: VN Economy)
From 2011 until now, Vietnam's average growth is over 6 percent per year, a quite good growth rate for a developing country, he noted.
TFP (aggregate factor productivity) is improving, while labor productivity and per capita income have been fine-tuned, at 2,385 USD/year, almost double that of 2010 and three times higher than those in 2007, he added.
Although praising the economic prospect in 2018, Phuong also stated that the economy still faces many challenges. In addition, he also shared concerns about inflation.
Vietnam's inflation in 2018 is forecasted to suffer pressure due to the complex fluctuation of oil prices in the global market and policies related to salary increase, price adjustment of health and education services, he said.
High inflation will adversely affect Vietnam's efforts to ensure macroeconomic stability, Phuong said.
The stable macro-economy, strong improvement in policy mechanisms related to institutional reform, investment climate, administrative reform, reduction of business costs, will continue to effectively support domestic enterprises, thus promoting the development of the private sector./.
( VNF/VNA )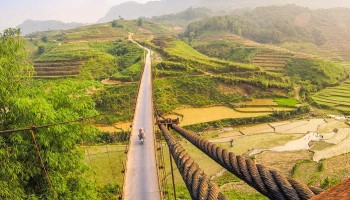 Travel
Visitors rate the 7 most amazing roads in Vietnam, weaving through mountains, jungles, and beaches, according to Lonely Planet magazine.