President calls on the nation to make all-out efforts to become an industrialised country
President Truong Tan Sang has called on the nation to make all-out efforts to become an industrialised country as soon as possible.
President Truong Tan Sang has called on the nation to make all-out efforts to become an industrialised country as soon as possible.
He said this in an article commenting on three decades of "doi moi" (renewal) process and 70 years since the nation was founded.
His speech was part of preparations for the twelfth National Party Congress.
The President said 30 years of reform had been an important historical stage in national development, helping the country convert from a centrally-planned and subsidy-based econ-omy to a socialist-oriented market one.
He said "doi moi" also helped the nation integrate into the international community and accelerates industrialisation and modernisation, adding that this would build a strong Vietnam with wealthy people and a just, civilised and democratic society.
In three decades, Vietnam has built a fundamental socio-economic infrastructure from its roots as an underdeveloped agriculture economy. This structure had been gradually modernised and the role of industry increased with good growth in trade and services.
Foreign trade turnover had increased sharply and some export staples had gained a foothold in the global market, he said, adding that the domestic economy had attracted a large volume of foreign capital investment and joined the global production value chain.
Rural economies and especially agricultural production had shifted from small-scale and scattered operations to commercial production in line with market demand and on the basis of promoting the advantages of tropical agriculture, he said.
The State leader noted that Vietnam had set up several key economic zones as well as major urban and industrial areas, which worked as locomotives for local development. The number of private enterprises and business people had grown, becoming an important force to implement the country's policy of industrialisation and modernisation, he added.
Shifts had also been seen in population and labour structures. The rural population had fallen and so had the number of workers in agriculture while the quality of human resources and local living standards had increasingly improved, he said.
However, Vietnam faced many difficulties during the international integration process during the past 30 years, he said, pointing to weak points in institutions and national governance, low productivity and poor competitiveness.
He said this hindered sustainable national economic development and heightened the risk of lagging behind other countries in the region.
There were also shortcomings in culture and society, education and training, science and technology, health and the environment - and increasing gaps between the rich and the poor, he said.
The President said new generation trade agreements with high-level commitments focused not only on opening the door for economic development but other issues, such as environmental protection, social equality, and human development. He said swift adjustments were needed to adapt to the changes.
He said Vietnam needed to foster the application of advanced technologies; pay attention to encouraging renovation, creativity, training a high-quality workforce; and actively joining production networks, value chains and global knowledge systems.
The President also said complicated changes in political and security situations in the world were not favourable for economic development.
According to him, major countries were competing against each other to spread their influence while many non-traditional security issues had arisen, threatening sustainable development and posing a series of difficulties to countries, especially small ones.
Additionally, a serious shortage of development resources, particularly natural resources, increasing contradictions between economic growth and energy demand, population booms and ageing populations and the need for environmental protection were becoming obvious, the President said.
Under great pressure
He added that fierce competition and high risks of conflict while vying for resources put developing countries under great pressure due to their weak capacity.
In the region, sovereignty violations and disputes in the East Sea were growing increasingly complicated, challenging Vietnam's independence and its efforts to maintain a peaceful environment.
Sang said that in this context, the Communist Party of Vietnam's twelfth Congress had important significance in promoting the country's "doi moi" process, national defence and efforts to maintain a peaceful and stable environment while turning the country into a modern industrialised nation.
"The current era is an ideal time for Vietnam to focus on its institutions, boost socialism-oriented market economic development, reform the national administration system and accelerate international integration towards speeding up national industrialisation and modernisation under the leadership of the CPV," he said.
He said Vietnam's industrialisation and mod-ernisation needed to be closely connected to market economic development and international integration, and that science, technology, knowledge and high-quality human resources must be considered the main driving forces of the process.
He said it was essential to establish a national innovation system to promote creativity in every inpidual, business and organisation.
The State leader also highlighted the importance of developing high-quality human resources, taking advantage of the "golden population structure" by ramping up training, particularly in tertiary and vocational training, promoting scientific and technological research and application and considering both market and business demands.
He proposed calling upon overseas Vietnamese and foreigners to participate in scientific and technological activities in Vietnam.
The President suggested maintaining investments in major and important transport projects to ensure linkages between big economic centres and trade hubs while completing and improving the national electricity grid to provide enough power for development demands, upgrading irrigational facilities and sea and river dyke systems and modernising the communications sector and the IT system.
He said there was a need to take full advantage of opportunities brought about from international economic integration to improve the competitiveness of each enterprise./.
By VNF ( According to VNS )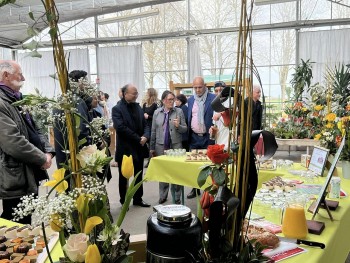 Overseas Vietnamese
Vietnamese Ambassador to France Dinh Toan Thang recently paid a working visit to Saintes, a city in southwestern France, to promote cooperation between the city and Vietnamese localities and attended the Vietnamese Culture Day, VNA reported.