President Ho Chi Minh's death anniversary commemorated in Switzerland
The Swiss Party of Labour cooperated with the Vietnamese Embassy to solemnly hold an event to commemorate President Ho Chi Minh's 50th death anniversary at its headquarters in Geneva on September 14.
Chairman of Swiss Party of Labour Alexander Eniline. Photo: VNA
In her remarks at the event, Vietnamese Ambassador Le Linh Lan said Vietnam commemorated the 50th death anniversary of President Ho Chi Minh and the 50th year of implementation of his testament.
The late president's testament has been implemented by the Vietnamese Party, Government and people, she said, particularly highlighting his will for Vietnam having "more friends and fewer enemies," and "wishing to be a friend and a trustworthy partner of all nations".
Vietnam is currently a member of various multilateral organisations, such as the United Nations (UN), the World Trade Organisation (WTO), the Asia-Pacific Economic Cooperation (APEC), ASEAN among others. Vietnam has recently been elected to the UN Security Council for the second time with 192 out of 193 votes, she said.
The Swiss Party of Labour hosting this event shows its deep respect for President Ho Chi Minh as well as Vietnam and Vietnamese people, Chairman Alexander Eniline told the Vietnam News Agency.
Several books on President Ho Chi Minh were exhibited while a documentary portraying the late president was also screened at the ceremony./.
VNF/VNA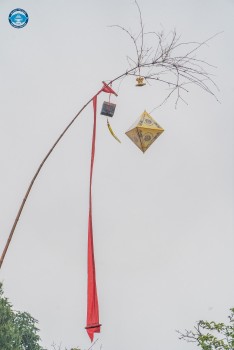 Viet's Home
In the past, the Neu pole (a tall bamboo pole with red garment strips used to ward off evil spirits during the lunar New Year) lowering ceremony at the royal palace of the Nguyen Dynasty was performed to mark the end of the New Year holiday and prepare to enter a new working year.