President Nguyen Xuan Phuc's Visit to Russia: Fresh Impetus to Deepen Ties
The visit is expected to boost bilateral cooperation in Covid-19 prevention and control, especially in promoting Russia's support for vaccine production and technology transfer.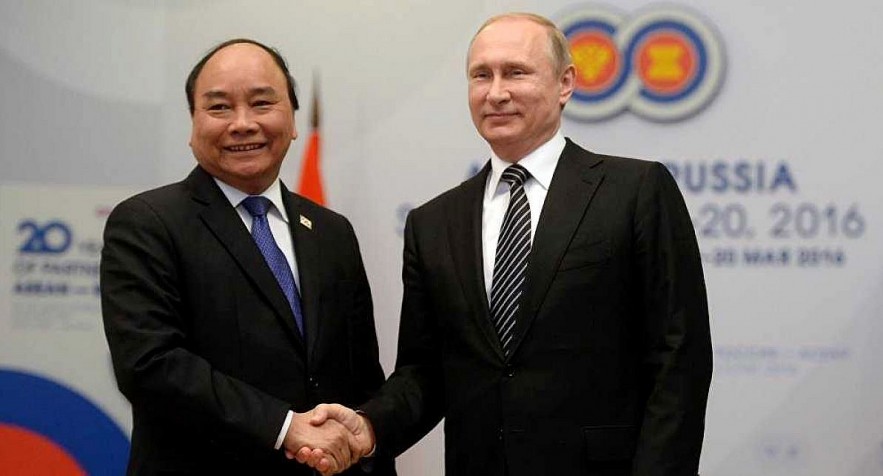 The then Prime Minister Nguyen Xuan Phuc met with President Vladimir Putin on the sidelines of an ASEAN - Russia summit in Sochi, Russia, in 2016. (Photo: VOV)
President Nguyen Xuan Phuc's official visit to Russia from November 29 to December 2, which will be made at the invitation of President Vladimir Putin, is expected to deepen the Vietnam-Russia comprehensive strategic partnership.
Vietnam and Russia established diplomatic ties 71 years ago. They lifted their relationship to the level of the strategic partnership in 2001 and the comprehensive strategic partnership in 2012.
Bilateral relations have developed considerably over the past time. Despite the impact of the Covid-19 pandemic, both countries have regularly maintained high-level online contact and phone calls to promote bilateral cooperation. During their phone call in September 2021, President Phuc and President Putin discussed measures to further strengthen the Vietnam - Russia comprehensive strategic partnership, including in Covid-19 prevention and control.
Oil and gas are considered a success story in bilateral cooperation, with the Vietnam – Russia Oil and Gas Joint Venture Enterprise (Vietsovpetro) expected to operate until 2030. Large Russian oil and gas groups such as Gazprom, Rosneft and many other enterprises are implementing a number of cooperation projects in Vietnam. Meanwhile, in Russia, the Rusvietpetro Petroleum Joint Venture is implementing an oil and gas exploration project in the Nhenhetxky Autonomous Region, according to VOV.
The two sides have also maintained many coordination and dialogue mechanisms such as the annual Diplomatic-Defence-Security Strategic Dialogue at the permanent deputy foreign ministerial level, and the Defence Strategic Dialogue at the deputy defense ministerial level, and regular political consultations at the deputy foreign ministerial level.
The two sides have closely coordinated and supported each other at international forums such as the United Nations, the Asia-Pacific Economic Cooperation (APEC), and the Asia–Europe Meeting (ASEM).
Russia supports Vietnam's stance on settling disputes in the East Sea via peaceful means, without using force or threatening to use force, on the basis of international law, the 1982 United Nations Convention on the Law of the Sea (UNCLOS), the Declaration on the Conduct of Parties in the South China Sea (DOC), and working towards the early completion of a Code of Conduct in the South China Sea (COC), VNA reported.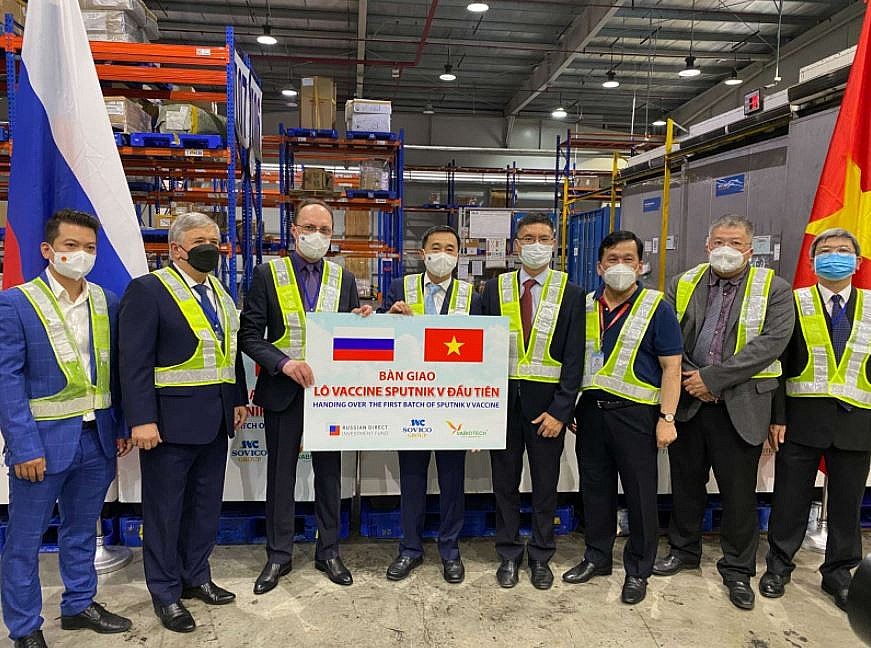 Russian Ambassador to Vietnam Gennady Bezdetko (third from left) hands over a batch of Sputnik V vaccine to Deputy Minister of Health Tran Van Thuan (fourth from left). (Photo: VGP)
Economic and trade cooperation between the two countries has also been developed dynamically in recent years. In 2020, the two-way trade turnover between Vietnam and Russia reached nearly US$5 billion. Major Vietnamese exports included telephones, electronics, textiles, footwear, and agricultural and aquatic products. Its major imports were coal, wheat, iron and steel, fertilizers, automobiles, machinery, and equipment.
The signing of a free trade agreement between Vietnam and the Eurasian Economic Union (EAEU) in 2016 opened up numerous opportunities for trade cooperation between Vietnam and Russia.
The Ministry of Industry and Trade reported that there are about 940 Vietnamese businesses exporting products to the Eurasian Economic Union, but Russia accounts for more than 90% of the total trade turnover between Vietnam and the EAEU.
Besides economic cooperation, Russia is also an important leading partner of Vietnam in the field of military technology. The two sides also promote cooperation in science and technology, education, culture, tourism, local cooperation, and people-to-people exchanges.
In 2019, more than 660,000 Russian tourists visited Vietnam, making Russia the largest European tourist market for Vietnam. In addition, with 40,000 Vietnamese officials and experts trained in the former Soviet Union, 80,000 Vietnamese people living and working in Russia, and about 5,000 Vietnamese students studying in Russia, they serve to foster cooperative relations between the two countries.
Bach Ho field, a petroleum cooperation project between Vietnam and Russia, has been commercially exploited since mid-1986. (Photo: VNA)
Many Russian experts believe that President Nguyen Xuan Phuc's current visit to Russia is of great significance that will help strengthen existing cooperation programs and open up new cooperation directions between the two countries. Russia attaches great importance to bilateral relations with Vietnam, as well as with ASEAN - an organization in which Vietnam plays a very important role.
Vietnamese Ambassador to Russia Dang Minh Khoi said that President Phuc's visit is of great significance, helping to deepen theVietnam-Russiacomprehensive strategic partnership in all fields. The visit also shows that Vietnam has actively implemented its foreign policy after the 13th National Party Congress in the spirit of independence, self-reliance, diversification, and multilateralisation, for the sake of the nation, and contributing to peace and stability in the world.
Russian Ambassador to Vietnam Gennady Bezdetko affirmed that President Phuc's visit is one of the important highlights in the bilateral agenda for 2021, which is expected to bring a new impetus to promote the Russia-Vietnam comprehensive strategic partnership in many fields.
During an interview with Russian media ahead of his visit, President Phuc noted the visit demonstrates the importance the Vietnamese Party, State, and people attach to bilateral ties as well as President Putin, a close friend of Vietnamese people. He said he and President Putin will review the Vietnam-Russia relations and seek major strategic orientations to elevate the comprehensive strategic partnership to new heights across all spheres.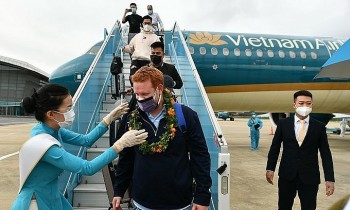 National
Vietnam News Today (Jan. 29): Vietnam records 14,892 new local Covid-19 cases; PM orders prioritizing pandemic control for safe and warm Tet; Vietnam scraps rapid Covid test requirements for int'l passengers; Vietnam-Australia trade hits all time high in 2021.