President's Visit to Switzerland Affirms Commitment to Future Cooperation
Vietnamese President's visit to Switzerland is anticipated to further consolidate the friendship and affirm a commitment to future cooperation.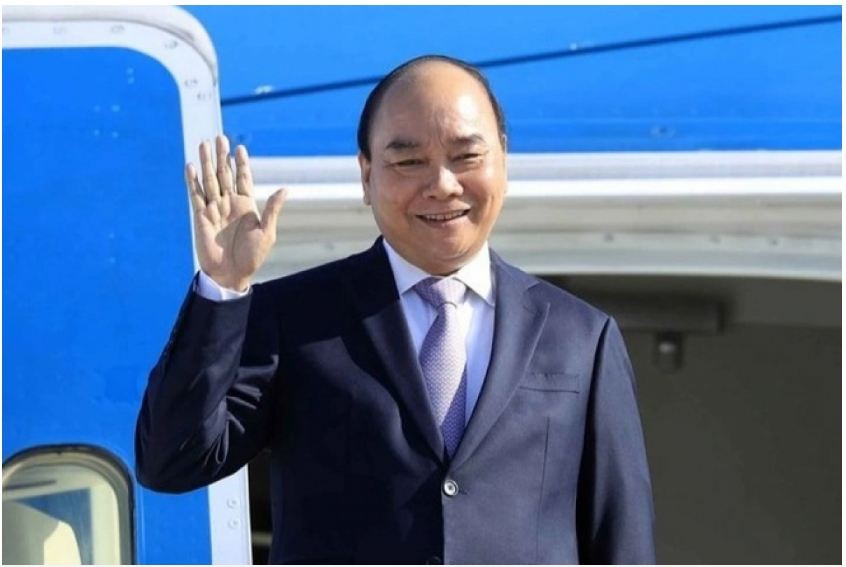 State President Nguyen Xuan Phuc leaves Hanoi for an official visit to Switzerland on Nov. 25. Source: VOV
President Nguyen Xuan Phuc has left Hanoi for an official visit to Switzerland on Nov. 25 which is expected to lay a foundation for a new stage of cooperation between two countries. The visit comes at a time when the two countries are celebrating the 50th anniversary of their diplomatic ties and 30 years of development cooperation, according to VOV.
Switzerland was one of the first Western countries that established diplomatic ties with Vietnam on Oct. 11, 1971 – a period of time when Vietnam was fighting a war for national reunification. Indeed, bilateral relations dated back decades earlier, especially in July 1954 when the Geneva Accord was signed in Switzerland confirming Vietnam's independence, sovereignty, unification, and territorial integrity.
Over the past 50 years, bilateral relations have developed considerably in various areas, particularly in humanitarian aid and development assistance. The past three decades saw Switzerland provide Vietnam with more than US$600 million in official development assistance (ODA) to support its socio-economic development.
In March 2021, Switzerland announced the Switzerland-Vietnam Development Cooperation Programme for 2021-2024 with an ODA fund of CHF70 million (roughly US$75 million), making Vietnam one of few countries on its list of prioritized foreign partners.
Vietnam and Switzerland have organized 30 high-level exchanges of delegations over the years. Most recently Swiss Vice President and Foreign Minister Ignazio Cassis visited Vietnam in August.
During the Covid-19 pandemic, Switzerland has donated 13 tonnes of medical equipment to Vietnam. Swiss businesses also donated to Vietnam's Vaccine Fund in response to a call by the Vietnamese Embassy in Bern.
On economic cooperation, the two countries have maintained their annual two-way trade at nearly US$1 billion since 2016. More than 100 Swiss businesses, including world brands Nestle, ABB, Novartis, Roche, Zuellig Pharma, Holcim, and Schindler are operating successfully in Vietnam, with a total investment of US$2 billion. Switzerland is currently the sixth largest EU investor in Vietnam.
The biggest achievements in the Vietnam-Switzerland relations over the past half a century are mutual trust and understanding in various fields, as well as the sharing of global values and people-to-people exchanges.
With the complementary nature of the two economies and strong political motivation, bilateral cooperation is expected to be promoted to bring into full play the two sides' great potential in economics, trade, investment, health care, digital transformation, innovation and sustainable development.
The signing of the Free Trade Agreement between Vietnam and the European Free Trade Association (EFTA), of which Switzerland is one of the founders, will give fresh impetus to bilateral economic and trade ties.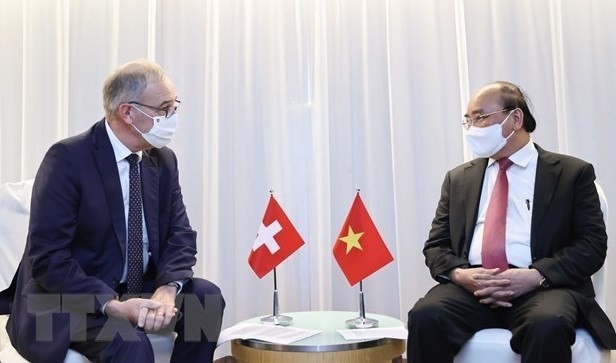 President Nguyen Xuan Phuc (R) meets Swiss President Guy Parmelin in New York on September 22, 2021. Photo: VNA
During the visit, which will take place from Nov. 25-29 at the invitation of Swiss President Guy Parmelin, President Phuc will hold talks with his Swiss counterpart and have a meeting with President of the Swiss National Council Andreas Aebi.
He will have working sessions with leaders of the United Nations Office in Geneva, the World Health Organisation (WHO) and the World Intellectual Property Organisation (WIPO), meet the Vietnamese community in Switzerland and attend a Vietnam-Switzerland business forum. The President will also work with leading pharmaceutical firms of Switzerland to strengthen cooperation in Covid-19 vaccine and treatment medicine supply.
Swiss Ambassador to Vietnam Ivo Sieber has expressed his belief that the Switzerland – Vietnam relations will continue to flourish in the future on the back of their broad and robust cooperation in various areas, from politics to economics, culture and research and development.
Vietnam and Switzerland are now negotiating a free trade agreement and such a prospective FTA will open up more opportunities for the two countries to elevate their economic ties to new heights, said the ambassador
The achievements that Vietnam and Switzerland have gained in the past five decades show great potential for future cooperation. President Nguyen Xuan Phuc's official visit to Switzerland is anticipated to further consolidate the friendship and affirm a commitment to future cooperation.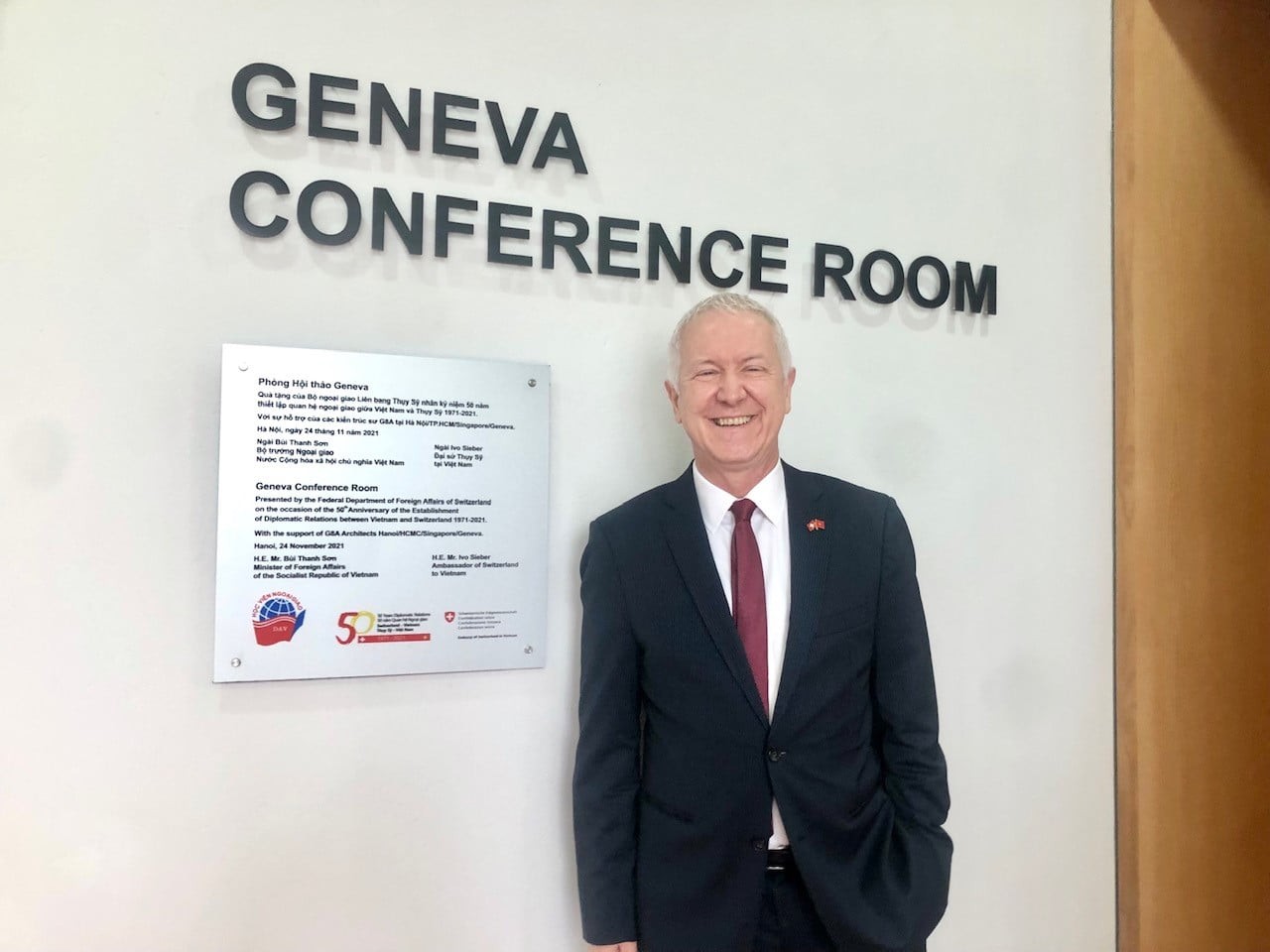 Swiss Ambassador to Vietnam Ivo Sieber outside Geneva Conference Room at the Diplomatic Academy of Vietnam.
In an interview granted to Vietnam News Agency on the occasion of the President's visit, Vietnamese Ambassador to Switzerland Le Linh Lan held that the visit manifests Vietnam's great attention to the development of the traditional friendship and partnership with Switzerland, one of the first western European countries that set up diplomatic relations with Vietnam in 1971.
The visit also shows Vietnam's strong commitment to further accelerating and deepening ties with Switzerland, she stressed, adding that it also reflects Vietnam's multilateral foreign policy.
The ambassador expressed her optimism about the prospects of the partnership between the two countries.
Similarities and shared values of both countries, along with the supplementary characteristics of the two economies and the great cooperation potential will be positive factors for the bilateral cooperative partnership, said Lan.
She also highlighted the contributions by overseas Vietnamese entrepreneurs, experts and intellectuals in Switzerland to the connections between the two countries, especially in health care, policy consultation and investment attraction in high technology, digital transformation, renewable energy, green agriculture, and innovation, serving Vietnam's sustainable development.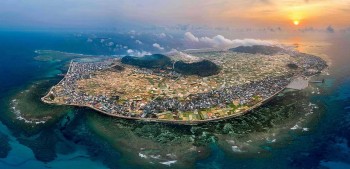 Viet's Home
Dozen of beautiful photos from the "Homeland View from the Sea" national photo contest will be featured in a 2022 calendar.