Prime Minister of Luxembourg Visít Ho Chi Minh City
Despite the impressive growth in trade and investment cooperation between the two countries recently, it has yet to match the cooperation potential.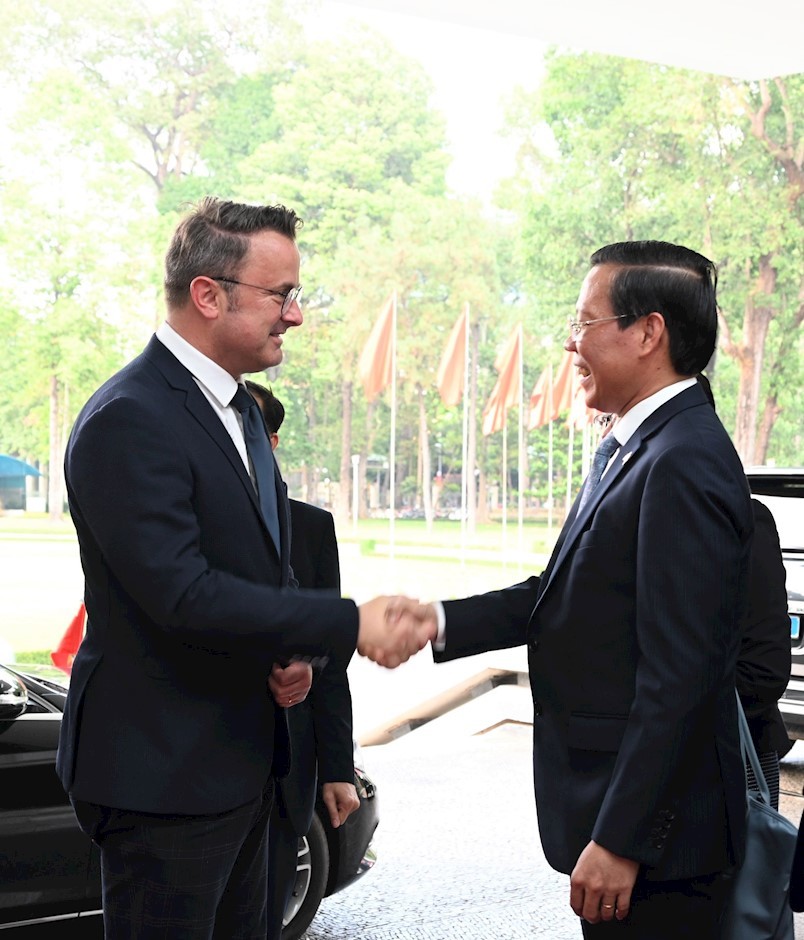 Chairman of the HCM City People's Committee Phan Van Mai welcomes Prime Minister of Luxembourg Xavier Bettel.
Ho Chi Minh City wishes to learn from Luxembourg's experience and cooperate with the European country in science-technology and green finance, towards building a financial center in the time ahead, a municipal official said on May 5, VNA reported.
At a reception for Prime Minister of Luxembourg Xavier Bettel, Chairman of the HCM City People's Committee Phan Van Mai stressed that PM Bettel's visit will contribute to boosting cooperation activities between the city and the European nation.
The official noted that HCM City stands ready to cooperate with Luxembourg partners in the fields of high-tech, digital transformation, renewable energy, and green energy.
Mai used this occasion to thank Luxembourg for its financial support to HCM City in the rollout of climate adaptation projects, and called on the PM to continue connecting the city with Luxembourg partners.
HCM City always welcomes foreign partners and enterprises, including those from Luxembourg, to operate in the city, he affirmed, adding that HCM City wants to strengthen cooperation with businesses of Luxembourg in the areas in which the southern largest economic hub has potential and demand like agricultural product processing, high-tech agriculture, and manufacturing.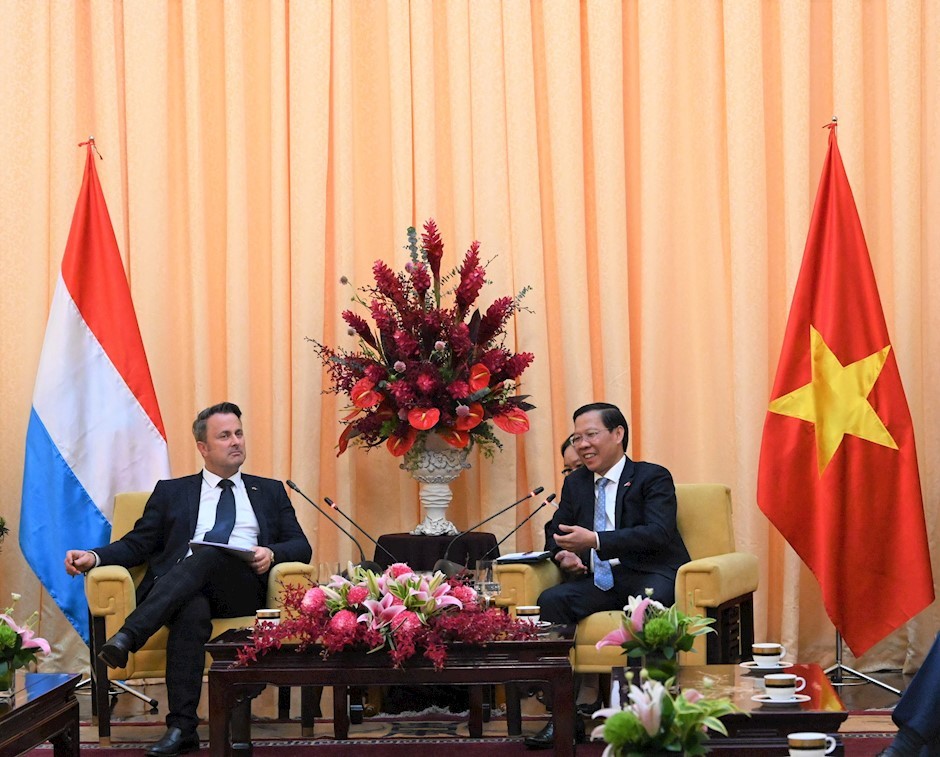 Chairman of the HCM City People's Committee Phan Van Mai and Prime Minister of Luxembourg Xavier Bettel.
For his part, PM Bettel held that HCM City and Luxembourg hold substantial cooperation opportunities and that Luxembourg's enterprises will be sustainable, reliable partners of local firms, helping them expand connections with the European market.
The two countries should create more favorable conditions for their businesses to operate in the respective markets, he continued.
Sharing Mai's view, the PM said finance, especially green finance, will offer good cooperation opportunities to Luxembourg and HCM City, stressing that Luxembourg is committed to assisting Vietnam and HCM City in particular in this field, as well as sustainable development.
He said cooperation in traditional spheres like education, environmental protection, climate change response, renewable energy, and green energy will be maintained.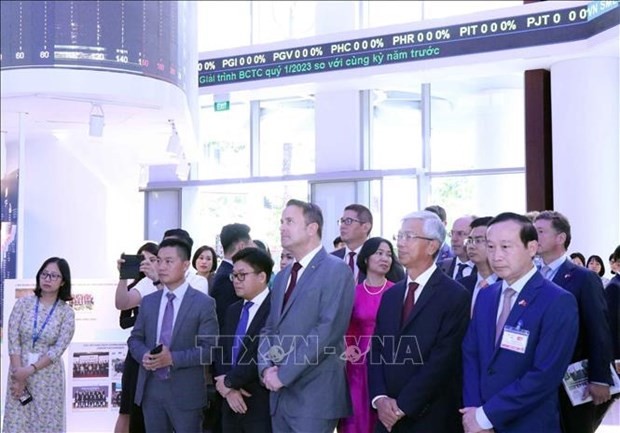 Prime Minister of Luxembourg Xavier Bettel visits the Ho Chi Minh Stock Exchange. Photo: VNA
While in HCM City, PM Bettel attended and delivered a speech at a Vietnam - Luxembourg business forum, visited the Ho Chi Minh Stock Exchange, and the War Remnants Museum, and found out about climate change impacts in the area along Sai Gon River.
Addressing the business forum, the Luxembourg PM said that the forum is a good chance for the business communities of both sides to exchange information and contribute to effective economic cooperation between the two countries in the future.
The two sides also boast high potential in beefing up their trade ties as the export product structures of the two countries can supplement each other, which is a good condition for businesses of the two countries to build and reinforce their partnership, especially in trading products of each other's strengths and demands, said Vietnamese Minister of Industry and Trade Nguyen Hong Dien.
According to him, Vietnam can export garments, leather and footwear, furniture, tropical farm produce, and aquatic products to Luxembourg and import chemicals, rubber, plastic products, steels, and financial, banking and insurance services from the European country.
Highlighting partnership opportunities between the two business communities, Vo Tan Thanh, Vice President of the Vietnam Chamber of Commerce and Industry (VCCI) said that as of March, Luxembourg had invested in 61 projects in Vietnam with total capital of USD 2.6 billion, ranking third among 24 EU member countries and 17 out of 139 countries and territories investing in Vietnam.
He expressed hope that Luxembourg, with its strengths in services, finance, banking towards green, digital and circular trends, will share experience and cooperate with Vietnam in these fields.
Thanh suggested that the two sides coordinate more closely in removing obstacles and barriers hindering their trade relations, including speeding up the approval of the EU-Vietnam Investment Protection Agreement (EVIPA) and the removal of the "yellow card" against Vietnam's seafood products.
Businesses and investors of the two countries should also work harder to explore each other's market through official channels to seek partnership opportunities, he said.
Tourism is also a promising cooperation area for the two sides, as Vietnam is in need of human resources training for tourism sector, Thanh added.
Luxembourg Prime Minister Xavier Bettel (standing, second from left) and delegates witness the signing of a memorandum of understanding between the VCCI and the Luxembourg Chamber of Commerce. Photo: VNA
At the forum, the VCCI and the Luxembourg Chamber of Commerce, and a number of businesses of the two countries signed their memorandum of understanding on their cooperation, paving the way for the expansion of the economic, trade and investment partnership between Vietnam and Luxembourg in the future.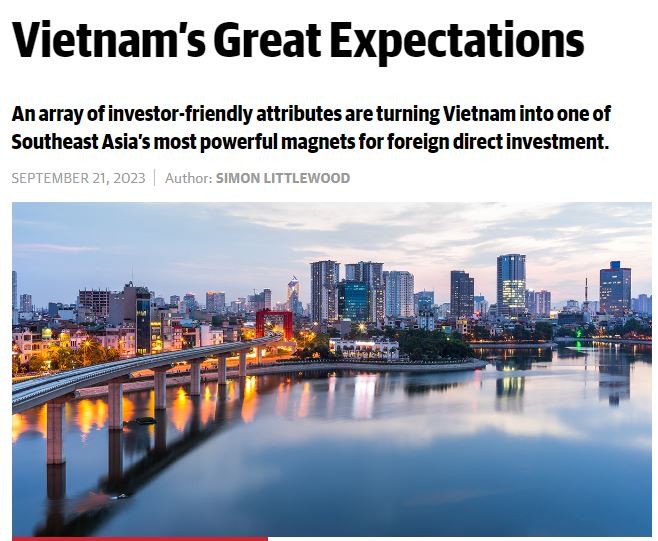 Economy
"An array of investor-friendly attributes are turning Vietnam into one of Southeast Asia's most powerful magnets for foreign direct investment," said Global Finance Magazine in a recent article.
September 23, 2023 | 16:38
Economy
Vietnam has a fast-increasing semiconductor ecosystem and possibilities to improve its position in the global supply chain. In the joint announcement of the US-Vietnam Comprehensive Strategic Partnership, the two countries acknowledged Vietnam's significant potential to become a key nation in the semiconductor industry, adding they "are supportive of the rapid growth of the semiconductor ecosystem in Vietnam."
September 22, 2023 | 09:22
Economy
The Vietnam-Saudi Arabia Business Forum was launched on September 11 at Vietnam's Ministry of Foreign Affairs Office.
September 12, 2023 | 06:05