Prime Minister Pham Minh Chinh's Busy Schedule in US
The Vietnamese Prime Minister is joining other leaders of the Association of Southeast Asian Nations (ASEAN) members at the summit on May 12-13 and making a working visit to the US and the United Nations from May 11-17.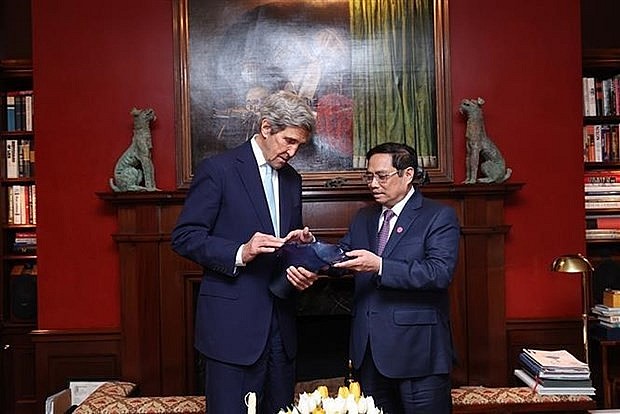 Prime Minister Pham Minh Chinh (right) and US Special Presidential Envoy for Climate John Kerry. (Photo: VNA)
Prime Minister receives US Special Presidential Envoy for Climate
Prime Minister Pham Minh Chinh met with US Special Presidential Envoy for Climate John Kerry in Boston on May 14 (local time) as part of his working trip to the US. PM Chinh highlighted Kerry's heartfelt sentiments towards the country and people of Vietnam, as well as his responsibility and enduring contributions to Vietnam-US relations over the past years.
Vietnam consistently pursues a foreign policy of independence, self-reliance, peace, friendship, cooperation, development, multilateralisation, and diversification of relations, and being a good friend and a reliable partner of countries worldwide, and an active, responsible member of the international community, the PM affirmed.
During the process, Vietnam always considers the US a leading important partner and wants to work together with the US to promote the bilateral ties on the basis of respect for each other's political institutions and in a stable, effective, and substantive manner, for peace, stability, cooperation, and development in the region and the world. PM Chinh also appreciated the US's policy to support a strong, independent, and prosperous Vietnam. The two sides agreed to deepen the Vietnam-US comprehensive partnership in major spheres.
For his part, Kerry reiterated the US's consistent view of attaching importance to its comprehensive partnership with Vietnam and supporting the country's proactive and practical role in the region, and in responding to global issues, including climate change. Expressing his special sentiments towards and impression on the country and people of Vietnam, Kerry promised that in any position, he will strongly back and work to promote the Vietnam-US relations.
The envoy also affirmed the US President's resolve to boost global efforts to prevent the rising global temperature in the next five years. Kerry said when he was Secretary of State, he paid due attention to cooperation in climate change response and energy transition in Vietnam and had made visits to the country to discuss this issue.
Though being a developing nation, Vietnam has joined commitments by developed countries to cutting gas emissions, PM Chinh said, stressing that these efforts need great support from international partners in the principle of equality and justice, including the grant of preferential credit loans with streamlined administrative procedures.
The Vietnamese government welcomes the engagement of enterprises under the public-private partnership (PPP) and creates the best possible conditions for foreign investors to cooperate with Vietnamese ministries, agencies and businesses in energy transition, he said. Vietnam prefers any method of energy transition and gas emission that would benefit businesses and people most, he emphasized.
Kerry said he was impressed by Vietnam's commitments at the 26th United Nations Climate Change Conference of the Parties (COP26), as well as its approach to energy transition and climate change response, and believed that the international community also supports the country in the process with many financial sources. He stressed that the US government and he himself will further closely coordinate with Vietnamese ministries and agencies, and stand ready to provide assistance as much as possible to help the country develop renewable energy, reduce gas emissions and consolidate its infrastructure in a sustainable way.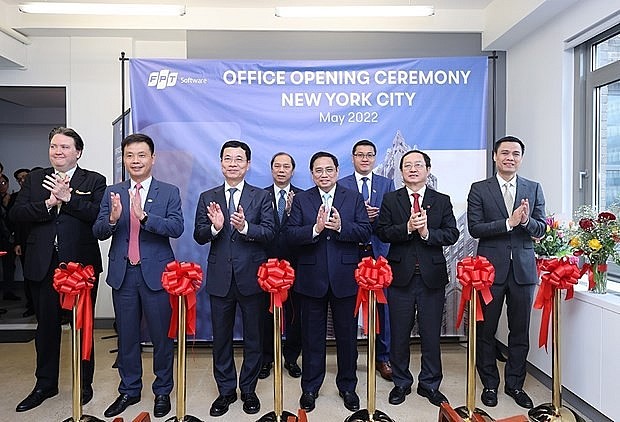 PM Pham Minh Chinh (front, third from right) and other officials at the opening ceremony of the FPT Software office in New York on May 15 (Photo: VNA)
PM attends the opening ceremony of FPT Software's second office in New York
Prime Minister Pham Minh Chinh attended the opening ceremony of an office of FPT Software, a subsidiary of the FPT Group, in New York City on May 15, as part of his working visit to the US and the UN. This is FPT Software's second office in New York, 10th in the US, and 58th in the world. The company is providing technological and digital transformation services for tens of businesses on the Fortune 500 list in the North American country.
After 14 years of operating in the US, FPT Software now has 450 employees and its clients are from 30 states across this country. The US is currently one of the two largest markets of the company, whose revenue here rose 52 percent year-on-year in 2021 and 60 percent in the first quarter of 2022.
Dang Tran Phuong, Director of FPT America, said FPT Software is the second Vietnamese company to open an office in New York - the world's largest economic, financial, and technological hub. It hopes that in the next three years, its office in New York will contribute to 20 percent of its total revenue in the US.
Addressing the ceremony, PM Chinh said the official opening is a step to help Vietnam carry out digital transformation and form a digital economy, thereby helping improve the country's human resources quality and show its technological capabilities, wisdom, and competitiveness in the world, especially in the US, where science and technology are developed.
He expressed his hope that FPT will continue growing in the US and the world at large so as to help introduce Vietnam's image and promote the two countries' comprehensive partnership in a substantive and effective manner. The Government leader also asked the diplomatic and relevant agencies of Vietnam in the US to continue assisting FPT and other Vietnamese businesses to implement cooperation deals and further develop.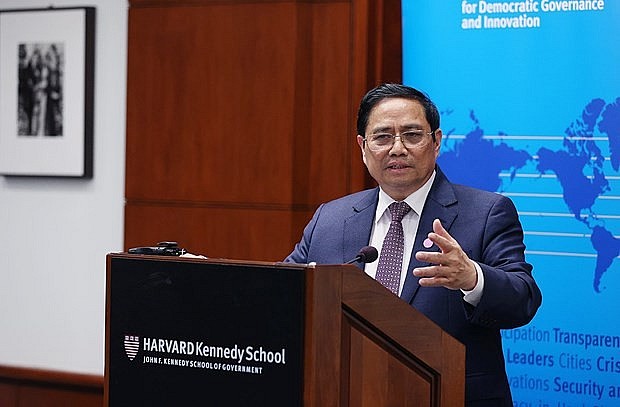 Prime Minister Pham Minh Chinh delivers a speech at Harvard Kennedy School. (Photo: VNA)
PM talks about building independent, self-reliant economy at Harvard Kennedy School
Prime Minister Pham Minh Chinh delivered a presentation on building an independent, self-reliant economy associated with extensive, effective, and practical international integration in Vietnam during his visit to the Harvard Kennedy School in Cambridge, Massachusetts, on May 14 (US time) as part of his working trip to the US.
In the speech, PM Chinh stressed the importance of independence laid out in the US's Declaration of Independence "All men are created equal. They are endowed by their Creator with certain inalienable rights, among them are Life, Liberty, and the pursuit of Happiness," and the spirit of which had been echoed in Vietnam's Declaration of Independence penned by the late President Ho Chi Minh.
Vietnam-US relations have gone through many breakthroughs since the two nations officially normalized their ties in 1995. The two countries have overcome their differences and reached fundamental principles for their relations, as affirmed in the Vietnam-US Joint Vision Statement issued when General Secretary of the Communist Party of Vietnam Nguyen Phu Trong made an official visit to the US in 2015, which emphasized respect for "each other's political institutions, independence, sovereignty, and territorial integrity," PM Chinh noted, adding that Vietnam highly appreciated the US's support for a strong, independent, and prosperous Vietnam over the years.
Vietnam, like other developing countries, wants to build an independent, self-reliant economic foundation, step up industrialization and international integration to overcome the middle-income trap to become a developed nation, he said.
According to the PM, to succeed, each country will have different suitable methods, roadmaps, and steps with consideration of their own characteristics and conditions, but special attention should be paid to some universal requirements. The PM stated that Vietnam has both engaged in extensive international integration and made great efforts to improve its internal capacity, flexibly and effectively respond to external shocks such as the 1997-1998 Asian financial crisis, the global financial crisis in 2007-2008, and the global Covid-19 pandemic from 2020 to now.
In the current context, Vietnam needs to continue to promote the building of an independent and self-reliant economy associated with proactive and active international integration due to three main reasons: the first is to resolve Vietnam's major challenges; the second is to ensure independence, sovereignty, and national interests; the third is to improve the country's capacity and potential for effective integration into the global economic system, and effective implementation of international commitments.
According to PM Chinh, the concept of building an independent and self-reliant economy, associated with proactive and active international integration, has been clearly defined and a consistent goal in Vietnam's 2013 Constitution and the Party's resolutions and national development platforms.
PM Chinh emphasized Vietnam's strategic national development goals – to become a developing country with modern industry and high middle income by 2030 and to become a developed, high-income country by 2045.
Regarding the core thoughts, the PM stressed that building an independent and self-reliant economy associated with extensive, practical, and effective international integration, is based on three pillars: Building a Socialist-oriented market economy, building a Socialist rule-of-law State, and building a Socialist democracy.
In concluding his speech, PM Chinh highly appreciated the positive results of Fulbright University and the Vietnam Executive Leadership Programme (VELP) that is jointly implemented by the Harvard University and Vietnamese Government agencies, expressing the wish to replicate this model with other famous universities of the US and the world. After the PM's presentation, ministers and members of the delegation spoke and participated in a discussion with Harvard University professors on Vietnam's development orientations.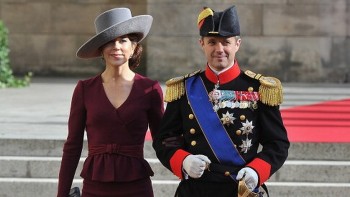 Friendship
Denmark's Crown Prince and Crown Princess will visit Vietnam to celebrate 50 years of diplomatic relations and promote green solutions.