Program Welcomes Lunar New Year in Hanoi's Old Quarter
A cultural activity program titled 'Vietnamese Tet - Old Quarter's New Year 2023' in Hanoi's Old Quarter recreates many traditional rituals
The Management of Hoan Kiem Lake and Hanoi's Old Quarter are organizing a cultural activity program to welcome Tet (Lunar New Year) 2023 from January 8 to February 28.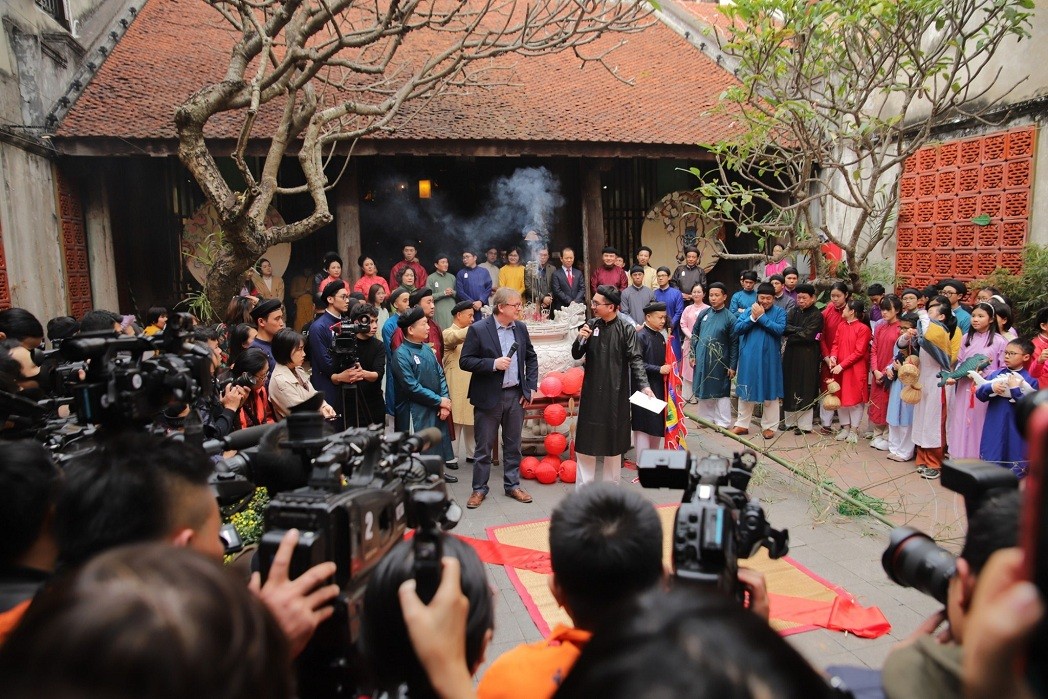 At Kim Ngan Communal House. Photo: Vu Tai
On the evening of January 8, at Kim Ngan Communal House, the Management of Hoan Kiem Lake and Hanoi's Old Quarter coordinated with units to open a series of cultural activities to celebrate the Lunar New Year.
The program aims to promote Hanoi's history, culture and tourism to domestic and international tourists.
The event will create opportunities for Vietnamese people across the country as well as overseas Vietnamese to look towards their origins, share the unique cultural values ​​of the region, and join hands in activities of preserving and promoting traditional cultural values.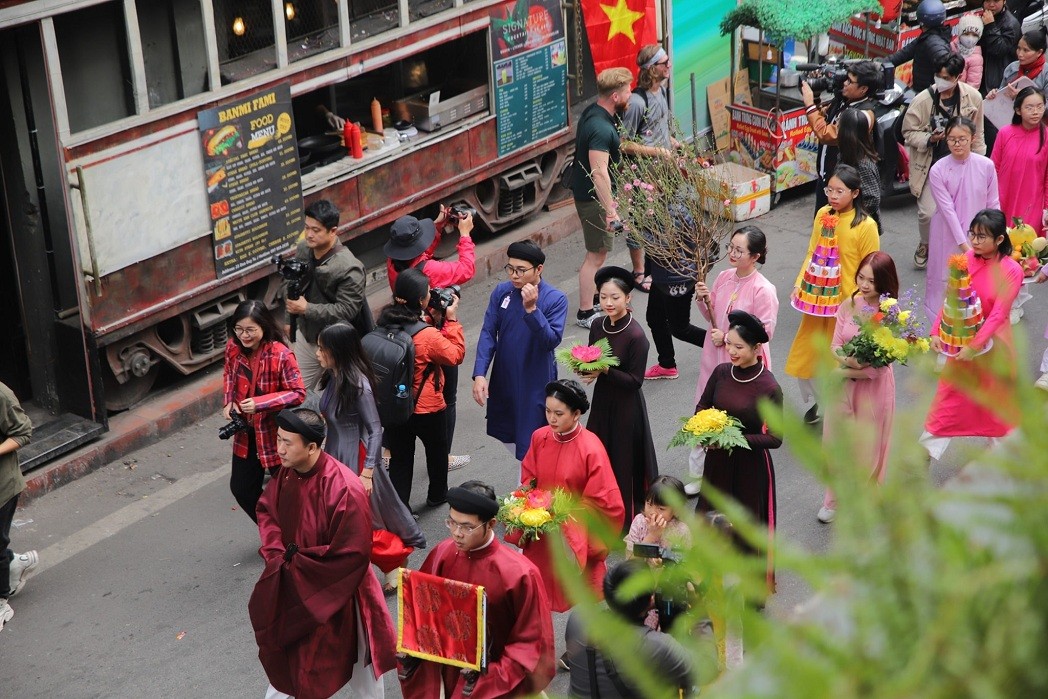 The procession delegation includes boys, girls and strata of people in traditional costumes, attracting the attention of a large number of people. Photo: Vu Tai
Before the opening ceremony, several traditional rituals were recreated. The procession departs from Heritage House (87 Ma May) and passes through Dao Duy Tu, O Quan Chuong, Hang Chieu streets, to Hang Giay Temple, Bach Ma Temple, Hang Buom and Ta Hien streets, along withg the Chuong Vang Theater. Then they went through Hang Bac street and stop at Kim Ngan Communal House (42 – 44 Hang Bac street).
At the opening ceremony, the Management Board of Hoan Kiem Lake and Hanoi Old Quarter coordinated with a number of units to organize the traditional music performances from different regions with the participation of local artists, art troupes of Bac Lieu, Hai Phong, Phu Tho.
Speaking at the ceremony, Nguyen Quoc Hoan, vice chairman of Hoan Kiem District People's Committee said that 'Vietnamese Tet - Old Quarter's New Year 2023' as well as other cultural activities in Hanoi Old Quarter are the joint efforts between many units and individuals.
This year's program has the participation of artisans and artists from all over the country, promising to introduce to the public many typical heritage values, he said. This is also a good opportunity to exchange and promote historical and cultural values ​​to attract local tourism.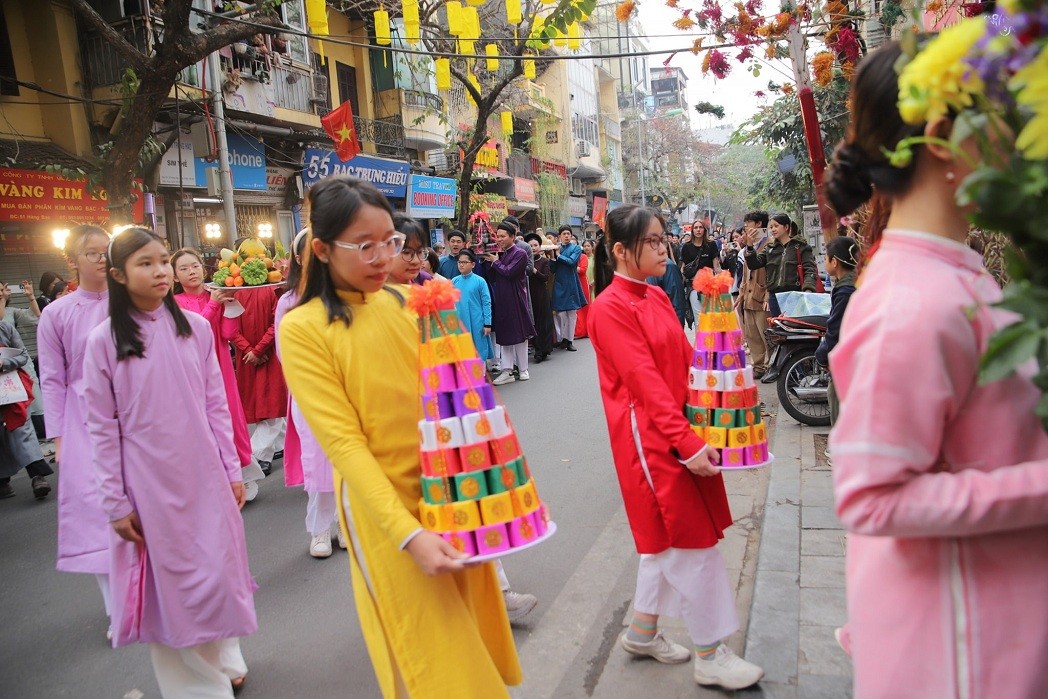 The procession lasted three hours, received the response and excitement of the people along the way. Photo: Vu Tai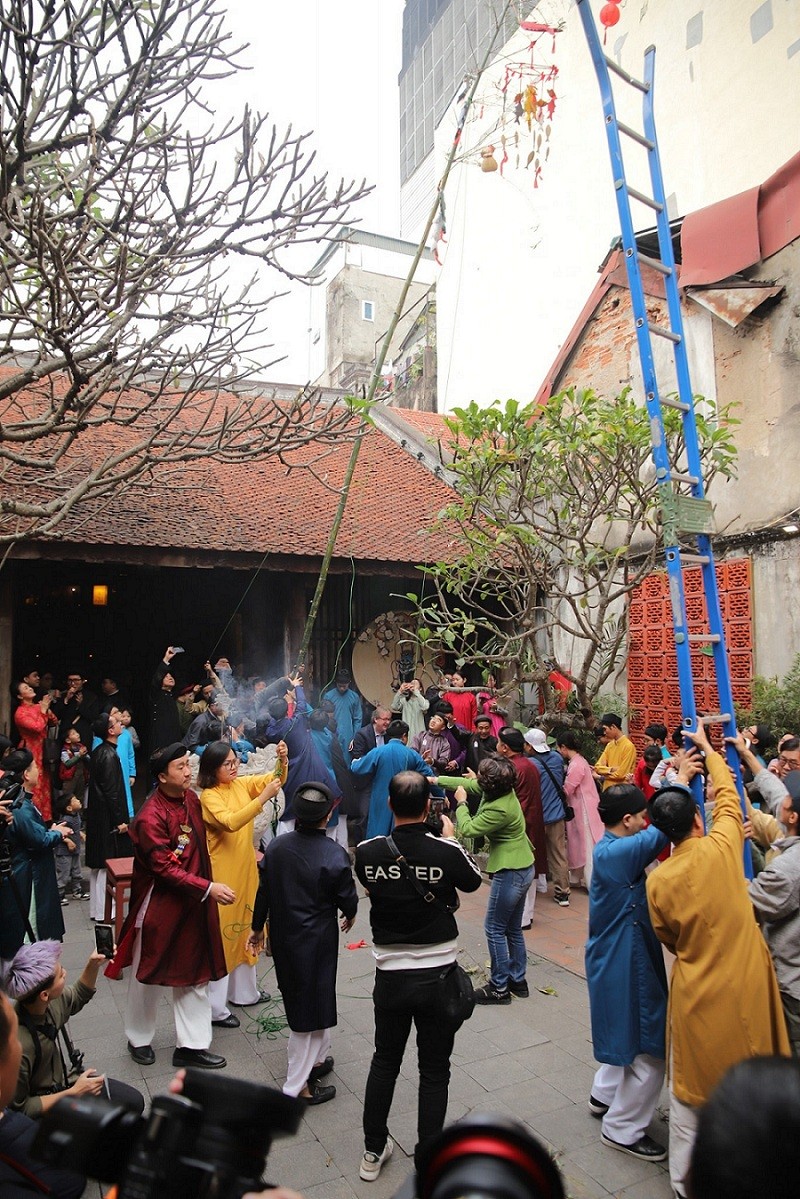 Erecting a "Neu" tree (New Year's tree) to kick off the traditional Lunar New Year (Tet) celebration. In addition to the folk meaning of warding off evil spirits, the erection of Neu pole during Tet also aims to pray for national peace, bumper crops and national prosperity. Photo: Vu Tai
During the days of the series of cultural activities, residents and visitors can also immerse themselves in the cultural space of the traditional Tet at Kim Ngan Communal House with Tet decorations, as well as be introduced to the zodiac animal of the year, and calligraphy writing .
Those who are interested in Tet paintings have the chance to explore Vietnam's three folk painting types through exhibitions of Hang Trong paintings, Kim Hoang paintings and Dong Ho paintings.
At Heritage House 87 Ma May street, the organizing committee arranges and introduces the living space to welcome Tet of an old Hanoi family such as making chung cake, and preparing for worshiping "Ong Cong, Ong Tao" (Land Genie and Kitchen Gods) and the New Year's Eve; introducing the art of Thuy Tien (Narcissus) bulb carving, or stunning the plant so that it is in full bloom on the first days of the Lunar New Year.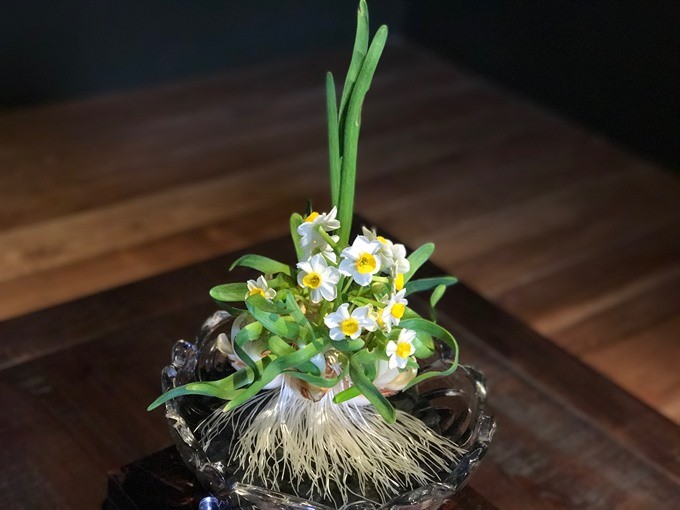 A beautiful Narcissus vase offers people five features: its white pure root, which grows in the water like a waterfall; its green strong leaves; and its simple and elegant flowers; in addition to the well-shaped layout of the vase, and the pure sweet scent of the flowers. Source: VNS
People and tourists who love art can enjoy an exhibition of paintings with the theme "Cats" by a group of Hanoi artists; and an introduction of Bac Lieu's singing art and Northern musical heritage "Music Story of the Hong River Delta" of Dong Kinh Co Nhac (Ancient Music Group of Tonkin) at the Cultural Exchange Center of Hanoi Old Quarter (50 Dao Duy Tu street).
The Arts and Culture Center (22 Hang Buom street) holds space decoration activities, introduction of exhibition products themed "From heritage to contemporary" and traditional music exchange activities.
At the Ho Guom Cultural Information Center, (2 Le Thai To street), there will be an exhibition welcoming Spring 2023; a children drawing contest; a cat-themed ceramic works exhibition by artist Nguyen Van Toan and room to experience virtual reality through 3D technology.
In the mural space of Phung Hung Street, from January 6-20, artisans and craftsmen from Vietnamese craft villages will introduce traditional folk products such as folk paintings, calligraphy, and ceramics, bamboo and rattan, to he toys, products and goods for Tet holiday and exchange performances of some types of traditional regional music including Xam singing, Thai Xoe dance, and Don ca tai tu.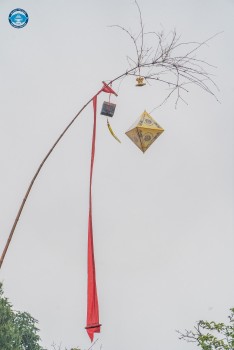 Viet's Home
In the past, the Neu pole (a tall bamboo pole with red garment strips used to ward off evil spirits during the lunar New Year) lowering ceremony at the royal palace of the Nguyen Dynasty was performed to mark the end of the New Year holiday and prepare to enter a new working year.