Project to improve livelihoods for 10,000 rice-farming households in Mekong Delta
Recently, GIZ (German Corporation for International Cooperation) together with the Department of Cooperatives and Rural Development and Olam International held the signing ceremony of the Memorandum of Understanding (MoU) for the project Better Rice Initiative Asia phase II (BRIA 2) – Market-oriented Smallholder Value Chains Project (MSVC).
At the ceremony on September 24 in Can Tho. Source: GIZ
BRIA 2 - MSVC is a Public-Private Partnership (PPP) project between German Federal Ministry of Economic Cooperation and Development (BMZ) and Olam International Ltd, being implemented in 3 South-east Asia countries of Indonesia, Thailand and Vietnam from 2018 to 2022, by GIZ. In Vietnam, the project will be implemented in cooperation with the Department of Cooperatives and Rural Development under Ministry of Agriculture and Development.
The aim of the project is to improve the livelihoods of 10,000 rice-farming households in the 4 Mekong Delta provinces of An Giang, Bac Lieu, Dong Thap and Can Tho via comprehensive solutions ranging from innovation in in farming techniques to strengthening the markets access. Particularly, the project focuses on capacity building for rice-farming cooperatives, improving cooperation between actors in the value chain (farmers, cooperatives, suppliers, processors, and exporters, etc.) and promoting public-private partnership.
The MoU signing ceremony marks an important step of sustainable cooperation in rice production value chain, between rice farming cooperatives, manufacturers and exporters in the Mekong Delta. The cooperation agreement signed between Olam International Ltd, Hieu Nhan Hi-tech Agriculture JSC, and 19 agriculture cooperatives in An Giang, Bac Lieu, Dong Thap and Can Tho will determine the role and responsibility of each actor in the value chain./.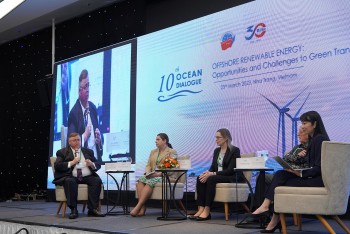 Seas and islands
Vietnam and other coastal countries in the region have both opportunities and challenges in developing offshore renewable energy, according to the 10th Ocean Dialogue held in Khanh Hoa province on Thursday.