Quad Must Keep India on Board, Former Japanese PM Suga Says
Protecting 4-way partnership is crucial for 'free and open Indo-Pacific'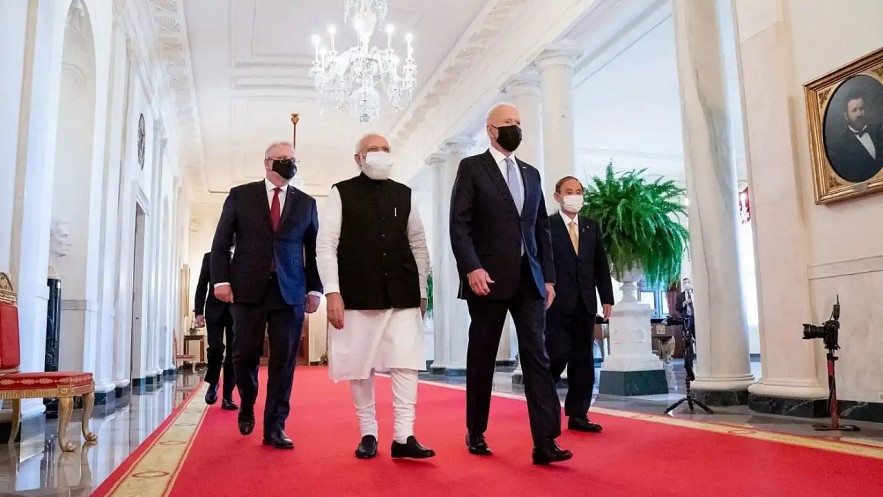 U.S. President Joe Biden hosts, from left, Australian Prime Minister Scott Morrison, Indian Prime Minister Narendra Modi, and then-Japanese Prime Minister Yoshihide Suga at a Quad summit in September 2021. (Photo courtesy of the White House)
Quad members Japan, the U.S. and Australia must strive to keep India in the grouping, despite New Delhi's reluctance to denounce Russia's invasion of Ukraine, former Japanese Prime Minister Yoshihide Suga said Sunday, according to the asia.nikkei.
In the hard, cold world of foreign policy and national security, "Protecting this framework of the four countries will be extremely important for the peace and safety of the free and open Indo-Pacific," he said. "Through trial and error, Japan is trying to send messages to India."
Appearing on a Fuji TV program, the 73-year-old former leader was asked why the Quadrilateral Security Dialogue members had not been able to convince India to take a common stand against Russia's war. The South Asian nation abstained from a vote at the United Nations General Assembly condemning the invasion. India later sat out on a separate resolution brought by Russia regarding the humanitarian situation in Ukraine, reflecting its will to maintain neutrality.
"[India] was the biggest challenge from the beginning," Suga said, looking back on his time as Japan's leader, and the seven years he served as chief cabinet secretary under former Prime Minister Shinzo Abe before that.
India was initially not interested in elevating the Quad as a major platform for the Indo-Pacific, Suga said. "But from Japan's standpoint, involving India was extremely important from the overall picture so we made various efforts toward the country," he said.
"As a result, when I was prime minister, all four leaders managed to gather in person. Now the four leaders will gather in Japan next. That much has been decided," he added.
But Suga also expressed an understanding of India's position, as it tries to navigate an increasingly multipolar world.
"India's relations with China are under stress," he said, an apparent reference to border clashes in the Himalayas. "They consider Russia as a crucial country."
Suga insisted it was not only vital to keep India in the fold, but to be open to others as well, like the Association of Southeast Asian Nations.
"If we think of Japan's national interests, it will be important to keep India in the 4-way grouping, and to bring ASEAN into the 4-way grouping," he said. "Also we should not block China from entering a free and open Indo-Pacific."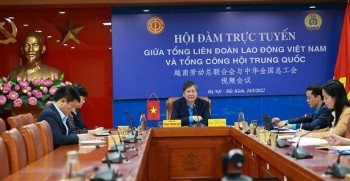 Friendship
The Vietnam General Confederation of Labour (VGCL) and the All-China Federation of Trade Unions (ACFTU) on May 24 shared their operational experience and agreed to step up their exchanges.