Quang Ninh province to build Van Don-Mong Cai expressway
The north-eastern province of Quang Ninh has signed a contract to build the Van Don-Mong Cai Expressway at a total cost of over VND11 trillion (USD 473 million) under a public-private partnership.
The north-eastern province of Quang Ninh has signed a contract to build the Van Don-Mong Cai Expressway at a total cost of over VND 11 trillion (USD 473 million) under a public-private partnership.
The Van Don-Mong Cai expressway will connect with the Ha Long-Van Don Expressway.
Quang Ninh People's Committee has signed the contract with the joint venture of Long Van Infrastructure Investment and Development Co.,Ltd, Van Don Sun JSC and Cong Thanh Transportation and Construction Corporation. The joint venture will invest more than VND 1.26 trillion (USD 54.3 million) and mobilised nearly VND 9.86 trillion (USD 425.24 million) for the project.
The 80.2 km Van Don-Mong Cai highway will have four lanes and is designed for average speed of 100 km per hour. It will run through the districts of Van Don, Tien Yen, Dam Ha and Hai Ha and Mong Cai city.
Construction will be kicked off this year and will be completed within 22 months. Fees will be collected for 20 years on the way.
The Van Don-Mong Cai highway is among three key transport projects of 2018 announced by the province earlier this year. The other two are the Ha Long-Cam Pha coastal road and an undersea tunnel through Cua Luc bay (the gateway to Ha Long Bay).
The 27 km-long coastal road linking Ha Long - Cam Pha is implemented under the build-transfer (BT) form, with a total investment of VND 5.6 trillion (USD 246.4 million). Construction of the road, invested by Vingroup, began at the end of June this year. Once completed, the road is expected to help ease traffic on National Highway 18A section running through Cam Pha city, while forming a modern and comprehensive
transport network connecting urban areas in the province.
Meanwhile, the 1.3km-long undersea tunnel project in Ha Long city is estimated to cost VND 7.875 trillion (USD 346.5 million). It will start on Ha Long Street, at the intersection that leads into Sun World Ha Long Park (Bai Chay Ward), and end at the intersection on Le Thanh Tong Street (Hong Gai Ward) – two streets considered as "main axes" on the two sides of the Cua Luc Bay.
The tunnel is expected to help connect transport of coastal roads in Ha Long city.
Together with other local transport projects such as the Hai Phong – Ha Long, Ha Long – Van Don highways, upgrades to National Highway 18, and Van Don international airport, the aforesaid key projects are hoped to improve the province's transport infrastructure system, thus contributing to local socio-economic development and promoting local tourism and border- and marine-economic potential.
In the meantime, the province is focusing on improving its tourism infrastructure, targeting to welcome 12 million visitors, including 5 million foreigners, this year.
It has invested in building and upgrading many roads to shorten the travel time of tourists to Quang Ninh.
In early September, the Bach Dang bridge connecting the northern port city of Hai Phong and Quang Ninh was put into operation. The bridge helps shorten the distance from Hanoi to Quang Ninh from 175 km to 125 km, thus cutting travel time between the two localities by half.
Quang Ninh is a popular destination of sea and island tourism.
The province has a coastline of more than 250 kilometres and some 2,000 islets, two-thirds of the total in Vietnam. The spectacular stretch of coast connects the UNESCO-recognised World Heritage Site of Ha Long Bay with majestic natural scenery, Bai Tu Long Bay, Van Don and Co To islands and Tra Co beach with Cat Ba National Park in the northern port city of Hai Phong.
In 2017, a total of 9.87 million tourists visited the province, including 4.28 million foreigners. More than 70 per cent of the tourists came via sea and island tours.
The number of tourists visiting the province in the first nine months of this year is estimated to top 10 million, an increase of 25 per cent over the same period last year, according to the local Department of Tourism. Of this, foreign tourists account for over 3.6 million, rising 19 per cent./.
VNF/VNA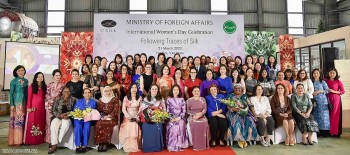 Friendship
Female ambassadors, representatives from diplomatic corps and international organizations, along with spouses of diplomats in Vietnam gathered together to find about more about silk weaving and silk products in Vietnam.