Remains of baby among bodies recovered from Lion Air crash site
The remains of a baby were among those recovered from the site of a crashed Lion Air plane that plunged into the sea with 189 people aboard on Monday, national deputy police chief Ari Dono Sukmanto said on Tuesday (Oct 30).
The remains of a baby were among those recovered from the site of a crashed Lion Air plane that plunged into the sea with 189 people aboard on Monday, national deputy police chief Ari Dono Sukmanto said on Tuesday (Oct 30).
Some of the personal belongings retrieved from the crash site. Photo: Jack Board
Lion Air flight JT610 plunged into the Java Sea on Monday morning just minutes after taking off from Jakarta. It was headed for Pangkal Pinang city.
Indonesia's National Transportation Safety Committee (NTSC) said 178 adult passengers, one child, two babies, two pilots and six cabin crew were on the plane.
A total of 50 pers have been deployed in the search effort, said Muhammad Syaugi, head of Indonesia's national search and rescue agency Basarnas.
At least 10 bodies have been recovered so far and sent to the hospital for identification.
Fourteen bags of aircraft debris and personal belongings of those on board the plane have also been retrieved, including clothes, shoes and a wallet.
Rescue officials have been focused on recovering the main part of the Boeing 737 MAX aircraft - more specifically the plane's black box - as investigators try to determine the cause of the crash.
On Tuesday, ping operations started at 6am.
"We hope that the main body (of the plane) can be seen using our sonar technology. That is the priority," said Syaugi.
He added that the agency will conduct surface sweep and more ping as the weather in the crash site area, which is 15 nautical miles, is expected to be good for the next seven days.
Underwater beacons have also been deployed to trace the flight's black box recorders in a bid to uncover why an almost-new plane crashed minutes after take-off.
"Hopefully this morning we can find the wreckage or fuselage," Soerjanto Tjahjono, the head of Indonesia's transport safety panel, told Reuters, adding that an underwater acoustic beacon was deployed to locate the main body of the plane.
The search and rescue agency added that four sonar detectors were also deployed in areas where aircraft debris had been found a day earlier off the shore of Karawang, West Java, and 15 vessels were scouring the sea surface.
Earlier, Yusuf Latif, the national search and rescue agency spokesman, said there were unlikely to be survivors.
Finding survivors "would be a miracle" judging by the condition of the recovered debris and body parts, Latif added.
Authorities told broadcaster Metro TV the bags were taken to a hospital for identification, with more expected overnight.
On tarpaulins at Jakarta's port, officers laid out items retrieved from the sea, ranging from oxygen bottles to personal effects such as wallets, a mobile telephone, cash and backpacks.
On Monday, the U.S. National Transportation Safety Board (NTSB) and Boeing Co said they were providing assistance in the crash investigation.
An Indonesian policeman holds wreckage recovered from Lion Air flight JT610 which crashed into the sea, at Tanjung Priok port in Jakarta, Indonesia, October 29, 2018. REUTERS/Willy Kurniawan
NO NOISE
The data from FlightRadar24 shows the first sign that something was amiss on Monday's fated flight came about two minutes after take-off when the plane had reached 2,000 feet.
At that point, it descended more than 500 feet and veered to the left before climbing again to 5,000 feet, where it stayed during most of the rest of the flight.
It began gaining speed in the final moments and reached 345 knots (397 mph) before data was lost when it was at 3,650 feet.
"They were going way faster than you would normally expect," said a second pilot at another airline.
Two fishermen who saw the crash from their boat out at sea told Reuters that the plane swayed slightly but made no noise as it fell, almost horizontal with its nose slightly down. There was an explosive sound as it plunged nose-first into the sea, and then there was a column of smoke.
The weather was clear at the time of the crash at 6.33am on Monday, according to the head of Indonesia's transport safety committee, who said the pilots had requested a turn back to Jakarta.
A safe visual landing should have been possible even with faulty indicators and a lack of autopilot systems, the pilot sources said.
FAKE NEWS, SAFETY WOES
A string of fake news stories have been circulating in the aftermath of the crash, including one that falsely claims to show a baby who survived and a video purportedly showing panicked passengers just before the deadly accident.
Indonesia's disaster agency spokesman Sutopo Purwo Nugroho has knocked down both claims.
The accident is the first to be reported involving the widely sold Boeing 737 MAX, an updated, more fuel-efficient version of the manufacturer's workhorse single-aisle jet.
Privately owned Lion Air said the aircraft, which had been in operation since August, was airworthy, with its pilot and co-pilot together having amassed 11,000 hours of flying time.
The pilot of flight JT610, which was bound for Pangkal Pinang in the Bangka-Belitung tin-mining region, had asked to return to base (RTB) shortly after take-off.
"An RTB was requested and had been approved but we're still trying to figure out the reason," Tjahjono told reporters on Monday.
No distress signal was received from the aircraft's emergency transmitter, search and rescue agency head Muhmmad Syaugi told a news conference.
The aircraft suffered a technical problem on a flight from the resort island of Bali to Jakarta on Sunday night but it was "resolved according to procedure", Edward Sirait, chief executive of Lion Air Group, told reporters.
Sirait declined to specify the nature of the issue but said none of the airline's other aircraft of that model had the same problem. Lion had operated 11 Boeing 737 MAX 8s and it had no plan to ground the rest of them, he said./.
VNF/Reuters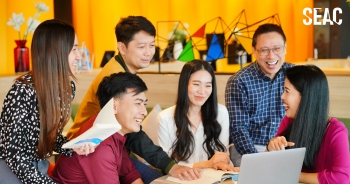 Economy
SEAC, a leading corporate and lifelong education innovator, is shaking up the Thai and ASEAN education market with significant investment to expand its SMART learning solutions across the ASEAN region.