Reproductive health care consulting for labor women in Vinh Phuc
Recently, VSF (For Vietnamese Stature Foundation) coordinated with Union Trade of Industrial Parks in Vinh Phuc to implement two days of counseling and examination of reproductive health for female workers in Vinh Phuc.
The activity aims to prepare for a healthy next generation, also to improve awareness and knowledge of reproductive health care for women at reproductive age.
Center for Disease Control in Vinh Phuc and Medlatec Vinh Phuc are two units taking responsibility for counseling and examination reproductive health. This activity is sponsored by Da Huong brand of Hoa Linh Pharmaceutical Company, which is one of the activities under the framework of the project "For mother and baby - For Vietnamese stature" in the third phase of 2019.
From May to December 2019, the project will continue to organize 20 sharing sessions on nutrition care and reproductive health care - sex safety and mental health care for women of reproductive age in Industrial Parks. In particular, social marketing activity of contraceptives and condoms is also deployed for the first time in this project. The contest to help workers learn about relevant knowledge will also be held along with the project final workshop, scheduled to take place in late December 2019.
VNF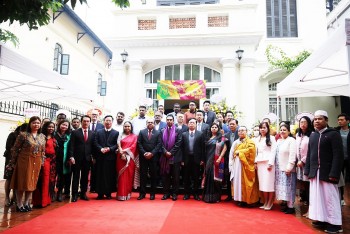 Friendship
To celebrate the 75th anniversary of the National Day of the Democratic Socialist Republic of Sri Lanka (February 4, 1948 - February 4, 2023), a ceremony was held at the Vietnamese Embassy of Sri Lanka in Hanoi on Feb 4, honoring the friendship and cooperation between people of the two countries over the past many years.