Revolutionary Writings: Understanding the Worldly Influence of President Ho Chi Minh's Poetry
Ho Chi Minh has held many names and jobs throughout his life, from pastry chef to president. However, perhaps his most influential role was as a poet. Informed by his love of Vietnam and his many international visits, Uncle Ho's poetry continues to inspire citizens from across the globe.
"We must arm the poetry of our days with steel. Our poets must learn to fight battles."
These are President Ho Chi Minh's final words in his poem, "Nothing is More Precious than Freedom." Inspired by his many travels across the globe, Ho Chi Minh's poetry demonstrates a strong desire for an independent Vietnam in a colonial world yet it is also informed by the larger world itself. French socialists, Jamaican activists, Russian intellectuals, and the working classes of America and England all had encounters with Vietnam's first president. With influences stemming from several different countries, the creative works of Ho Chi Minh are moving, not only for Vietnamese people but for oppressed people in every nation.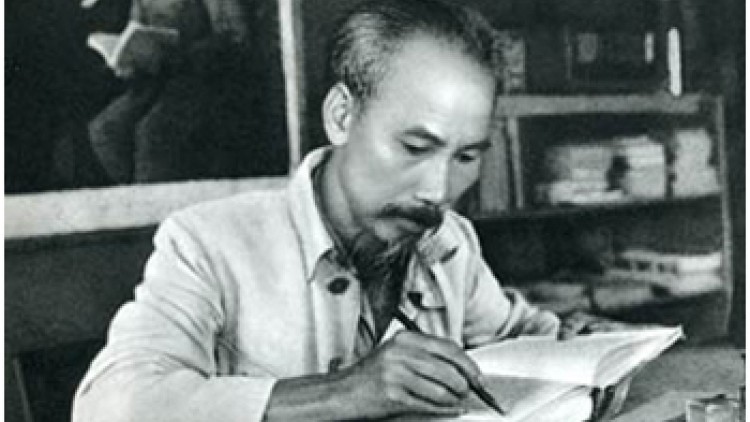 Ho Chi Minh - Vietnamese President and citizen of the world. Photo by VOV.
As a world traveler with deep love of his homeland, Ho Chi Minh's poetry heralds a new age of Vietnamese history while also exploring fundamental themes of nature, war, and freedom. For Uncle Ho's 132nd birthday, the Vietnam Times presents a short history of Ho Chi Minh's globetrotting adventures and their influence on the revolutionary's thoughtful writings.
30 Years of Living Abroad
From 1911 to 1941, Ho Chi Minh lived abroad and gained worldly insights. No job was too small for Ho Chi Minh, who frequently worked on steamships that transported him to new lands. He was first introduced to the West by spending time in France, England, and the United States where he worked a series of odd jobs such as a baker, housekeeper, photo editor, and pastry chef, among others. As an immigrant worker with meager wages, Ho Chi Minh did not tour palaces and other places of importance. Rather, he spent time with people from all walks of life, making him understand the various plights of the poor.
During his wandering years, Uncle Ho met with a number of influential figures, such as Marcus Garvey, a Black activist from Jamaica. In 1912, Ho Chi Minh attended several of Garvey's lectures, where he learned about the Black experience. Despite being from different cultures, Ho Chi Minh and Marcus Garvey were united by the same anti-colonial ambition. Ho Chi Minh remained sympathetic to the Black cause. In one essay regarding the struggles of Black people, he wrote; "It is well-known that the Black race is the most oppressed and the most exploited of the human family."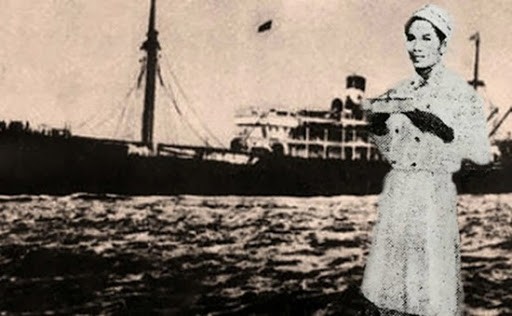 Ho Chi Minh's humble beginnings. Photo by VNT.
Ho Chi Minh's writing flourished in France, especially after befriending fellow communist Marcel Cachin. As the editor of L'Humanité , a socialist newspaper, Cachin provided Ho Chi Minh with a platform to write about Vietnam. At this time, Ho Chi Minh wrote with a pseudonym- Nguyen Ai Quoc or Ngueyn "the Patriot." Under this name, Ho Chi Minh petitioned for the rights of Vietnamese people and reported the struggles of the homeland to French audiences.
Later on, the articles of Ho Chi Minh would catch the eye of Dmitriy Manuilsky, a Soviet academic. He who would introduce Ho Chi Minh to the Soviet Union and the Comintern, an organization that advocated for world communism. Alongside a network of like-minded revolutionaries, Ho Chi Minh continued his work campaigning for an independent Vietnam.
On Writing his "Prison Diary"
Ho Chi Minh made his triumphant return to the homeland in 1941, ready to lead the independence movement. However, despite thirty years of momentum, Ho Chi Minh's patriotic journey was briefly put on hold. In 1942, Ho Chi Minh was arrested in South China by the then anti-communist government. For over a year, Ho Chi Minh was bounded in chains and moved from prison to prison.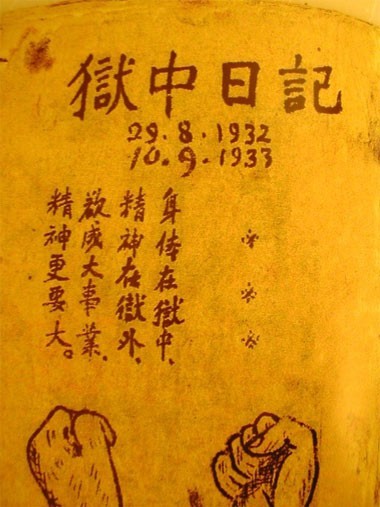 A copy of Ho Chi Minh's Prison Diary, written in the original Mandarin. Photo by VOV.
While these conditions were not ideal, Ho Chi Minh found some solace in poetry. He wrote in Mandarin as he was forbidden by his captors to write in his native Vietnamese. Thanks to his family's scholarly background, Ho Chi Minh was able to write in the poetic style of the Tang Dynasty. Although this was one of the darkest moments of his life, the "Prison Diary" of Ho Chi Minh captures his cleverness, profundity, and his intimate thoughts on freedom.
Below are a few of his poems;
Hard Is the Road of Life
Having climbed over steep mountains and high peaks.
How should I expect on the plains to meet greater danger?
In the mountains, I met the tiger and came out unscathed:
On the plains, I encountered men, and was thrown into prison.
Moonlight
For prisoners, there is no alcohol nor flowers,
But the night is so lovely, how can we celebrate it?
I go to the air-hole and stare up at the moon,
And through the air-hole the moon smiles at the poet
Sleepless Nights
Through the endless nights, when sleep refuses to come,
I write more than a hundred poems on prison life.
At the end of each quatrain, I put down my brush.
And through the prison bars look up at the free sky.
On Reading 'Anthology of a Thousand Poets'
The ancients used to like to sing about natural beauty:
Snow and flowers, moon and wind, mists, mountains and rivers.
Today we should make poems including iron and steel,
And the poet should also know to lead an attack.
After Prison a Walk in the Mountains
the clouds embrace the peaks, the peaks embrace the clouds,
The river below shines like a mirror, spotless and clean.
On the crest of the Western Mountains, my heart stirs as I wander
Looking towards the Southern sky and dreaming of old friends.
Analyzing the "Prison Diary"
Ho Chi Minh, and his poems, would survive the dank Chinese prison system and eventually return to Vietnam to battle French and American forces. Meanwhile, his poems were translated and reprinted by Western publications to further spotlight the Vietnamese leader. E. San Juan, a Filipino-American writer and literary critic, analyzed these poems in a 1972 edition of Eastern Horizons, a monthly progressive magazine published in Hong Kong. In the critique, E. San Juan praises Ho Chi Minh's sense of optimism found throughout the piece.
"Throughout his incarceration, Ho never yielded to despair, for the simple reason that he never abandoned the concrete sensuous reality around him," wrote E. San Juan. "That is, he never surrendered himself to the temptations of futile idealism and utopian romanticism..."
Rather than give into sadness, Ho Chi Minh remains focused on his situation and, more importantly, on the issues of his people. The clear-headed optimism in his poetry is refreshing to read, as it is not bogged down with woeful tales of prison life. Alternatively, the "Prison Diary" is full of inspirational moments, justified rage, and even some satirical humor.
For example, in one poem entitled "Morning Scene," Ho Chi Minh writes about how sunlight still shines through the prison bars. While he may be captured, Ho Chi Minh asserts that no one can put chains on life, nature, and the human spirit.
President Ho's Poetic Legacy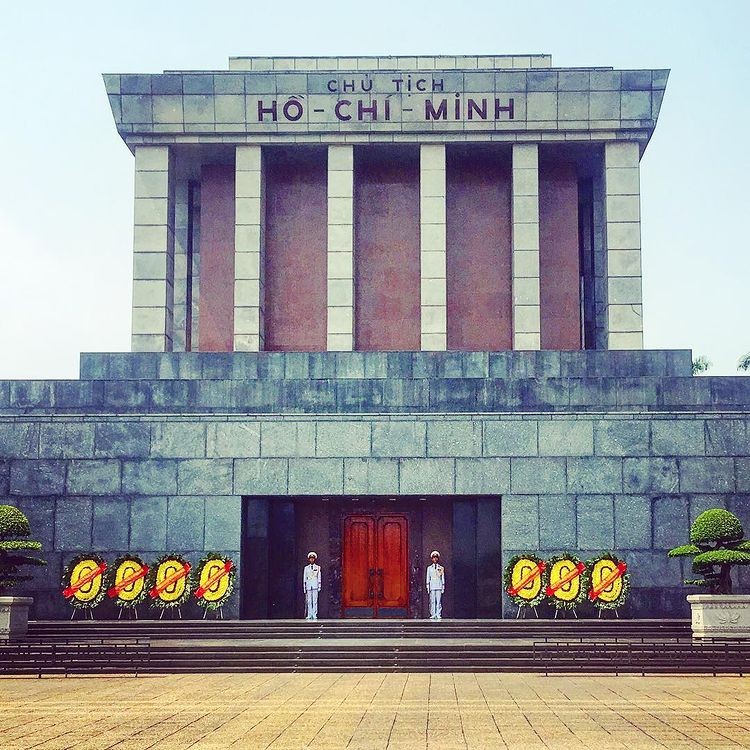 The final resting place of Ho Chi Minh. Photo by Glen MacDonald.
While President Ho Chi Minh is revered for his leadership, his poetry also deserves praise. Through his written work, especially through his "Prison Diary," President Ho Chi Minh spoke to not only to his beloved Vietnamese, but to people engaged in struggles across the world.
Arguably, the greatest evidence of President Ho Chi Minh's poetic impact happened six years after his death. In the summer of 1975, Sunfighter, an American prison newspaper, printed President Ho Chi Minh's poem "Nothing is More Precious than Freedom." Despite being a foreign man of a rival nation, President Ho Chi Minh's translated words were deeply felt by American prisoners, many of whom were similarly jailed for radical beliefs. The poem's simple message breaks the boundaries of race, class, and nation-states, and reminds the reader of the universal desire for freedom. The poetry of President Ho Chi Minh is not only an anthem for an independent Vietnam but a rallying cry for oppressed people everywhere.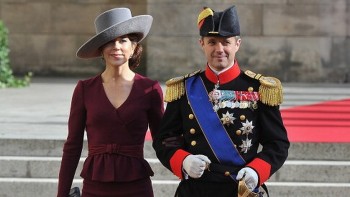 Friendship
Denmark's Crown Prince and Crown Princess will visit Vietnam to celebrate 50 years of diplomatic relations and promote green solutions.