Roots of Peace honoured with Earth Ethics Award
The U.S.-based humanitarian organisation, Roots of Peace (ROP) was honoured with the Earth Ethics Prize by the United Earth during a ceremony in Hanoi on November 19.
(VNF) - The U.S.-based humanitarian organisation, Roots of Peace (ROP) was honoured with the Earth Ethics Prize by the United Earth during a ceremony in Hanoi on November 19.
The prestigious Earth Ethics Award recognizes their efforts and the successful accomplishments planting grapes in Afghanistan, cherries in Croatia, rice in Cambodia, pepper in Vietnam.
The inaugural EARTH ETHICS award presented by Marcus Nobel, President & Executive Director of United Earth to Heidi Thomas Kuhn, RoP Founder/ CEO in Hanoi. (Photo: VNF)
TRANSFORMING MINEFIELDS
Speaking at the event, Vice President in-charge and Secretary General of the Vietnam Union of Friendship Organisations (VUFO) Don Tuan Phong said the event aims to honour ROP's efforts in assisting people worldwide, including those in Vietnam, in recovering from the consequences of war and environment clean-up.
Phong congratulated ROP for successfully raising almost USD 250,000 in funding for the organisation's activities in the central province of Quang Tri.
He also expressed his thanks to the United Earth, ROP and sponsors for providing support for war-hit areas in Vietnam via effective projects, saying that these areas have developed stably and sustainably, especially in Quang Tri.
Founded and managed by Heidi Kuhn, since 1997, ROP helps some of the world's most vulnerable local economies to recover after conflicts. It supports inpiduals and communities to revitalise businesses and livelihoods by facilitating the removal of remnants of war, providing access to resources, building local capacity and creating market linkages.
For example, it has diligently worked to transform minefields, into thriving farmland worldwide with its Mines to Vines project. Planting fresh grapes in Afghanistan, strawberries in Angola, flowers in Bosnia-Herzegovina, cherries in Croatia, wheat in Iraq, and black pepper in Vietnam.
On behalf of the Nobel Peace Prize Family, Marcus Nobel, President of United Earth, bestowed the inaugural 'Earth Ethics Prize' on the Roots of Peace for their humanitarian legacy of turning MINES TO VINES—and replacing the scourge of landmines with bountiful agricultural crops worldwide.
According to Marcus, United Earth is a not for profit non-governmental organization which recognizes and promotes environmental leadership and humanitarian excellence worldwide.
Founded in 1974 by Claes Nobel, descendent of Nobel Prize creator Dr. Alfred Nobel, United Earth focuses global efforts, resources and programs on an unprecedented challenge: uniting the people and nations of Earth in forging our collective, sustainable future. The Earth Ethnics Prize is meant to honour organisations in environment and outstanding philanthropists worldwide.
Heidi Kuhn visits pepper fields in Quang Tri. (Photo: ROP)
PLANTING SEEDS OF HOPE
In Vietnam, since 2009, ROP has collaborated with the Ministry of Agriculture and Rural Development's Department of International Cooperation to pilot the programme "Agriculture in mountainous Vietnam" in the central provinces of Quang Nam and Quang Tri.
Via the programme, hundreds of farmers in localities were trained in cultivation techniques and post-harvest preservation. Their incomes have also improved thanks to bamboo tree planting and fish farming in poor areas.
In Quang Binh and Thua Thien-Hue, ROP has built cajuput and rattan tree gardens and a wood processing factory, as well as sought markets for paper products in Europe and the U.S.
In Quang Tri, ROP has made efforts in overcoming the consequences of post-war bombs and mines, turning the province into a clean land site and creating livelihoods to local residents. Black pepper has been chosen as the main crop of the Mines to Vines projects run by ROP in Quang Tri province, which aims to replace old minefields with bountiful pepper trees.
Quang Tri's black pepper exported to Morton & Bassett Spices in San Francisco. (Photo: VNF)
ROP Founder and CEO, Heidi Kuhn said that her organisation is joining hands with the Mines Advisory Group (MAG) in the UK to mobilise USD 20 million (from 2018 to Earth Day in 2020) to aid mine and bomb clearance in Quang Tri province as well as improve livelihood for local people by training them to grow black pepper trees on former battlefields.
Her group left U.S. on Veterans Day (November 11) for Vietnam to honor mothers who lost their children in wars, 58.000 American mothers and 3 million Vietnamese mothers. After the conclusion of the War in Vietnam, the people of Vietnam are still feeling the effects of the conflict in the form of unexploded munitions. It is estimated that more than 3 million land mines/UXO/cluster munitions remain buried in the group. Therefore, Heidi is launching a campaign to raise USD 20 million by Earth Day 2020 to remove all landmines in Quang Tri. According to MAG, that is how much it's gonna cost, said Heidi.
She also voiced her hope that through media, the public will have opportunity to learn more about efforts made by VUFO and foreign non-governmental organisations in alleviating poverty, developing socio-economy and recovering post-war consequences./.
VNF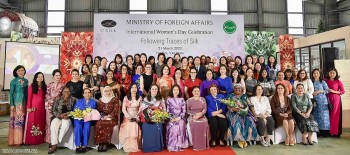 Friendship
Female ambassadors, representatives from diplomatic corps and international organizations, along with spouses of diplomats in Vietnam gathered together to find about more about silk weaving and silk products in Vietnam.