S Korea to open HCMC visa office next month on surge in application numbers
South Korea will open a consular office in Ho Chi Minh City early next month to handle the increasing demand for visas.
People wait to apply for South Korean visas outside the South Korean embassy office in Hanoi, April 9, 2019. Photo by VnExpress/Giang Huy
The office at 5 Cong Truong Me Linh Street in the central District 1 would have 15 booths for visa applications, Jeong Woo Jin, the Korean deputy consul general in the city, said on Thursday.
But Lee Bok Hang, consul in charge of visa, said the office would only handle normal visas and people requiring emergency visas would have to come to the consulate on Nguyen Du Street, which is 15 minutes away.
A similar office will open in Hanoi on April 25 at Discovery Building, 302 Cau Giay Street.
The proposal to open the two offices followed a sudden increase in demand for visas in Vietnam.
Last December the Korean government started issuing C-3 visas to permanent residents of Vietnam's three biggest cities, Hanoi, Saigon and Da Nang as part of its "New Southern Policy."
C-3 visa holders can stay in South Korea for up to 30 days with no restrictions on the number of visits for a period of five years.
Following rumors Korea's visa policy could change any time, thousands have been thronging the country's embassy in Hanoi since last month. Many have queued up from 2-3 a.m. to get a token number and await their turn.
Most are from outlying districts in Hanoi and north-central provinces such as Nghe An, Ha Tinh and Thanh Hoa, traditionally a big source of labor for South Korea.
The consular department only issues 300 tokens a day, but around 3,000 people are estimated to queue up daily.
The surge in visa applications has been causing problems with many travel companies having to cancel tours because visas are not coming in time, according to the Korea Tourism Organization (KTO) office in Vietnam.
South Korea is one of the largest labor export markets for Vietnam. There were 45,398 Vietnamese workers in that country as of last June.
It is also one of the most popular destinations for Vietnamese tourists.
The KTO said over 100,000 Vietnamese visited Korea in the first three months this year, up 30 percent from the same period last year. The total number last year was 457,000.
VNF ( Vnexpress )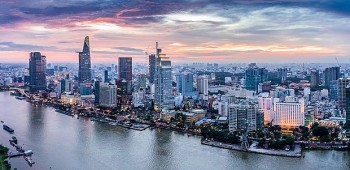 Economy
Japanese investors have been interested in the property market in Vietnam.