Saigonchildren launches last phase of project for early intervention for children with autism in Vietnam
Saigonchildren recently held the opening ceremony of training course in the last phase of the three - year project "Early Intervention for Children with Autism – Training the Trainers" on June
Saigonchildren recently held the opening ceremony of training course in the last phase of the three - year project "Early Intervention for Children with Autism – Training the Trainers" on June with the participation of 19 lecturers and practitioners (trainees) and six experts (trainers).
Philippa Pettitt, teacher and advisor Children with Autism (photo: Saigonchildren)
Saigonchildren aimed to improve the standard of early intervention for children with autism by providing guidance to teachers and parents via the course because the demand of early intervention for children with autism increases while teachers and parents of those children lacks of knowledge to support them.
The training course and workshops are provided free of-charge to all trainees via the financial source sponsored by Lufthansa help Alliance. After completing the course, the trainees are also guaranteed to acquire solid knowledge and requisite skills by multidisciplines from the UK.
In this third phase, trainers concentrate on facilitating and supporting trainees' activities. Therefore, all trainees will have group practicing's opportunity on providing and implementing Special Education School Base, Communication and Language Therapy, and other independence skills for children with autism.
Speaking at the opening ceremony, Executive Director of Saigonchildren Damien Roberts said "At the moment, among many projects of Saigonchildren, this is the most important project that we are doing. With your knowledge and expertise, we can build the effective network across Vietnam to help give care, support and education to many children with autism and their family… "
Nguyen Thi Mai, an early intervention practitioner, a trainee in the course expressed her thank to Saigonchildren "I am so thankful for the trainers to give us practical training, and the contributions and engagement from other trainees of the course to help build a strong community to support children with autism and their families. The course is so meaningful to me."
The project modules will be replicated and sustained for the upcoming year with free training courses to support teachers, therapists, caregivers and parents in Vietnam to approach and intervene appropriately for children with autism. The next course will take place from 2020-2022 with two weeks intensive training for each year.
Special Needs Education Programme (SNEP) of saigonchildren started in 2009 to support children with disabilities and helps them to have a better life through proper education. The programme specialises in autism education, including community-based identification and early intervention, and work with speech therapists, physical therapists and specialist trainers to build expertise across Vietnam. SNEP also cooperates with specialist organizations across Vietnam to help children with disabilities such as cerebral palsy, deafness, blindness and congenital conditions including those associated with the effects of Agent Orange. The program also provides education & training and social development activities for children, improve learning facilities, and support local organizations to build their fundraising and management capabilities.
The three-year project "Early intervention for children with autism – Training the Trainers" was launched in 2016 as a joint initiative from Saigonchildren, National College of Education HCMC and OWL Therapy Centre. The project has been conducted since 2017 to provide necessary training for core teachers and parents across Vietnam in theoretical and practical sessions and indirectly benefit more children with autism.
( Van Nguyen )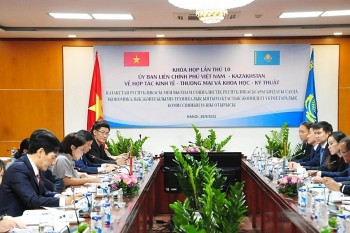 Friendship
The 10th session of the Vietnam-Kazakhstan Intergovernmental Committee on economic-trade and scientific-technical cooperation was held in Hanoi on September 26.