Seminar talks export of farm produce, seafood export to Middle East, Africa
The Foreign Ministry held a seminar in Hanoi on July 5 on external relations and the export of farm produce and aquatic products to the Middle East and Africa.
The Ministry of Foreign Affairs on July 5 held a seminar in Hanoi to discuss external relations and the prospect of exporting farm produce and aquatic products to the Middle East and Africa.
Speaking at the event, Deputy Foreign Minister Vu Hong Nam said Vietnam and countries in the Middle East and Africa share long-standing friendships that lay the foundations for all-round cooperation, especially in trade, industry, and investment.
Nam emphasised the Middle East and Africa's strong purchasing power with a total population of over 1 billion people.
At the seminar. Photo: baoquocte.vn
South African Ambassador to Vietnam Mpetjane Kgaogelo Lekgoro said South Africa has a market-oriented agricultural economy, including food, cereals, animal husbandry, processed meat, and farm produce. The country imports agricultural products and food, mostly wheat, chicken meat, palm oil, soybeans, fish, and boneless seafood. However, Vietnam accounts for only over 1 percent of South Africa's imports.
The deputy head of the Ministry of Agriculture and Rural Development (MARD)'s Agro Processing and Market Development Authority, Tran Van Cong, said the Middle East and Africa are yet to impose strict requirements or certifications for agricultural products. The two sides are also yet to sign a free trade agreement while tariffs and technical barriers remain unstable.
Payment risk is high as regional importers are unfamiliar with opening a letter of credit, and many of them ask for deferred payment while Vietnamese businesses prefer immediate payment, forcing many partners to seek other foreign suppliers.
Deputy head of the MoIT's Department of Asia-Africa Markets Do Quoc Hung hailed the Middle East-African region as a promising market with 70 countries and a population of over 1.6 billion. The region has a huge demand for goods, especially farm produce and aquatic products, due to severe environmental conditions.
He said rice will continue to be a major currency earner in the near future.
In order to facilitate the export of farm produce and aquatic products to the region, Hung suggested refining the legal framework, mechanisms, and policies, alongside prioritising the signing of trade agreements.
Both sides need to actively promote bilateral collaboration via the joint committee channel, he said, adding that Vietnam needs to boost trade promotion and help firms join exhibitions and fairs to popularise their brands.
The MARD, the Ministry of Industry and Trade, the Vietnam Food Association, and export enterprises need to establish a cooperation mechanism to boost export to the region, he said, adding that the two sides should raise firms' awareness of the potential of each other's market.
Participants at the event shared experience and discussed payment in export activities, economic diplomacy, and support for businesses./.
( VNF/VNA )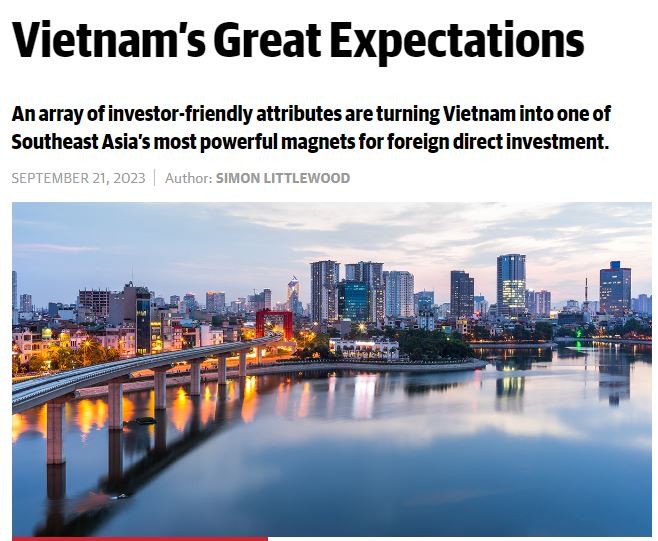 Economy
"An array of investor-friendly attributes are turning Vietnam into one of Southeast Asia's most powerful magnets for foreign direct investment," said Global Finance Magazine in a recent article.
September 23, 2023 | 16:38
Economy
Vietnam has a fast-increasing semiconductor ecosystem and possibilities to improve its position in the global supply chain. In the joint announcement of the US-Vietnam Comprehensive Strategic Partnership, the two countries acknowledged Vietnam's significant potential to become a key nation in the semiconductor industry, adding they "are supportive of the rapid growth of the semiconductor ecosystem in Vietnam."
September 22, 2023 | 09:22