Several Countries Look to Boost Agricultural Trade with Vietnam
Agriculture continues to be solid pillar of national economy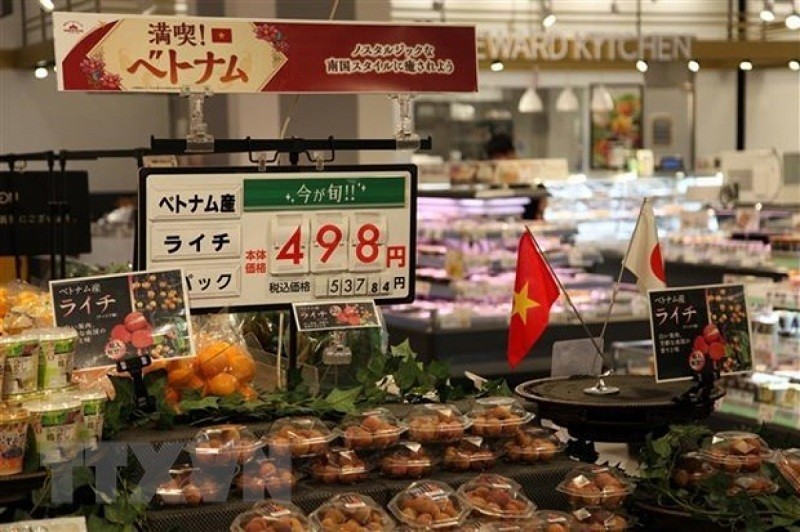 Vietnamese lychee on sale at AEON supermarket. Photo: VNA
Agriculture continues to be solid pillar of national economy with the Republic of Korea (RoK) and Japan are eyeing bigger shares of Vietnam's agricultural product and food market.
In a recent promotion event in Ho Chi Minh City where various agricultural products made in the RoK were introduced, Uiseong province has showcased to Vietnamese consumers its signature products, including kimchi, black garlic, red ginseng, ginseng, grapes, apples, and fermented fruit drinks.
The event formed part of a project to support Korean agricultural exporters to weather the Covid-19 pandemic and gain broader access to the Vietnamese market, according to VNA.
Hairim Yoo, Director of Seoho, a Korean company, said the province has organised many trade promotion events to introduce a variety of high-quality farm products to Vietnamese consumers between 2019 and 2021.
A representative from Uiseong's administration said following the RoK government's New Southern Policy, the province has been accelerating promotion of agricultural products to boost exports to Vietnam. Additionally, the number of Koreans living permanently in Vietnam is on a rise, providing a larger market for the RoK's agricultural exporters.
Similarly, the Japan External Trade Organisation (JETRO) in HCM City has launched an exhibition of Japanese food products called "TASTY in all of JAPAN" at Sofitel Saigon Plaza Hotel in the southern city's District 1. The ongoing exhibition features about 300 agricultural products from across Japan.
Due to the impacts of Covid, agricultural exporters from Vietnam and Japan had few chances to meet and exchange information over the last two years, said a JETRO representative.
Through such events, JETRO wants to directly introduce Japanese food products to local customers and enterprises, so Japan will be able to expand trade cooperation and foster exports to Vietnam in the coming time, the representative said.
Vietnam Trade Promotion Agency (Vietrade) under the Ministry of Industry and Trade in collaboration with the Vietnam Trade Office in Japan organised a trade exchange to connect businesses of Vietnam and Japan in the field of food processing.
Ta Duc Minh, Trade Consular at the Vietnamese Embassy in Japan said with a population of more than 125 million people, Japan is a large consumption market for agricultural, aquatic and food products.
Vietnam is considered to have strengths in the above-mentioned products and has good supply capacity for the Japanese market. Moreover, the number of people from Asian countries living and working in Japan is also up to 10 million, in which, the number of Vietnamese people increased rapidly with nearly 500,000 people in 2020.
Therefore, agricultural products imported from Vietnam have been warmly received by Japanese, Vietnamese and people of other Asian countries, he said.
It showed that there still have a lot of potential for Vietnamese agricultural products to export to Japan in the future, Minh said.
The total import-export turnover between Vietnam and Japan reached US$38.4 billion over the first 11 months of this year, up 7% over the same period last year. Notably, Japanese investment capital into Vietnam increased by 54% against last year's figure.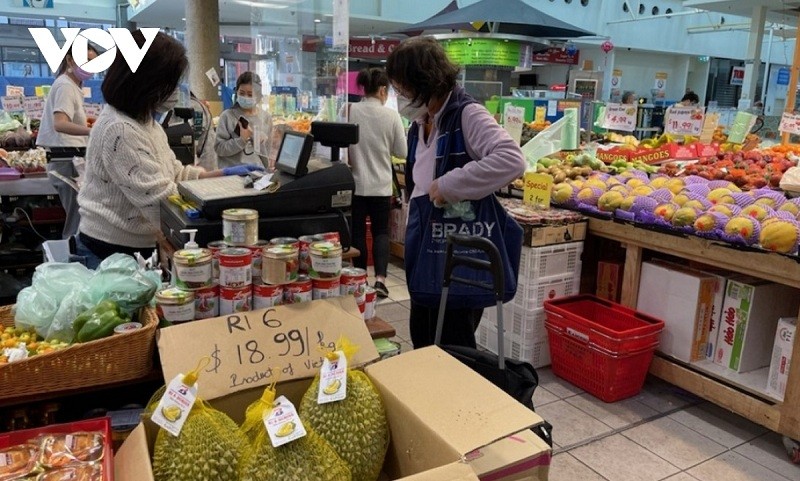 Some Vietnamese fresh fruits are sold in the Australian market. Source: VOV
The Vietnamese Trade Office in Australia also is in the process of launching a broad range of exhibitions between Dec.10 and Dec. 31 to showcase several key Vietnamese products in an effort to bolster exports next year.
The event features a total of 350 stalls displaying a range of goods classified into different sectors, including garments and textiles, footwear, farm produce, seafood, and woodwork products, with this set to continue into January of next year on the website www.vietnamsourcingexpo.com, VOV reported.
A representative of the trade office noted that as the pandemic impacts supply activities, the use of IT serving trade promotion will help to ease travel barriers and support both Vietnamese and Australian firms in expanding their partnership and networking.
According to figures released by the General Department of Vietnam Customs, the past 11 months of the year has seen trade between the two countries reach close to US$11.18 billion, an annual increase of 50.23%. Of the total, the value of Vietnamese shipments to the Australian market surpassed US$3.97 billion, with growth recorded for many key export earners such as apparel, footwear, aquatic products, farm produce, and rice.
The trade office has therefore continued to promote many local frozen agricultural products, like durian, coconuts, dracontomelon, and ginger, with positive feedback from Australian consumers.
Vietnam and Mongolia Pledge to Further Relations

The Vietnam-Mongolia Friendship Association organizes the 5th Congress, term 2021-2026. The delegates expressed their expectations, planned development, promoted exchange and cooperation activities between the two ...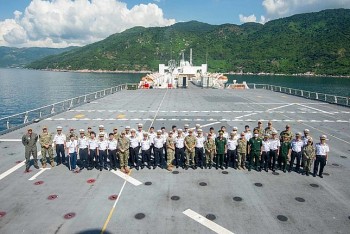 Friendship
The Pacific Partnership 2022 (PP22) concluded on July 3 on USNS Mercy, a hospital ship of the US Military Sealift Command anchored at Vung Ro Port in Dong Hoa town, the central province of Phu Yen.