Vietnamese FDI Attraction to Recover Next Year
Despite a sharp fall in foreign direct investment attraction globally, FDI inflows in Vietnam remain stable in 2021 and are anticipated to bounce back next year as soon as the COVID-19 pandemic is completely brought under control, according to economists.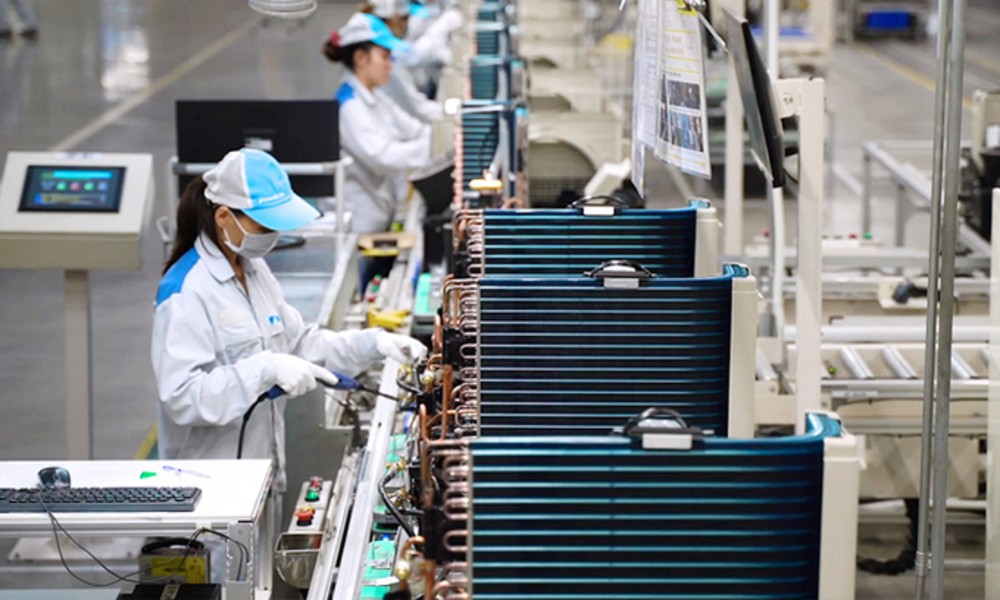 Workers at an air conditioner making factory in northern Hung Yen Province. Photo: VNE
The Ministry of Planning and Investment reports Vietnam has attracted US$26.46 billion in FDI attraction during the past 11 months, a year-on-year rise of 0.1%.
Most notably, the government's strong commitments to accompany and support FDI businesses have built up investors' confidence in the national business climate.
Most recently, Danish toy production company LEGO Group signed a memorandum of understanding (MoU) to pour US$1 billion into its first-ever carbon neutral factory to be built in the southern province of Binh Duong.
During a recent trip to India and the Republic of Korea (RoK) made by National Assembly Chairman Vuong Dinh Hue, Dai An Group also signed an MoU with India's Sri Avantika Contractors Ltd for the construction of a US$500 million Pharmaceutical Park.
Meanwhile, Saigon Telecom Technology Joint Stock Company (SAIGONTEL) and India's Ecologic Engineering Company inked a co-operation agreement in the fields of infrastructure, industry, and innovation development, with the total investment value of up to US$4 billion.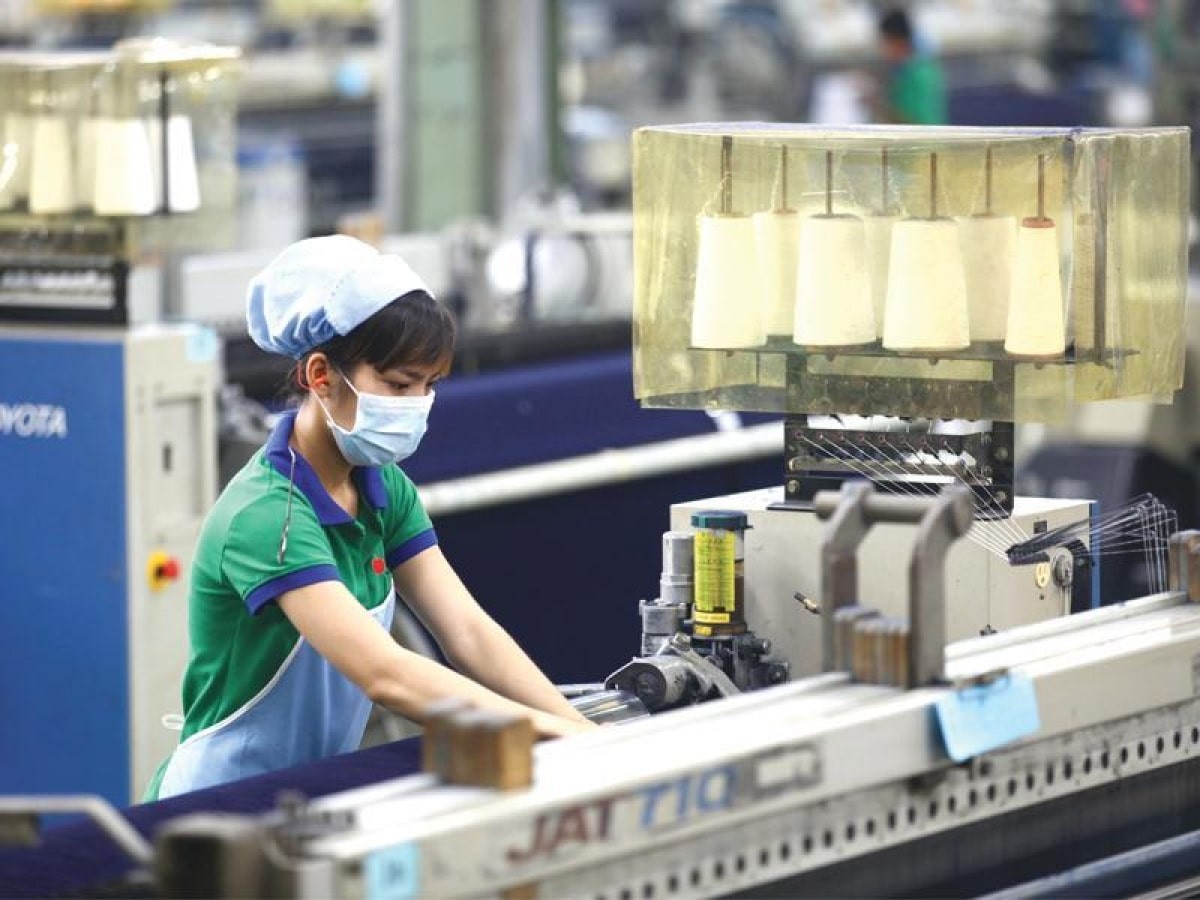 There is positive outlook for FDI inflows in Vietnam next year. Photo: VOV
Billionaire Prashant Ruia, who owns Essar, a multi-industry corporation with an annual profit of about US$2.2 billion, also expressed a strong desire to invest in the Vietnamese market, especially in the oil and gas sector.
The Minitry of Planning and Investment says Vietnam remains attractive destination for foreign investors that continue to focus on developing digital infrastructure and boosting the semiconductor field.
It's noteworthy that the country's foreign investor sentiment indicator in September reached 939 points, representing the highest score since November, 2019, and a rise of 27.9% against the same period from last year.
Economists point out that the recovery trend of the global investment flow will open up a wealth of opportunities for Vietnam in the time ahead.
Thargbodee Serng Adichaiwit, vice president of the Thai Chamber of Commerce in Vietnam (ThaiCham), projects that the Vietnamese economy is likely to grow double next year, and that Thai investors would soon resume injecting huge money in the country moving forward.
Nguyen Anh Duong, head of the General Research Department under the Central Institute for Economic Management (CIEM), believes that Vietnam's fast rebound, coupled with the recovery of the Asian production network as a whole, will significantly contribute to accelerating FDI attraction.
Duong says foreign investors will gain plenty of business opportunities from new-generation free trade agreements, especially from the Regional Comprehensive Economic Partnership (RCEP), thereby making investment decisions to diversify production bases as the region's economy bounces back.
Mergers and acquisitions (M&As) in particular are expected to experience a boom next year as the RoK and Japanese investors are keen on investing in the Vietnamese market, according to the auditing and consulting firm KPMG.
8 groups of advantages of Vietnam in attracting FDI
With the Government's efforts in institutional reform, improving the business investment environment, according to the international community's assessment, Vietnam has 8 groups of advantages in attracting foreign investment. These groups include: Stable macro environment, dynamic economy, expanding consumption market with abundant supply.
The political situation in Vietnam is stable, ensuring consistency in economic development policies and attracting foreign investment.
Besides, the adequate legal environment is one of the important factors attracting investors - this is appreciated by international friends.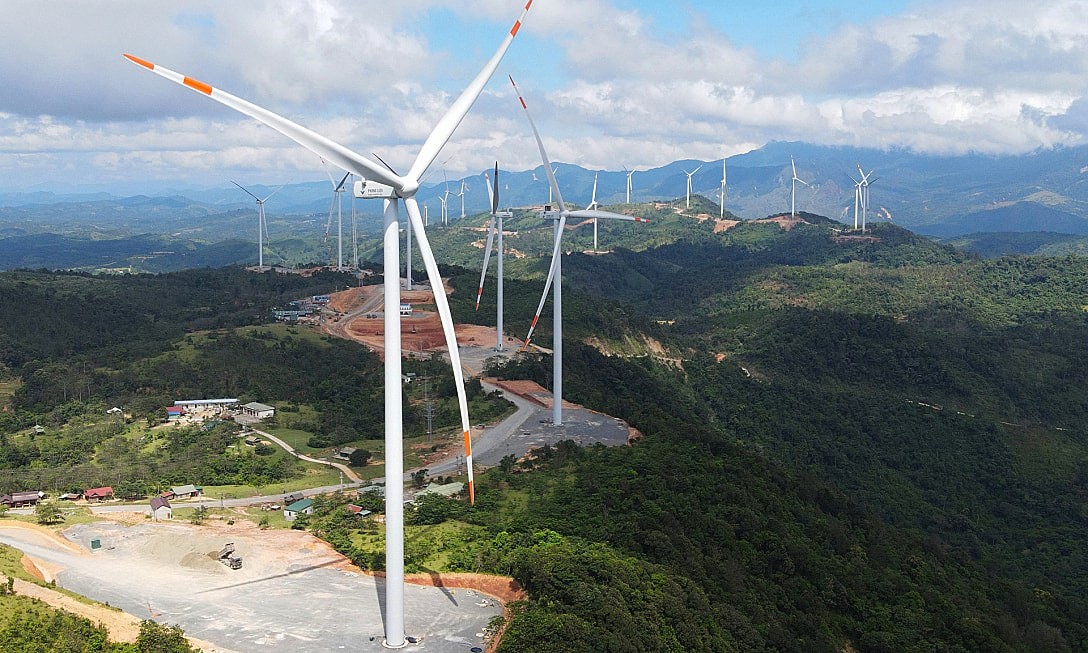 A wind power farm in the central province of Quang Tri. Photo: VNE
Vietnam has an open foreign investment policy. Typically, the Investment Law 2020 and the Enterprise Law 2020, effective from January 1, 2021, continue to demonstrate this policy by cutting a number of administrative procedures on investment.
The business environment is constantly improving, many indicators of Vietnam's business environment and competitiveness have been improved.
In particular, in recent years, Vietnam has been a member of many important multilateral and bilateral trade agreements. This is an important factor in enhancing the position and attractiveness of Vietnam in the business strategy of foreign investors.
Vietnam's labor force is young and abundant, with more than three-quarters of the population aged 15 and over participating in the labor force. In 2020, the rate of trained workers receiving certificates reached 23.6%. Besides, the Vietnamese workforce is appreciated for hard work, high education level, ease of training and low labor costs. This is one of the competitive advantages of Vietnam compared to other regional labor markets.
The geographical position of Vietnam is especially favorable with a long coastline, many deep-water ports, and is a gateway for international trade in goods by sea. Moreover, the increasingly synchronous infrastructure and technology is also an advantage attracting foreign investors to Vietnam.
Vietnam Excels in FDI Race

In 2020, Vietnam has become a bright spot in attracting the shift of FDI inflows, for the first time, our country has entered the top ...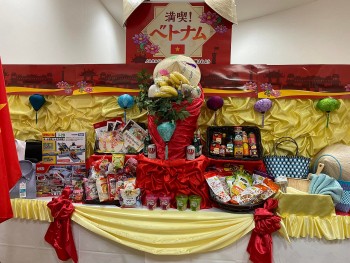 Economy
Vietnamese rice and agriculture products are rising stars in Japan, entering hundreds of supermarkets and retail stores in AEON's system across the country.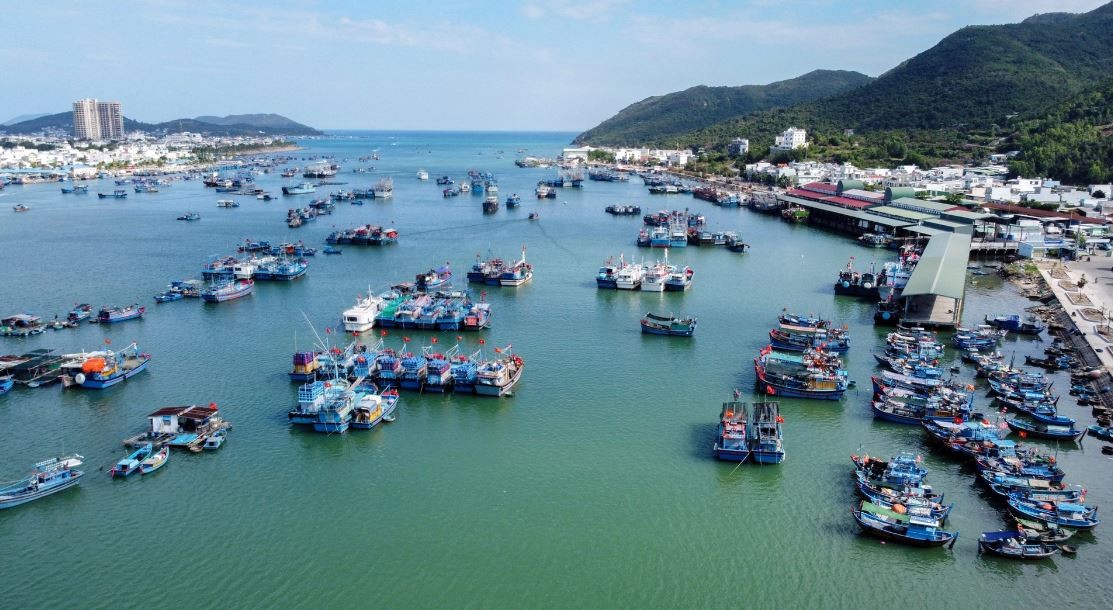 Economy
GDP growth quickened to 7.72% in the quarter ended June, beating the government's 6%-6.5% target.
July 01, 2022 | 17:12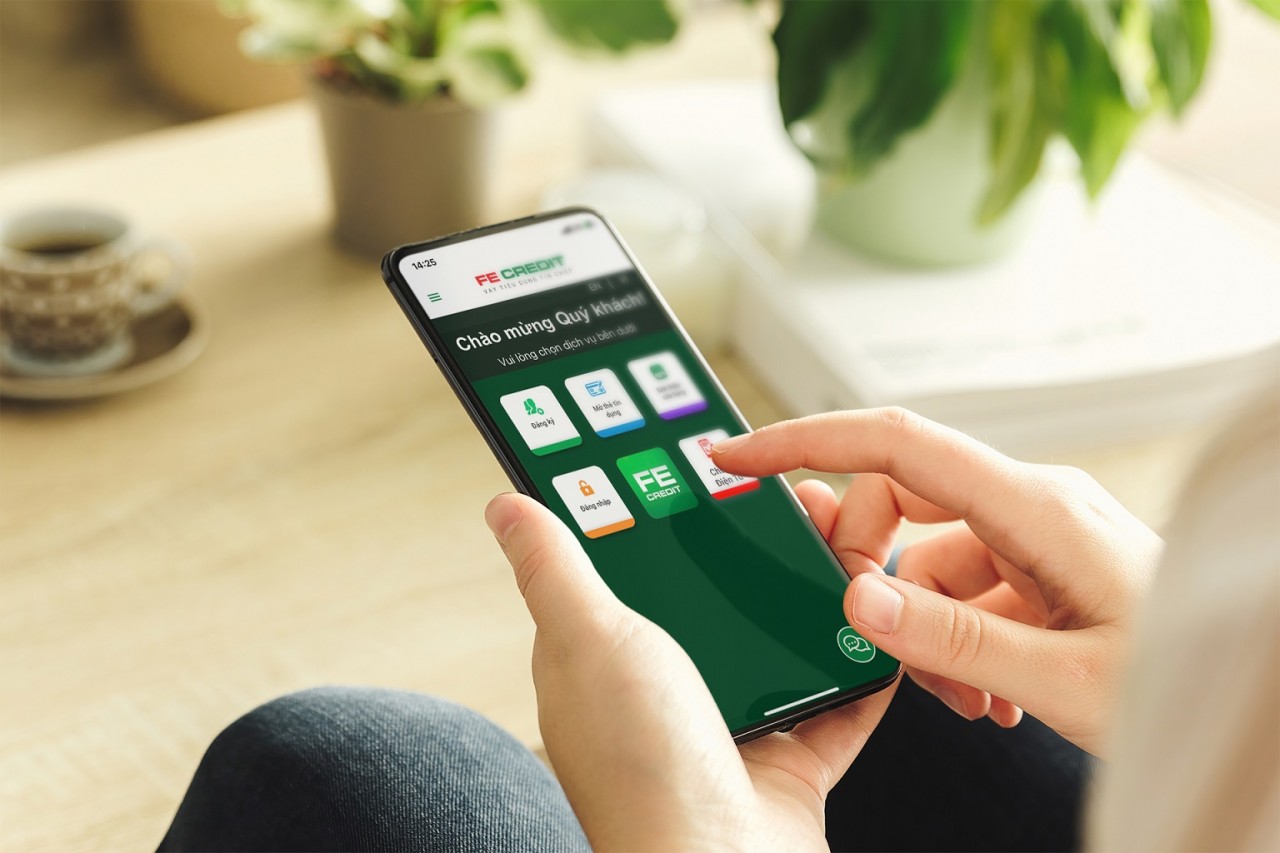 Economy
Besides official loan applications that operate openly and transparently, there have been many lending apps that turned out to be a form of black credit with cut-throat interest rates, which have unintended consequences and threaten social security.
July 01, 2022 | 16:14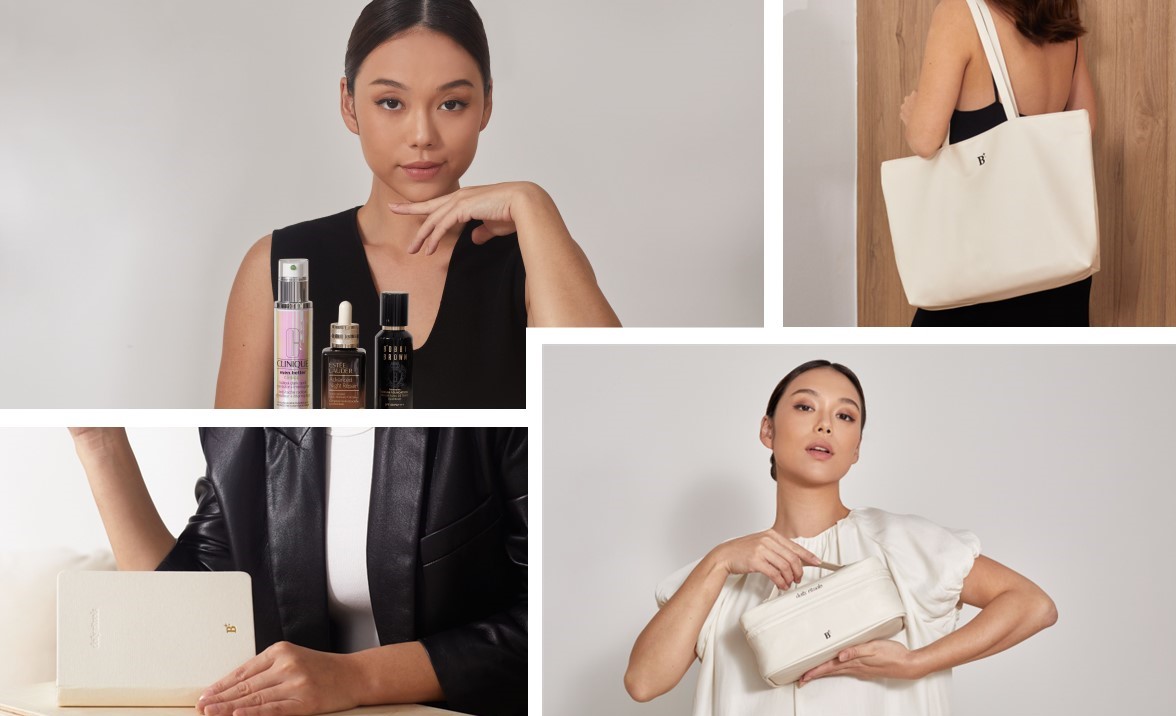 Economy
SINGAPORE - Media OutReach - 1 July 2022 - From 1 – 31 July, iShopChangi will be featuring one of its most exciting collaborations to-date, boosting its premier shopping destination for exclusives. Singaporean lifestyle influencer, Andrea Chong (@dreachong), has collaborated with BEAUTIQUE by iShopChangi to design an exclusive three-part merchandise range that is matched with some of handpicked skincare favourites in a specially coined Daily Rituals beauty collection.
July 01, 2022 | 10:00