S.Korea police say probing U.S. ambassador attacker's visits to N.Korea
S.Korea police say probing U.S. ambassador attacker's visits to N.Korea
South Korean police said on Friday they were investigating possible links between a knife attack on the U.S. ambassador to Seoul and the assailant's frequent past visits to North Korea as they review whether to charge him with attempted murder.
The head of the police team probing the attack also said they plan to seek a formal detention warrant on Friday against the Korean nationalist who slashed Ambassador Mark Lippert at a forum discussing Korean reunification on Thursday.
Yoon Myeong-seong, chief of police in the capital's Jongno district, told a news briefing the suspect, Kim Ki-jong, visited North Korea seven times between 1999 and 2007.
"We are investigating whether there is any connection between the suspect's visits to North Korea and the crime committed against the U.S. ambassador," Yoon said.
Police raided Kim's house and office early on Friday and he is likely to face charges for attempted murder, other police officials said.
Kim, who has been identified by police as a member of the pro-unification group that hosted the forum, said the attack was meant as a protest against joint military exercises by South Korean and U.S. troops that began this week.
North Korean media said the attack against Lippert was "deserved punishment" for the drills, calling the assault "the knife of justice".
Lippert needed 80 stitches to close a gash in his face. He is recovering in a Seoul hospital and has said he is in "good spirits".
Doctors at Yonsei University's Severance Hospital said on Friday Lippert was likely to remain there until early next week, when they plan to remove his stitches.
Tuoitrenews.vn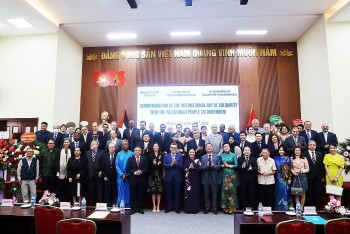 Focus
The Vietnamese people support the righteous struggle of the people of Palestine for independence and freedom.