SMEs urged to join value chains
Dương Thị Kim Liên, deputy director of USAID Việt Nam Linkages for Small- and Medium-sized Enterprises (LinkSME) programme, said such relations would help lower costs for multinationals in Việt Nam to source locally, while representing a huge opportunity to grow the country's SME sector and build its middle class. 
Better supplier-buyer relations with multinationals located in Việt Nam would help small- and medium-sized enterprises gain access to electronics global value chains, experts have said.
Workers produce electronic components at Korean firm Bluecom Vina Co. Ltd in the northern port city of Hải Phòng. — VNA/VNS Photo Danh Lam
Speaking at a workshop held in HCM City on October 4, Liên said the LinkSME programme improves Việt Nam's regional competitiveness by making it a more predictive investment climate.
Việt Nam has had one of the world's fastest rates of growth over the past 20 years, but its growth rates have been slowing in recent years, which has raised concerns that Việt Nam may be falling into the middle-income trap, according to Liên.
However, Việt Nam has made raising productivity and increasing value-added production a high priority as part of its plan to modernise and grow its economy.
One way to do this is by strengthening the linkages between domestic firms and global value chains.
The purpose of the LinkSME programme will be to bring about systemic changes in business relationships between Vietnamese SMEs and multinationals in the country.
Nguyễn Trọng Hiệu, an expert with the USAID Governance for Inclusive Growth (GIG) programme, said that 70 per cent of the value of spare parts to make electronics products still comes from imports.
In addition, more than 20 per cent of Vietnamese manufacturers also have financial troubles accessing loans from commercial banks, he said.
Nguyễn Thị Xuân Thuý, head of the Industry Department at the Ministry of Industry and Trade, said the ministry would continue to offer preferential policies to foreign investors and encourage domestic supporting industries to help local electronics producers become more involved in global production chains.
Việt Nam has moved up in the global value chain, and has become better known as a manufacturer in Asia, with four industrial sectors participating in the world's production chains, including electronics, automobiles, agriculture and textiles, she said.
The country, especially the electronics sector, is expected to attract more foreign direct investment (FDI) in the near future, creating more jobs for local workers as well as opportunities for suppliers of electronics.
To better integrate into global electronics value chains, Việt Nam should call for investment from the private sector, and enhance communication systems, market competition and customs clearance procedures.
According to recent World Bank reports, only 300 Vietnamese firms are fully eligible to join the world's production chains.
Nguyễn Quốc Cường, director of Hanel Plastics, said that SMEs faced hurdles when joining global supply chains because of the unstable quality of products, a problem cited by Samsung and Canon manufacturers in Việt Nam.
Most SMEs do not have a system to ensure quality for all products, he said, adding enterprise leaders lack sufficient commitment and innovation.
"To become a supplier of the first level, enterprises must also ensure standards related to delivery, safety, employee morale, work environment, communications, and technology," he said.
"The key to success is a long-term strategy with top priority being given to quality of products, skilledl human resource, professional management, and the use of cutting-edge technologies."
In recent years, the electronics industry has grown rapidly and has become one of the most important sectors of Việt Nam's economy. The growth rate rose from 7.4 per cent in 2011 to 32.5 per cent in 2015.
The development of Việt Nam's electronics industry is attributed to large investments from multinationals, especially from South Korea and Japan, that manufacture electronic components.
Electronics is the largest export sector in Việt Nam ,with export turnover growing from US$22.9 billion in 2012 to more than $71 billion in 2017.
It is now 2.5 times and five times greater than the textile and footwear sectors, respectively.
Of the total, 95 per cent of the country's electronics export turnover is due to foreign direct investment (FDI) enterprises.
Organised by the Ministry of Industry and Trade, the workshop was held to help Vietnamese SMEs improve competitiveness and join global value chains./.
( VNF/VNA )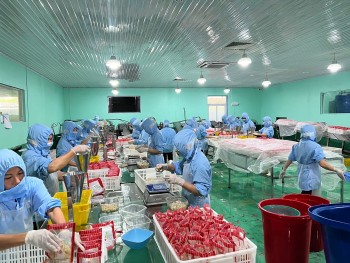 Focus
Not only agricultural products, traditional dishes of Vietnam also penetrate into difficult markets, bringing great revenue to businesses and people.