Sri Lanka ceramic mosaic mural unveiled on the Hanoi Ceramic Mosaic Wall
This was the last public event by Ambassador Hasanthi Urugodawatte Dissanayake, prior to completing her tenure in mid February 2019./. 
(VNF) - With the support of Sri Lanka Tourism Promotion Board, the Embassy of Sri Lanka in Hanoi unveiled a Sri Lanka ceremic mosaic mural on the new wall of Hanoi Ceramic Mosaic Mural wall on January 22.
The ribbon cutting ceremony.
The artwork which depicts many aspects of Sri Lanka's tourist attractions from Sigiriya (also called Lion Rock or Lion Mountain) to Sri Lankan wild animals such as Ceylon leopard, peacock; elephant and local customs such as traditional Kandyan dances; stilt fishing… was designed by SLTPB and installed by artist Nguyen Thu Thuy and her team from New Hanoi Arts Co. Ltd.
The Hanoi Ceramic wall is one of the major projects that were developed on the occasion of the Millennial Anniversary of Hanoi City which is an art project covering a length of 4 km, covering an area of 6,950 m2 of the wall. The wall is located on the dyke wall parallel to the road connecting the main access road to the International airport in Hanoi that connects the old quarter of Hanoi and the newly developed area in the city. This mosaic wall is the largest mosaic art in the world and it received recognition in October 2010 by Guinness Book of World Records for the longest mosaic mural in a public space.
The mosaic mural wall is a brain child of renowned artist Nguyen Thu Thuy, Director of New Hanoi Arts Co. Ltd. She is also a journalist whose mosaic art project proposal was selected by Hanoi People's Committee at the Hanoi Architecture Contest to find the best artistic depiction for the wall.
Sri Lanka ceramic mosaic mural unveiled on the Hanoi Ceramic Mosaic Wall.
Sri Lankan Ambassador to Vietnam Hasanthi Urugodawatte Dissanayake stressed that it is a great honour to depict Sri Lanka's attractions on this iconic landmark of Hanoi, which is already on the Guinness Book of Records, in an year that Sri Lanka has been identified as the top tourist destination by many travel and tourism sector entities, including Lonely Planet.
She further added that this mural can be considered as a gift from people of Sri Lanka to people of Vietnam, especially Hanoians.
The traditional lamp was lit by Sri Lankan Ambassador, senior officials from Hanoi People's Committee, Ministry of Foreign Affairs, diplomats, artists, art enthusiasts and friends.
Phuong Minh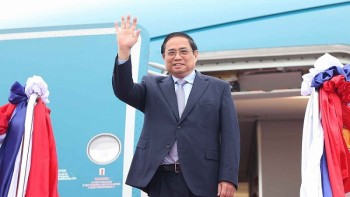 National
Vietnam News Today (Feb. 6): PM Chinh to pay official visits to Singapore, Brunei; Vietnam attends ASEAN+3 Tourism Ministers Meeting; Exports in 2023 and high demands from new generation FTAs; Digital technology to spearhead Vietnam's drive for Industry 4.0.