State President extends congratulation to Egypt on National Day
(VNF) - President Tran Dai Quang on July 22 sent a congratulatory message to his Egyptian counterpart Abdel Fattah el-Sisi on the country's National Day (July 23)
(VNF) - President Tran Dai Quang on July 22 sent a congratulatory message to his Egyptian counterpart Abdel Fattah el-Sisi on the country's National Day (July 23).
Vietnamese and Egyptian delegates at a seminar discussing Egypt situation after the Arab Spring held in Cairo on May 8 (source: VN+)
Similar messages from Prime Minister Nguyen Xuan Phuc and Foreign Minister Pham Binh Minh were also sent to their respective Egyptian counterparts Sherif Ismail and Sameh Shoukri.
Egypt enjoys historical relations with Vietnam which goes back to the 1950s when the government of the Vietnamese National Liberation Front opened its office in Cairo.
Vietnamese ambassador to Egypt Nguyen Hoang Long cutting the ribbon to open the "Vietnam Photo Exhibition Week" in Cairo in March 27 (source: VOV)
Egypt was the first Arabian country to establish relationship with Vietnam since the two nations announced official diplomatic relations on September 1, 1963.
Since the establishment of the diplomatic relations, both countries have been maintaining close and friendly relations.
Bilateral ties are characterized by various high-level leaders visit, dialogues, as well as cooperation and exchange of expertise in different fields including agriculture, farm produce processing, fisheries, tourism and the coordination in various regional and international forums./.
( VNF )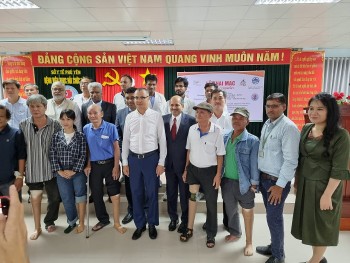 Friendship
This is the 5th time the Jaipur Foot Artificial Limb Fitment Camp has been held in Vietnam since 2018 by the Indian Ministry of Foreign Affairs, Indian agencies and organizations.