Strive to decline the rate of women, children falling victims to trafficking
Recently, a "Building a safe community, preventing trafficking against women and children" programme was held in Thong Nong district, Cao Bang province.
At the event on July 8. Photo: AFV
Female children are not only the victims of domestic violence but also human trafficking, sexual abuse and violence from outside the family.
When it comes to prevention of human trafficking, we must first of all pay attention to the causes that lead to the situation of trafficking. Poverty, unemployment or domestic violence as causes of human trafficking come from different social spheres, reflecting the nature of economic, political, family and other relationships in a community.
Key prevention programs (seminars, round tables, different trainings...) need to direct toward the representatives of vulnerable populations - residents of shelters, and beneficiaries of the assistance and support program.
The Management Board of Supporting Program for Development in Thong Nong district, Cao Bang province coordinated with Ministry of Labour, War Invalids and Social Affairs, the Women's Union of Thong Nong district to organize the operation.
The activities were technically and financially supported by Aid for social protection program Foundation Vietnam (AFV) and ActionAid Vietnam.
This activity involved more than 400 people, women members and students from Thi Xuan secondary school and Binh Lang primary and secondary school. The participants were informed and expanded their knowledge about the Law on Domestic Violence Prevention and Control, the Law on Gender Equality, Law on human trafficking prevention and acts of harassment, sexual assault.
They were also equipped with skills to protect themselves and their family members, especially women and girls, from human trafficking./.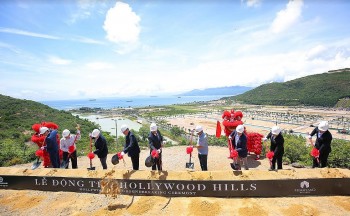 Economy
On October 2, at Hai Giang peninsula (Quy Nhon city, Binh Dinh), Hung Thinh Corporation held the groundbreaking ceremony of Hollywood Hills by YOO Inspired by Starck – a subdivision at MerryLand Quy Nhon. The event marks the first time that the world's No.1 ranked design and branded residence company YOO Inspired by Starck is officially present in Vietnam, with a collection of villas designed by creative director, Philippe Starck.