Students Gained Insights about Japan to Promote Bilateral Ties
Practical activities for young Vietnamese people are being organized to continue fostering the friendship and co-operation between Vietnam and Japan.
Youth plays a substantial role in shaping formal bilateral relations. Marking 50 years of relations, many programmes are held to offer opportunities for young people to practise international communication skills, learn about bilateral relations, and demonstrate their roles in enhancing Vietnam – Japan ties.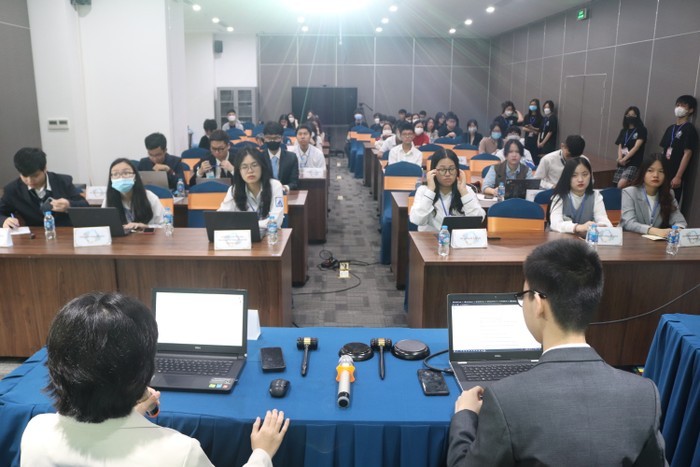 At the event titled "MIG - Model International Government 2023". Photo: Dong Vy
The History for Everyone - History and Culture Club of the High School for Gifted Students, Hanoi National University of Education on April 16 held an event creating a playground for young people to have the opportunity to experience, learn more about the hottest issues of each country in the world as well as understand the main happenings. everywhere on a global scale.
It is the most important event in the active season of the club in Hanoi. With the mission of building a useful playground for pupils and students; help them access, learn and accumulate life skills, useful experiences related to not only Vietnam but also other countries, contributing to support for work and life later.
Inspired by Government meetings in Japan and the difficulties facing this country, the event raised various issues in many important areas of Japanese social life. From there, the participants discussed and proposed measures to remove the above problems.
Talking about the event, Do Ba Thao Nguyen shared the she was really surprised when she was able to participate in such event for the first time, where every member could speak up and discuss Japanese issues. Thanks to the informative talks, she gained a lot of knowledge about the Land of Rising Sun.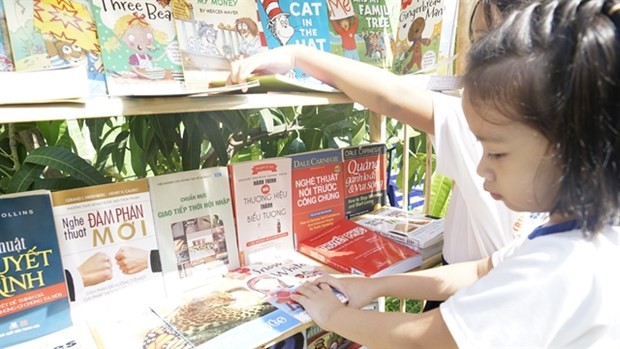 Children join an outdoor reading session at the Japanese-styled Sakura Kindergarten in Da Nang. Photo: VNA
Meanwhile, a writing and painting contest is being organized for 10,000 school students in Da Nang, celebrating the 50th anniversary of diplomatic ties between the two countries in the central city from March 30 to May 30.
The contest is titled 'Da Nang school students joining hands in strengthening the Japan-Vietnam friendship'.
It will feature around 10,000 students from primary, secondary and high school who will send their paintings and essays to Japan for selection on June 5-30. The best paintings and writings in Vietnamese or Japanese would be given awards in a ceremony in July.
Japanese was taught at 12 primary and seven junior secondary schools in Lien Chieu district following the city's foreign language teaching programme for 2012-2020. The coastal city and neighbouring provinces are home to 440 Japanese people and 60 Japanese restaurants operate in Da Nang.
Da Nang and Hoi An have been hosting the annual Japan-Vietnam Cultural Exchange Day since 2014.