Sudan's National Day celebrated in Hanoi
(VNF) - The Republic of Sudan's 61st Independence Day anniversary (Jan 1, 1956 – 2017) was celebrated in Ha Noi yesterday (Feb 16).
Republic of Sudan's Ambassador to VN Sayed Altayeb Ahmed making opening address (source: antd)
Sayed Altayeb Ahmed, Republic of Sudan's Ambassador to VN, in his opening remark, stated the quote of President Ho Chi Minh "Nothing is more precious than Independence and Freedom" had inspired Sudan people to keep the revolutionary spirit burning in many years fighting for liberty. As the 61st anniversary of Sudan's Independence Day marked the 47th anniversary of bilateral diplomatic ties, Sudan wanted to extend sincere thank to Vietnam for supporting the country during past years.
The ambassador also highlighted continuous growth of partnership between two countries in every aspect of cooperation. He believed past achievement, traditional friendship and the potentials of both Vietnam and Sudan will help strengthen bilateral ties in future.
Vice Minister of Foreign Affair Vu Hong Nam at the event (source: antd)
Vice Minister of Foreign Affairs Vu Hong Nam, for his part, congratulated the achievements of Sudan's people, and highlighted prospectives for cooperation in trade, investment, agriculture, petroleum and telecom. In addition, he expressed his strong belief in Sudan as a promising destination for Vietnamese investors.
Nam also took the ocassion to remark various milestones on the journey Vietnam and Sudan shared during past years and highlighted significant progresses of two countries' bilateral ties in 2016, including: the second meeting of Vietnam-Sudan Inter-Govermental Committee and the Memorandum of Understanding signed between universities of two countries.
Delegates celebrating Sudan's Independence Day (source: antd)
In 2017, the two countries look forward to more growths in bilateral ties, including the official high-level visit of Sudan's delegation to Vietnam in March and the 5th meeting on political consultancy between two countries' Ministry of Foreign Affairs, Nam stated.
The Vice Minister said he strongly believed in the bright future of cooperation between two countries, expecting the relation to become more dynamic and effective, benefiting people of two countries as well as global peace and cooperation for development./.
compiled ( VNF )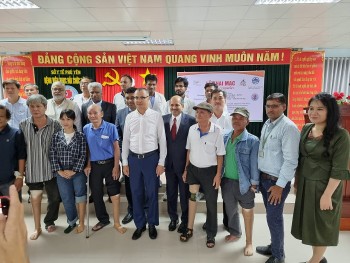 Friendship
This is the 5th time the Jaipur Foot Artificial Limb Fitment Camp has been held in Vietnam since 2018 by the Indian Ministry of Foreign Affairs, Indian agencies and organizations.