Sweden: Requiem for Vietnamese revolutionary martyrs
( VNF )
The Vietnamese Cultural Association in Sweden and Dai Bi Tam pagoda on June 6th organized a requiem for 64 Vietnamese naval soldiers who sacrificed their lives while fighting to protect the sacred sovereignty of the nation before China's aggression on March 14th, 1988 on Gac Ma island in the Vietnam's Truong Sa archipelago.
At the event, Mr. Le Son Ha, Head of the Vietnamese Cultural Association in Sweden affirmed the gratefulness of overseas Vietnamese in general and Vietnamese people in Sweden in particular. They have always uphold the national tradition, unite, build and protect the nation.
The requiem was organized solemnly under the chair of Veneral Thich Phat Dao. The monks and Buddhists conducted sacred rituals, recited Buddhist scriptures to pray for a peaceful country, prosperous people and souls of martyrs to depart from this life and reach a serene and pure land.
The event was participated by a large number of overseas Vietnamese and local people in South Sweden.
Dai Bi Tam is a Vietnamese pagoda in the city of Bjuv, South Sweden and it regularly organizes spiritual cultural activities and maintains the traditional culture for overseas Vietnamese in the country./.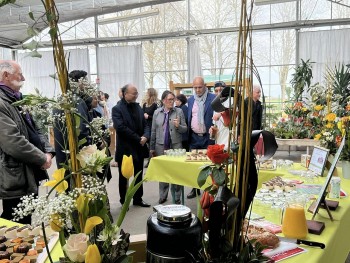 Overseas Vietnamese
Vietnamese Ambassador to France Dinh Toan Thang recently paid a working visit to Saintes, a city in southwestern France, to promote cooperation between the city and Vietnamese localities and attended the Vietnamese Culture Day, VNA reported.