Tekashi 6ix9ine releases 'Gooba' - first new song since returning home from prison
Rapper Tekashi 6ix9ine is releasing a new song and video created during his home confinement just weeks after being freed from prison over coronavirus scares.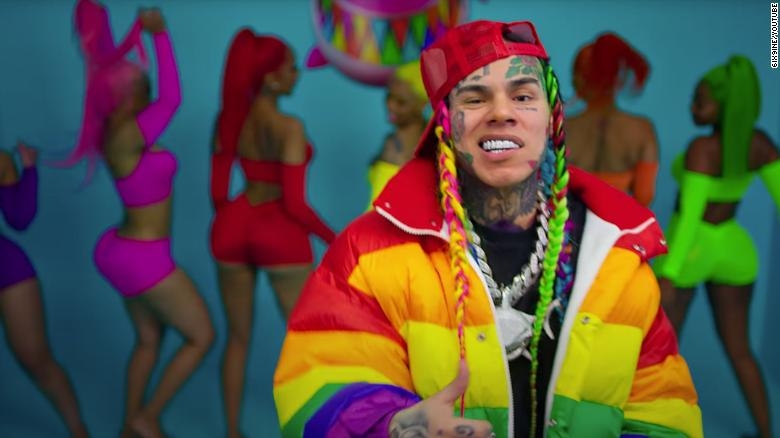 In his first post-prison track "Gooba," Tekashi 6ix9ine - whose real name is Daniel Hernandez - flaunted his jaw-dropping performance accompanied by six women and a puppy.
In his first post-prison track "Gooba," Tekashi 6ix9ine - whose real name is Daniel Hernandez - flaunted his jaw-dropping performance accompanied by six women and a puppy.
The rapper shattered previous Instagram live viewership records held by Drake and Tory Lanez, as two million users watched him live while promoting new song.
The rapper garnered two million viewers, breaking the record of 300,000 live viewers, previously held by rapper Drake and singer Torey Lanez.
Of course, viewers are not the same as supporters, but still, that's pretty impressive. And Hernandez thought so too.
"I'm the biggest artist in the world," he said. "Men lie. Women lie. Numbers don't."
Earlier on Friday, Tekashi advertisements were seen in Times Square.
Chances of 6ix9ine dropping a visual is pretty likely as he received permission from a judge last month to film a video in his backyard while he is on home confinement. Shortly after Tekashi received the green light from the judge, he hinted at his comeback.
Meanwhile, TMZ reported on Monday (May 4) that due to coronavirus quarantine restrictions, 6ix9ine might be the only person in his music video. The outlet claimed that Tekashi's security was going to be behind the camera while 6ix9ine directed the visual. The rapper might have recruited another rapper for the video, but they would have been responsible for filming their own content.
Tekashi, who celebrates his 24th birthday today, received a compassionate release from prison last month ahead of his scheduled sentence due to coronavirus concerns.
6ix9ine's last solo single "Stoopid" dropped in 2018.
Capping off that splashy return, the musician dropped a music video for a new song, 'Gooba'. Within mere hours of going up, the clip had racked up almost 13 million views.
Quickly, he became the source of much mockery online, with thousands making memes out of his livestream and its endless brags.
Tekashi 6ix9ine was released from federal prison
Tekashi 6ix9ine was sentenced late last year on charges related to gang activity in New York, but received a reduced sentence for his cooperation.
Tekashi was sentenced in December to two years in prison on racketeering, firearms and drug trafficking charges.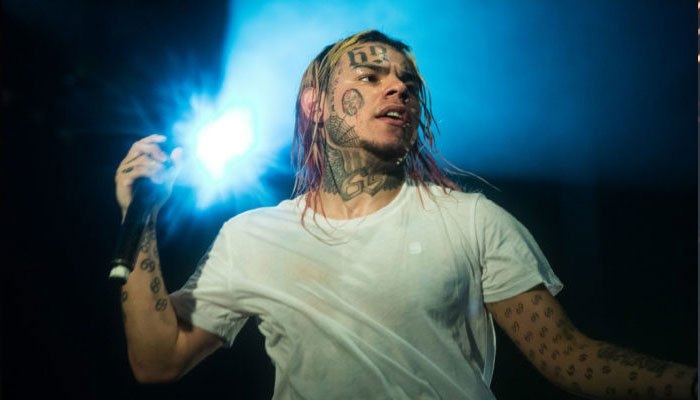 Tekashi 6ix9ine was released from federal prison
The US District Judge Paul freed the rapper on April 2, calling him to serve the last four months of his two-year sentence at an undisclosed location.
Lance Lazzaro, his defense attorney, said at the time that the rapper's "severe asthma" made him vulnerable to the novel coronavirus. Tekashi 6ix9ine is serving the remainder of his sentence at home.
6ix9ine is best known for his 2017 debut single "Gummo," which peaked at No. 12 on the Billboard Hot 100, and his collaboration with Nicki Minaj on his 2018 song "FEFE."
"Dummy Boy," his debut record, was released in late November, after he was taken into custody.
Meek Mill hasn't been shy about expressing his contempt for Tekashi 6ix9ine. After the polarizing rapper dropped the comeback single "GOOBA" on Friday (May 8), Meek continued his vitriol with a scathing review of the track.
"Shit superrrrr trashhhhhhhhhhh …. you gone up a 100 shots," he wrote via Twitter. "stop turn Durkio and nav back on!", XXLmag reported.
The feud between the two East Coast rappers began earlier this morning when Meek offered his opinion on what 6ix9ine should do when 6ix9ine planned to go live on Instagram today for the first time since he's been released from prison. "I hope that rat going live to apologize to the people he told on or the victim.....," Meek said on Twitter. "Y'all forgot that fast a "rat" killed Nipsey. He wasn't supposed to be on the streets! That's the only thing ima day because he's dead... left his baby mom and child like a coward as targets!"
6ix9ine swiftly responded to the diss in a similar fashion, commenting, "Imagine having a newborn baby come into the world & be pressed about a Mexican with rainbow hair."
While Tekashi went on to ignore the "Dreams and Nightmares" rapper to promote his latest single, "Gooba," Meek Mill tweeted more responses to the Brooklyn native, calling him an "informant behind a keyboard" and saying that Tekashi's new track is trash.
Meek Mill and Nicki have yet to respond to 6ix9ine's most recent comments.
The disgraced Brooklyn rapper boldly claimed, "The King is back" on what DJ Akademiks says is "the biggest billboard in Times Square." He announced that he's dropping a new single Friday at 3 PM ET.
The Hip Hop community shames rats and Tekashi is one of the infamous ones.
Hernandez recently joked about his reputation as a "snitch" on social media. The star commented on an Instagram post about Los Angeles mayor Eric Garcetti offering rewards to citizens who "snitch" on businesses violating the city's the stay-at-home order, saying he was "coming to the rescue".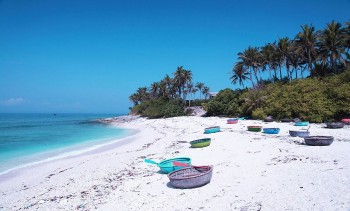 Travel
With more than 2000 miles of coastline, Vietnam brims with secluded coves, white sands, and waters fit for snorkeling. Crystal blue water, sandy beach, and bright sunshine, Vung Tau, and Nha Trang are voted among the most beautiful beaches by TikTok users.