Temperatures plummet as cold spell hits northern Vietnam
Snow and frost cover the Fansipan Peak (source: DT News)
An intense cold wave has struck Vietnam's northern provinces, sending temperatures to as low as 3 degrees Celsius in the high mountains, according to the National Hydro-Meteorological Forecasting Centre (NHMFC).
In the capital Hanoi, the temperatures will fall to 10-13 degrees Celsius, the national weather service said.

During the cold snap, forecast to last until January 14, the lowest temperatures in the Red River Delta will average around 10-12 degrees Celsius while the lowest temperatures in mountainous provinces will drop to 6-9 degrees Celsius.

As a result of strengthening cold air, rains of varying degrees are forecast in many places throughout the region on the night of January 8 and early morning the following day while frost is expected in the high mountains.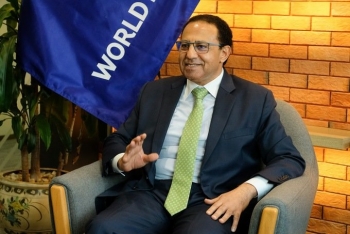 Economy
Vietnam's agriculture is transforming from quantity targets towards profit, environment and farmer income targets. Ahmed Eiweida, Vietnam Sector Leader for Sustainable Development (World Bank).