Three illegal bears rescued in Nghe An
After months of work led by Education for Nature - Vietnam (ENV), 3 illegal bears were found and confiscated by the authorities.
Three bears was kept illegally in captivity. Photo: FOUR PAWS Viet
According to ENV, after receiving information about the violation from locals in Nghe An, the centre defined the location where the bears were captured. It then reported to local authorities and asked to quickly save the bears.
This is ENV's riskiest bear mission to date. This included a hair-raising standoff with stone-throwing villagers who piled straw around the ENV inspection team's vehicle and threatened to set fire to the car if the team did not submit themselves into their custody. The ugly standoff only ended after intervention by the Forest Protection Department enabled ENV's team to beat a tactical retreat.
For FOUR PAWS Viet, this rescue came unexpectedly and they only had a few hours to prepare. The mission was an extreme experience for everyone involved, but fortunately the 3 bears, still nameless, are now in the BEAR SANCTUARY Ninh Binh.
FOUR PAWS Viet transfers 3 bears in the BEAR SANCTUARY Ninh Binh. Photo: FOUR PAWS Viet
Nghe An is one of the hotspots in illegal trade of wildlife animals and their products, especially ivory, rhino horn, tiger, and pangolin.
ENV data from 2010 has recorded about 119 violations nationwide related to Nghe An, a large proportion compared to that of other localities.
According to the centre, nearly 700 bears are being kept in captivity throughout the country. Evidence shows that they are kept for bile or illegal trade./.
VNF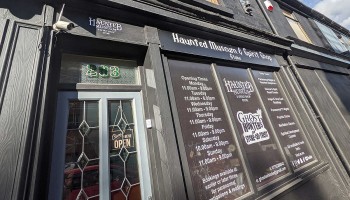 World
Haunted dolls exist everywhere in the world, and their stories can make our skin crawl. This doll, which is called "Mary", is called the scariest doll in the UK, had the camera capture her rocking the chair in an empty room.