Top 10 Most Expensive Trains In The World
Golden Eagle Trans-Siberian Express, The Seven Stars, British Pullman, etc, are some of the most expensive and luxurious trains in the world that can give you a whole new experience.
If you want to discover some of the world's most fascinating places from a unique perspective, traveling aboard a luxury train will make the entire experience even more special, with all the right amenities to make you feel comfortable, delicious food and drinks, brilliant staff and guides, and many other interesting activities on offer. Despite the fact that traveling by trains is considered outdated for many, these train rides will definitely add more value and class to your travels.
1. The Seven Stars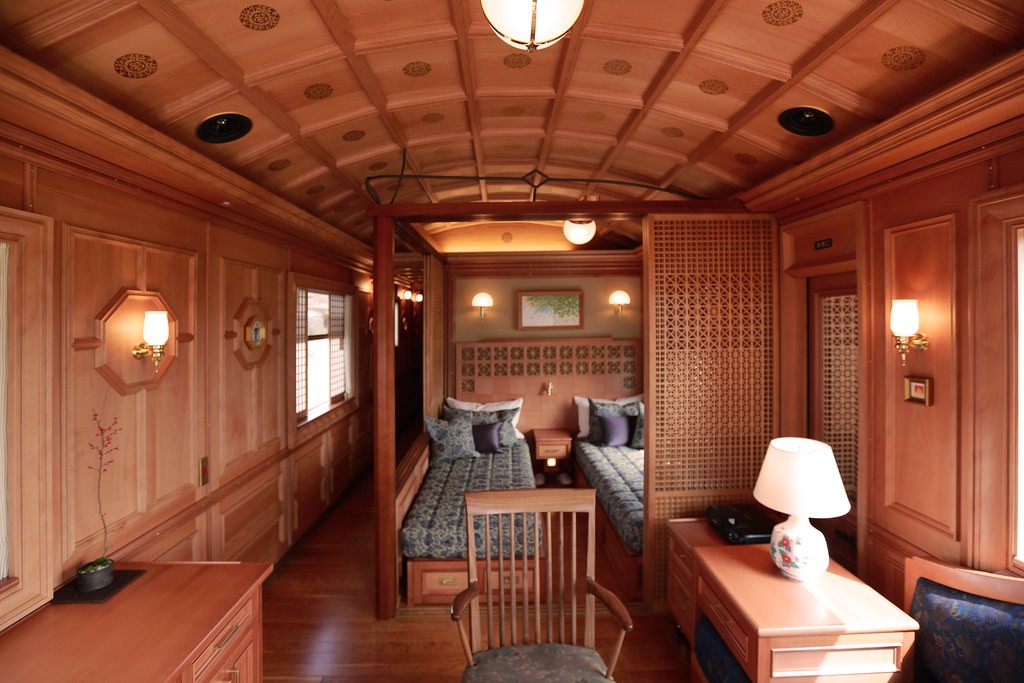 Photo: Flickr
The Seven Stars in Kyushu (ななつ星in九州, Nanatsuboshi in Kyūshū) is a deluxe sleeping car excursion train operated by Kyushu Railway Company (JR Kyushu) in Japan since October 2013.
The overall design concept of the train was overseen by industrial designer Eiji Mitooka. The name of the train is derived from the seven prefectures of Kyushu and the fact that the train is made up of seven cars.
The dedicated diesel locomotive, DF200-7000, for the train was built by Kawasaki Heavy Industries in Kobe, based on the JR Freight Class DF200 locomotive, modified for use in Kyushu and finished in a livery of deep maroon. It was completed in July 2013. The coaches are based on the 817 series EMU body design and are mounted on 787 series EMU bogies. Manufacture of the passenger coaches was split between Hitachi in Kudamatsu, Yamaguchi, and JR Kyushu's Kokura Works in Kitakyushu.
The train consists of the DF200-7000 locomotive and seven coaches: five sleeping cars, a lounge car, and a dining car, with a total capacity of 28 passengers. The rear car of the train features two deluxe suites with observation windows at the end. All suites have their own toilets and shower facilities, designed in porcelain by the late Sakaida Kakiemon XIV. The total cost of building the train was approximately 3 billion yen.
2. Maharajas' Express
Photo: Kuoni
The Maharajas' Express is a luxury tourist train owned and operated by Indian Railway Catering and Tourism Corporation(IRCTC). It runs on 4 routes covering more than 12 destinations across North-West and Central India, mainly centered on Rajasthan between the months of October and April
The Maharajas' Express was voted "The World's Leading Luxury Train" Seven times in a row at The World Travel Awards in 2012, 2013, 2014, 2015, 2016, 2017 and 2018. Maharajas' Express also received the first runner up award in the Specialist Train Operators Category at Conde Nast Travelers Reader Choice Travel Award in 2011.
The luxury train service was started in March 2010. The Indian Railway Catering and Tourism Corporation Limited (IRCTC) and Cox and Kings India Ltd. signed a joint venture to set up a company called Royale Indian Rail Tours Ltd. (RIRTL) to oversee the functioning and management of the Maharaja Express. This joint venture was terminated on 12 August 2011, and the train is now being operated exclusively by IRCTC.
The Maharajas' Express train has amenities such as Wi-Fi, attached bathroom, dining cars, bar, lounge and souvenir shop. Larger cabins have roll-top baths and spacious sitting rooms.
3. Golden Eagle Trans-Siberian Express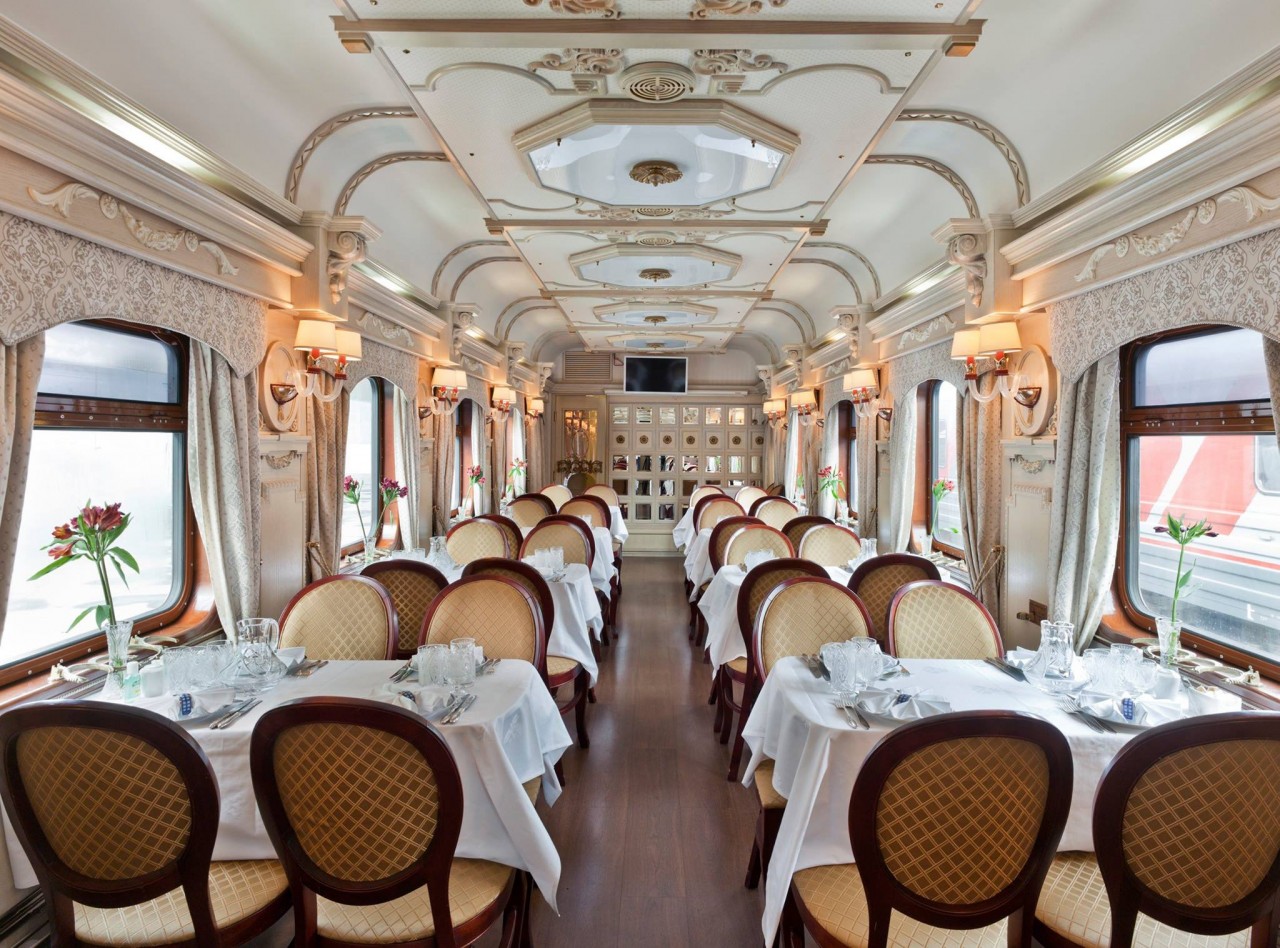 Photo: Twitter
By popular consensus, travelling the legendary Trans-Siberian Railway through Russia is both a once-in-a-lifetime experience and the greatest rail journey in the world. The route, from Moscow to Vladivostok, spans 9,288 kilometres and typically takes at least eight days to complete. It makes sense to undertake such an epic journey in comfort and style, and there is no better way than by travelling aboard the opulent and highly luxurious Golden Eagle Trans-Siberian Express.
Furnished and decorated in classical style to the highest standards, no expense has been spared to equip this striking and elegant train with every modern facility for passengers' comfort and convenience. This ensures that time spent aboard the Golden Eagle becomes, in itself, one of the memorable highlights of travelling the Trans-Siberian Railway.
For many guests, a journey along the Trans-Siberian Railway is a personal and life-enriching odyssey, and the route is packed with unique and unforgettable sights, destinations and experiences.
The Golden Eagle Trans-Siberian Express visits many special places including Irkutsk, an historic city as famed for its distinctive wooden architecture as it is for the rich cultural and artistic heritage which has earned Irkutsk the nickname 'the Paris of Siberia'. Whilst the route is noted for its diverse, ever-changing and often spectacular landscapes, the scenery of Lake Baikal, the largest freshwater lake in the world, is sublime.
In contrast to the vast empty beauty of the Mongolian Steppes, the country's capital city, Ulaanbaatar, is a thriving modern metropolis that rewards exploration with a host of fascinating museums, serene monasteries and vibrant public squares.
Whilst time aboard the train can be spent at your leisure, opportunities to take Russian language classes, hear the fascinating story of the Trans-Siberian Railway or learn more about Russian and Soviet history and culture are all available to guests.
4. British Pullman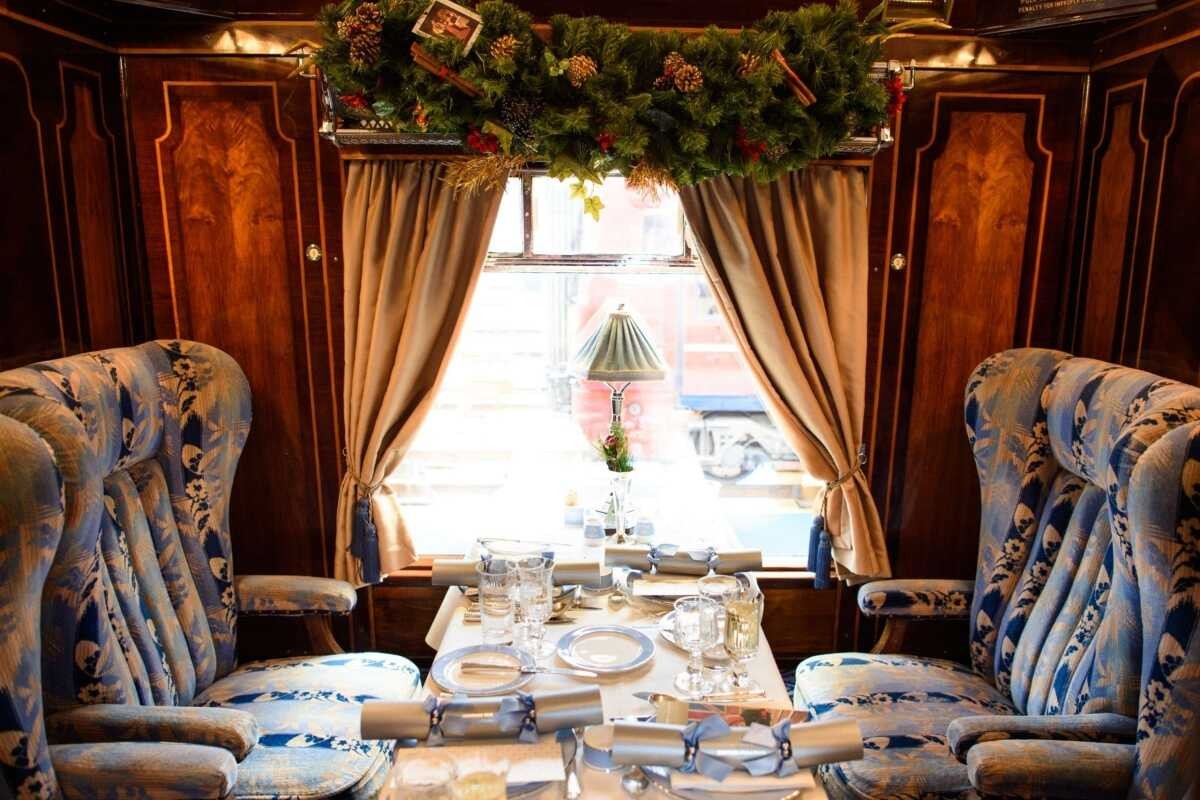 Photo: Sybarite
Belmond British Pullman is a private luxury train that operates day and weekend journeys around Britain and also conveys passengers of the Venice Simplon-Orient-Express (VSOE) between London and Folkestone, as part of their journey to Venice and other European cities.
The train service was founded by James Sherwood of Kentucky, USA, in 1982. It is currently owned by Belmond Ltd. Belmond operates 45 luxury hotels, restaurants, tourist trains and river cruises in 24 countries.
Belmond British Pullman journeys operate mainly out of London Victoria station with visits to places of interest in southern Britain such as castles, country houses, cities, sporting occasions and events including the Grand National and Goodwood Revival. There are also weekend journeys to Cornwall, with overnight accommodation in hotels, and non-stop round trips with lunch, afternoon tea and dinner served on board. Elaborate dining is included in every journey.
While Belmond British Pullman operates mainly around London it has a sister train, Belmond Northern Belle, that operates mainly around northern Britain, offering journeys of a similar style.
5. Venice Simplon-Orient-Express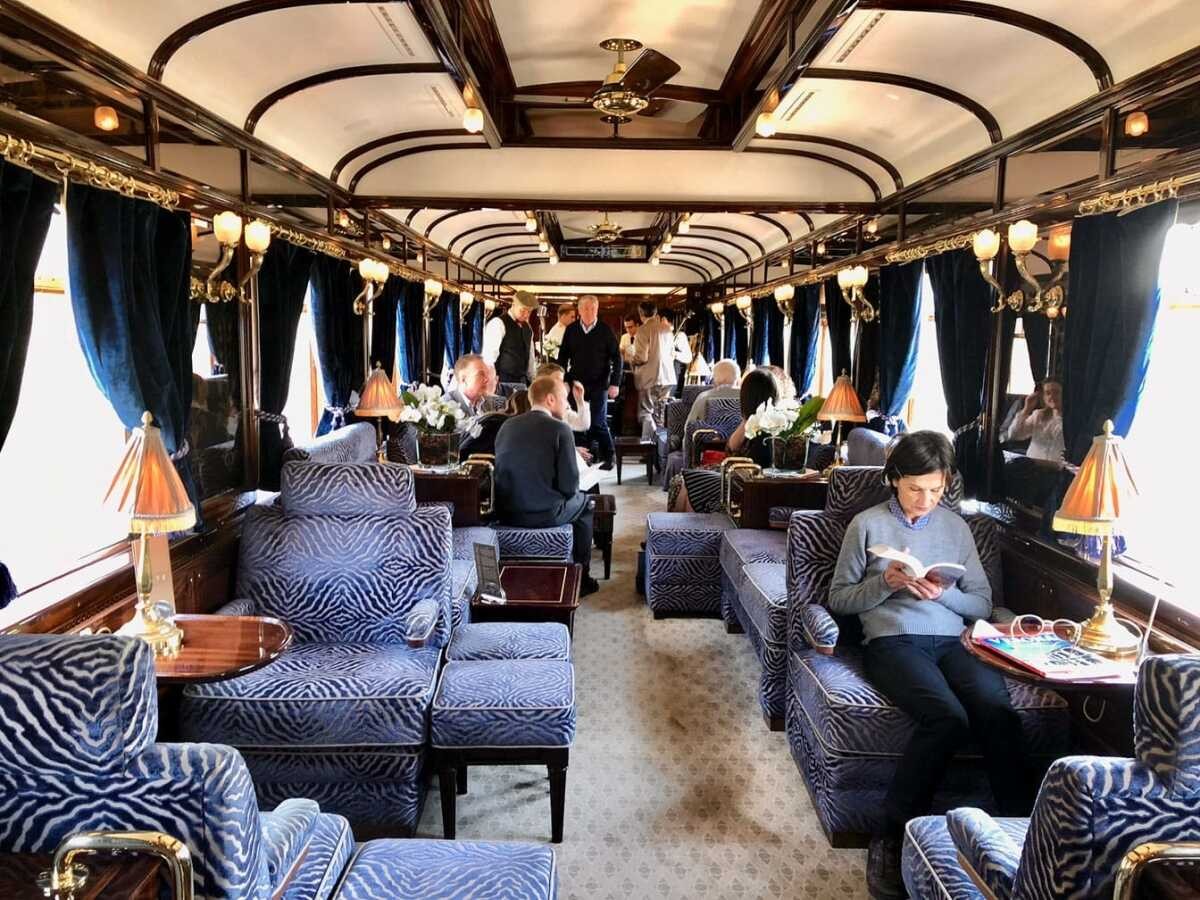 Photo: VSOE
The Venice Simplon-Orient-Express (VSOE) is a private luxury train service from London to Venice and other European cities. It is currently owned by Belmond, which operates 45 luxury hotels, restaurants, tourist trains and river cruises in 24 countries. It was agreed in December 2018 for the service to be acquired by LVMH in a transaction initially expected to close in the first half of 2019.
These VSOE services are not to be confused with a regularly scheduled train called the Orient Express, which ran nightly between Paris and Bucharest – in the last years of operation cut back to between Strasbourg and Vienna – until 11 December 2009. This latter was a normal EuroNight sleeper train and was the lineal descendant of the regular Orient Express daily departure from Paris to Vienna and the Balkans. While this descendant train was primarily used for every sort of passengers to Central and Eastern Europe, applying only the standard international train fares, the VSOE train is aimed at tourists looking to take a luxury train ride. Fares on the Venice Simplon-Orient-Express are high as the service is intended not as an ordinary rail service, but as a leisure event with five-star dining included.
The train was established in 1982 by James Sherwood of Kentucky, United States. In 1977 he had bought two original carriages at an auction when the Compagnie Internationale des Wagons-Lits withdrew from the Orient Express service, passing the service on to the national railways of France, Germany, and Austria. Over the next few years, Sherwood spent a total of US$16 million purchasing 35 sleeper, restaurant and Pullman carriages. On 25 May 1982, the first London–Venice run was made.
6. El Transcantabrico Gran Lujo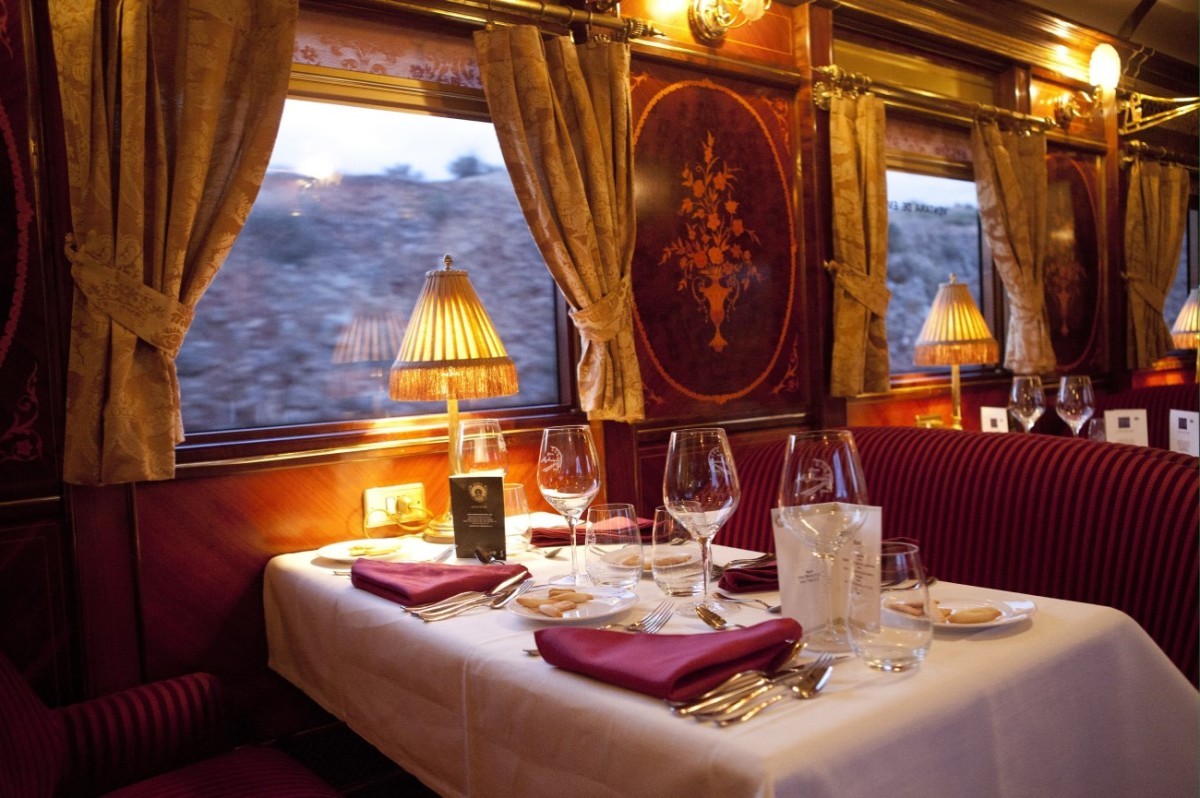 Photo: iberian-escapes
El Transcantabrico Gran Lujo traverses the Atlantic-facing part of Northern Spain known as España Verde, Green Spain, and its hinterland; passengers dine on regional specialties and visit the best local monuments and countryside. Every suite has a private bathroom, some of the best on any European train (equaled only by sister train Al Andalus & the Grand Suites on Venice Simplon Orient Express). A Gran Lujo Deluxe Suite has a private lounge area.
El Transcantabrico Gran Lujo saloons are jewels of railway heritage, four of them being original 1923 Pullman cars. All of the carriages have been specifically renovated.
The route from Galicia to the Bay of Biscay covers Asturias, Cantabria, the Basque Country, Castile and León. All the while, regional gastronomy, art, monuments, and landscapes are presented to travelers from the comfort of a five-star 'train hotel'.
El Transcantabrico Gran Lujo, like the Costa Verde Express, runs on a narrow-gauge railway. Suites are narrower (beds are regular sizes) than on standard gauge trains. Each Gran Lujo suite is half a carriage in length, with bedroom/lounge areas and a private bathroom.
7. Rovos Rail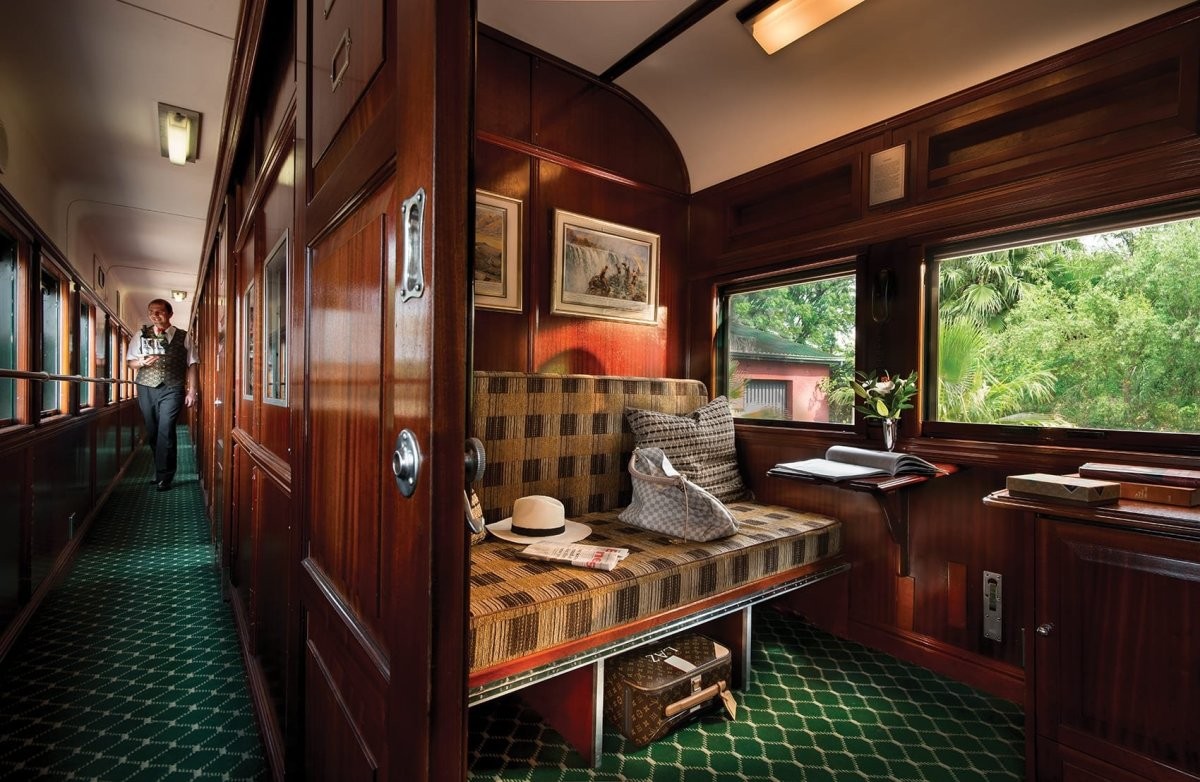 Photo: Travelsmith
Rovos Rail is a private railway company operating out of Capital Park Station in Pretoria, South Africa.
Rovos Rail runs its train-hotel to a regular schedule on various routes throughout Southern Africa, from South Africa to Namibia and Tanzania. The trains consist of restored Rhodesia Railways (NRZ) coaches with two lounges, two restaurant cars, and private sleeping compartments, each with private ensuite facilities.
The train has three types of accommodation on board, the smallest being a Pullman, at 76 square feet; the largest being the Royal Suite, which is half a train car, and 172 square feet. All types of cabins have ensuite shower, sink, and toilet. The Royal Suite also has a Victorian-style bathtub.
The company was started in 1989 by Rohan Vos and is still family owned. Rovos Rail employs a staff of 210, from the on-board staff to those working to restore carriages in the company's Capital Park depot.
8. The Eastern & Oriental Express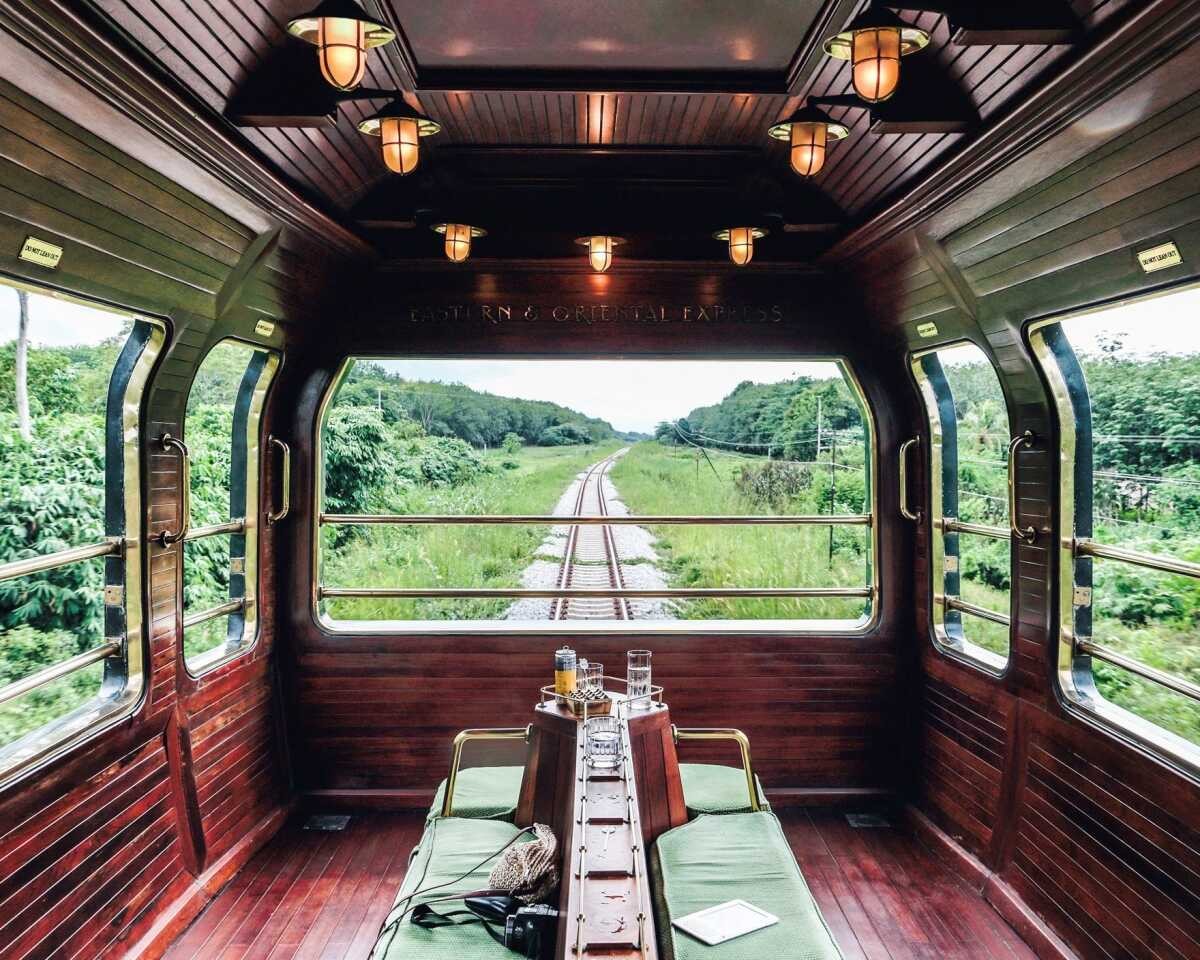 Photo: Jo Rodgers
The Eastern & Oriental Express is a luxury train that carries passengers between Singapore, Malaysia, and Thailand.
It runs between Singapore's Woodlands Train Checkpoint and Bangkok, stopping at Kuala Lumpur, Butterworth, and Kanchanaburi, taking 4 days (3 nights). Since 2007 the train has also travelled between Bangkok and Vientiane, the capital city of Laos.
The train is operated by Belmond Limited. It runs approximately 32 trips that either embark upon or disembark from Bangkok yearly, between the months of September and April, only four are hosted by famous guest chefs such as Ian Kittichai.
Fares on the Bangkok to Singapore train in September 2015 (four days, three nights) start at US$2,690. All meals were included in the travelling fare but alcoholic drinks cost extra.
9. Belmond Andean Explorer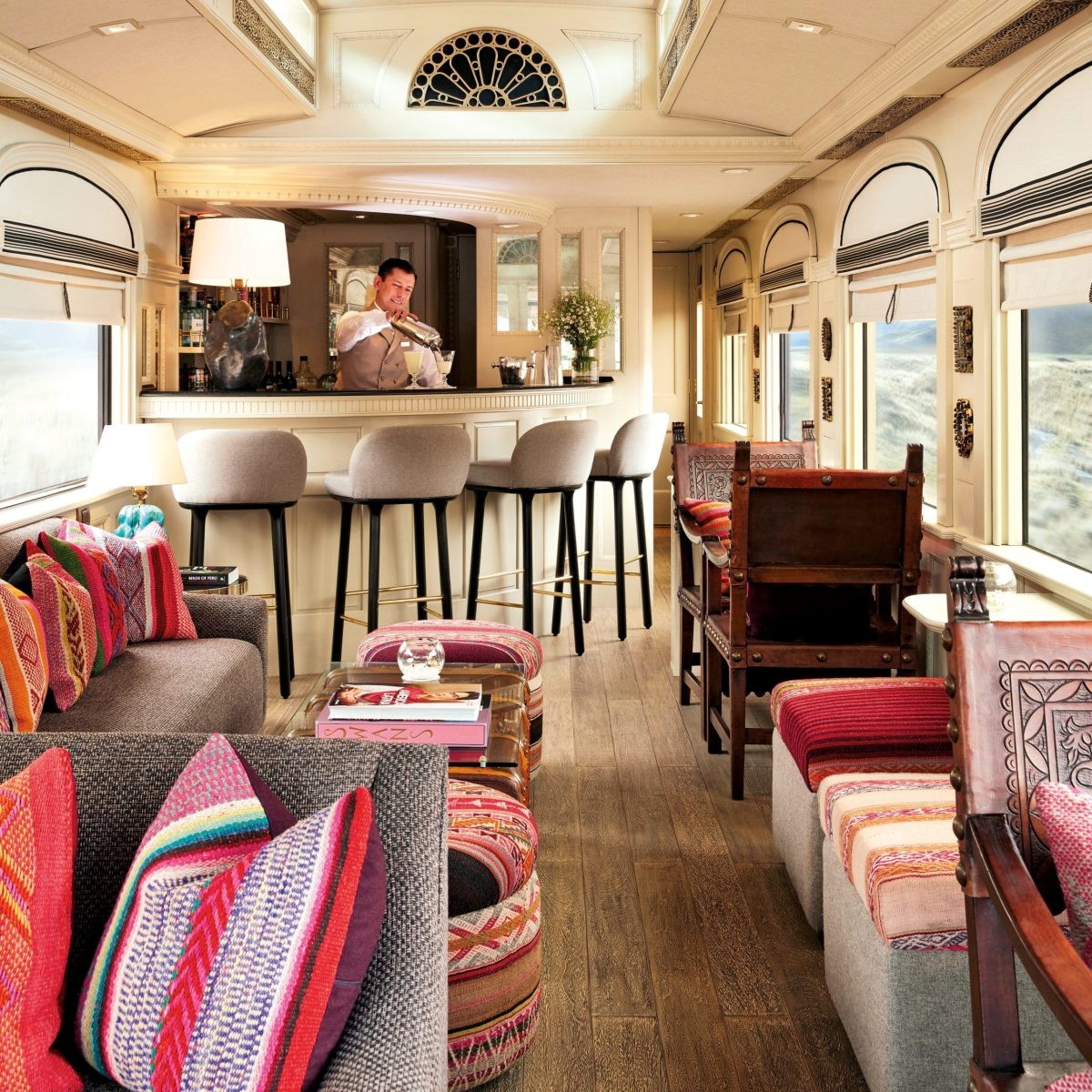 Photo: Elements of Style Blog
Belmond Andean Explorer, launched in May 2017, is South America's first luxury sleeper train. It replaces the eponymous Pullman day train, between Cusco and Puno, at Lake Titicaca. By the new train this trip is converted to a one-night journey, and extended from Puno for another overnight ride to Arequipa.
From Cusco the train climbs to 4,800 metres (15,700 ft) on the Altiplano, before arriving at Lake Titicaca to pause for excursions to floating islands. It then continues to Arequipa, a city with a UNESCO World Heritage Site centre, stopping en route at Sumbay Caves. It is possible to add on a visit to the Colca Canyon, known for its condors.
The trainset used to serve as the Great South Pacific Express in Australia between 1999 and 2003. The since-mothballed carriages were shipped to Peru in February 2016, where they were refurbished. The three accommodation levels of the GSPE with double, twin and bunk beds - all of them with en-suite bathroom - has been kept, as well as the two dining and bar cars, and the last car having an open-air observation deck.
Belmond Andean Explorer is owned by PeruRail, and is a 50%/50% joint venture between Belmond and Peruvian investor Lorenzo Sousa, Founder and Chairman of the Board of PeruRail SA. It will be operated by PeruRail, which also has the Hiram Bingham Pullman train from Cusco to Machu Picchu.
10. The Ghan
Photo: The Ghan
The Ghan is an Australian experiential tourism passenger train that travels between the cities of Adelaide, Alice Springs and Darwin in the Adelaide–Darwin rail corridor. Operated by Journey Beyond Rail Expeditions, its scheduled travelling time, including extended stops for passengers to do off-train tours, is 53 hours 15 minutes to travel the 2,979 kilometres (1,851 mi). The Ghan has been described as one of the world's great passenger trains.
The Ghan was privatised in 1997 and has since then been operated by Journey Beyond Rail Expeditions (formerly known as Great Southern Rail), initially as part of the Serco Group. Great Southern Rail was sold to Allegro Funds, a Sydney investment fund, in March 2015.
The train usually runs weekly. During December 2012 and January 2013 it ran only once every two weeks. Until 2016, a second service operated between June and September. The train stops at Adelaide, Alice Springs, Katherine and Darwin; the stops at Alice Springs and Katherine allow time for passengers to take optional tours.
Each train has 16 to 38 stainless steel carriages, built by Comeng, Granville, in the late 1960s and early 1970s for the Indian Pacific, plus a motorail wagon. The average length of the train is 774 metres (2,539 ft). A Pacific National NR class locomotive, plus a second locomotive if necessary, usually hauls the train, but occasionally another locomotive assists, such as an AN class or a DL class.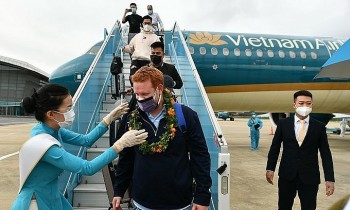 National
Vietnam News Today (Jan. 29): Vietnam records 14,892 new local Covid-19 cases; PM orders prioritizing pandemic control for safe and warm Tet; Vietnam scraps rapid Covid test requirements for int'l passengers; Vietnam-Australia trade hits all time high in 2021.