Top 7 Coolest Treehouse Hotels In The World
Tree house hotels have been around for a while, and it is an interesting change from normal hotel and stay styles. Take a look at these 7 coolest tree house hotels in the world.
Sleep in a bird's nest, airplane, or even a UFO in these offbeat treehouses that will have you going back to nature in a whole new way.
Looking for your next trip to sweep you off your feet? Don't be afraid to go out on a limb and spend some time in one of the world's best tree house hotels. For whatever reason, we love treehouses. But why stay in a traditional one when you can transport your treehouse stay into something, well, otherworldly? Sleep in a geodesic dome, a bird's nest, a converted 727, and even a UFO. Or one that doesn't even have walls–if you dare.
1. Treehotel – Harads, Sweden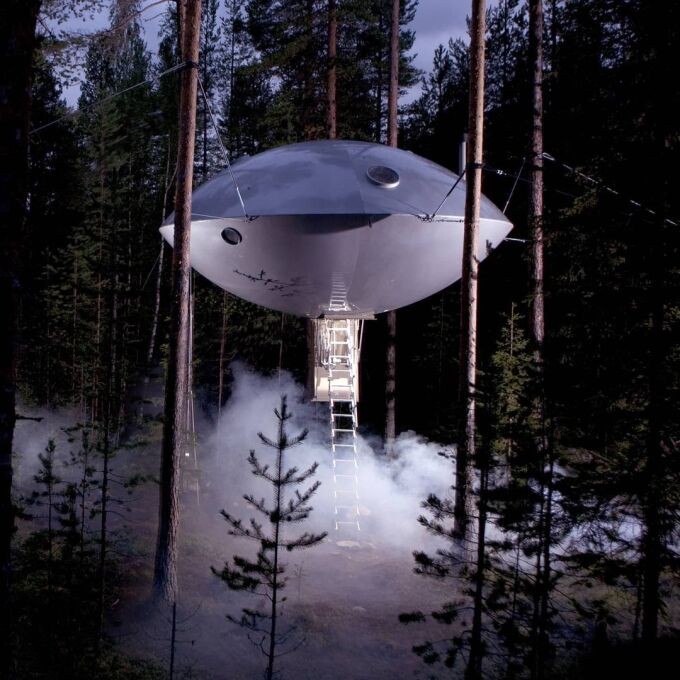 Photo: @treehotel/Instagram
The Tree Hotel offers you the chance to return to childhood fantasies of the ultimate treehouse. All rooms are situated 4-6 meters above the ground among the treetops. Each room is a unique design with hand-picked furniture from local artisans.
The Mirrorcube Room is invisible to the human eye but, incredibly, coated with infrared light to stop birds accidentally flying into it. The UFO Room will inspire your imagination while the Bird's Nest Room is probably the most unusual hotel room you will ever see. Located in rural Sweden, the rich smell of conifer trees and the fresh moving river allows you to adjust to the majestic pace of nature, de-stressing naturally in the good old fashioned Swedish Sauna.
In winter you can watch the Northern Lights ribbon the permanent midnight sky. In spring you can ride a dog sled or in summer perhaps you want to try mountain biking? In the evenings you can retire to the restaurant and a well-stocked bar. The hotel is completely eco-friendly, causing no alteration to the environment it inhabits, using only hydroelectric power, water efficiency, and local labor.
2. Playa Viva – Juluchuca, Mexico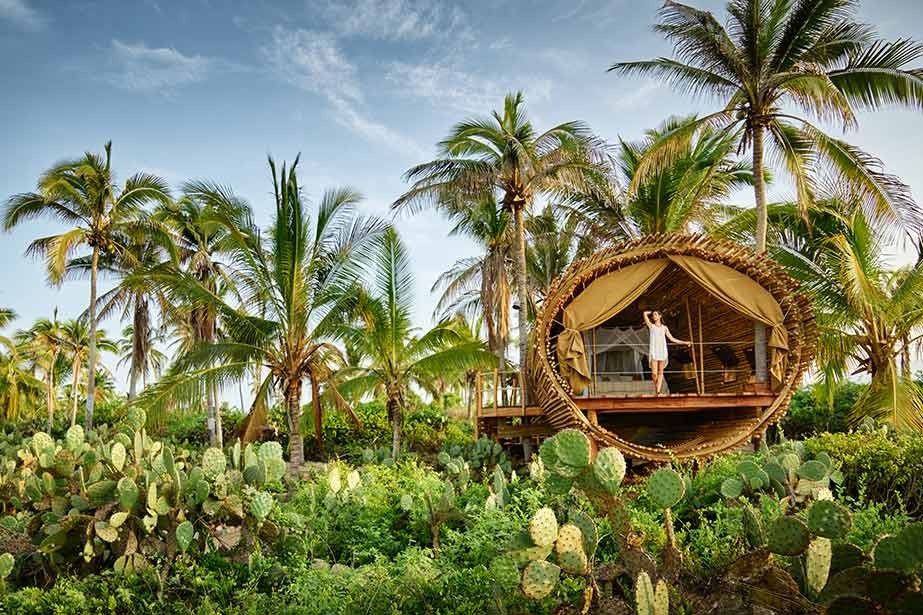 Photo: Playa Viva
Playa Viva is a environmentally conscious luxury resort located near the small town of Juluchuca in Mexico. They've adopted a regenerative model, meaning they go beyond sustainability and work to actively improve and regrow the environment in their 200 acre beachside property. Their motto is "Where Your Vacation Meets Your Values" which is based on aspiring to and achieving both the highest level of sustainability and hospitality.
In 2005, Sandra Kahn and David Leventhal, the founders of Playa Viva, were introduced to the land that would later become Playa Viva. After investing in the property, they began to look at several options for development that would align with their values. Sandra connected with Bill Reed from Regenesis Group who spoke about moving beyond sustainability and moving towards regeneration (making the place better).
By using the Regenerative Development model, they created a set of core principles that they now use in all design and operation decisions. Today, they feel lucky to have the greatest team of people helping them run the resort - folks from the local communities of Juluchuca, Rancho Nuevo and smaller villages up the watershed. They are proud that most all employees are local and they are a woman-run organization.
3. Tree House Lodge – Punta Uva, Costa Rica
Photo: Costa Rica
Tree House Lodge is located in Costa Rica's Southern Caribbean coast. The complex is situated on a 10-acre oceanfront property on the famous Punta Uva beach, just south of Puerto Viejo in the province of Limon. Punta Uva is considered to be one of Costa Rica's most beautiful beaches on Costa Rica's Caribbean Coast. This is the perfect location to just get lost in nature, swimming, and snorkeling to explore the fascinating marine world. Kayaks are available to rent on the beach, for those who wish to explore the surrounding tropical jungle. Hiking in the Gandoca-Manzanillo wildlife refuge, surfing, and whitewater rafting are just some of the additional activities you can enjoy here.
The Tree House Lodge consists of several individual houses that have been entirely built of sustainable woods, obtained out of fallen trees.
The Beach House is the closest to the beach and features views of the ocean. This split-level building is best for families and has a master bedroom on the top floor and an open-air living area containing a double bed, a single bed, a sitting area, and a kitchen on the downstairs.
The Beach Suite includes 3 bedrooms, a wide living room connected to the kitchen and an 800 square foot spectacular doomed bathroom. There is direct access to the beach from the front of the property.
The Tree House combines simplicity with getting back to nature. Perfect for a family (though couples will love the romantic ambiance!), it's a split-level building with a wooden suspension bridge that leads to the front door. The upstairs contains the master suite with a double king-size bed, while the downstairs has a double bed and a single bed, along with a kitchen.
4. Tsala Treetop Lodge – Plettenberg Bay, South Africa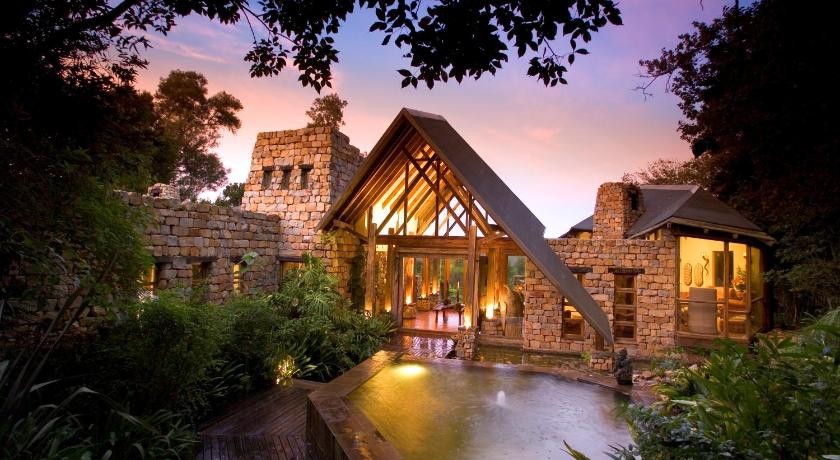 Photo: Agoda
Unique Garden Route boutique resort Tsala Treetop Lodge gives you a bird's eye view of South Africa's indigenous forest canopy from a luxurious stilted hut. Think Tarzan, but with wraparound decking, private infinity pools and flatscreen TVs. Better still, all this back-to-nature wilderness is just 10km from the beaches, bars and boutiques of Plettenberg Bay. Jungle living simply doesn't get more glamorous.
The 10 suites are secluded and cosseting, with private decks looking out over the treetops and infinity plunge pools. Glass walls provide surround-scene forest views and bathrooms have deep, free-standing stone tubs, twin sinks and al fresco showers. In addition, the two-bedroom Villas have kitchenettes, dining rooms, fully stocked minibars, satellite TV, private pools and a decked outdoor dining area.
Tsala serves up modern Euro-African fusion fare, cooked using herbs and vegetables from their own gardens. Other local organic ingredients are sourced from within a 500km radius of the resort.
There's no bar as such, but you can drink sundowners on the restaurant deck (or your own private deck), and Tsala has a fantastic wine cellar: wine-tastings can be arranged on request and the restaurant occasionally holds gourmet wine evenings in winter.
5. Tongabezi Lodge – Livingstone, Zambia
Photo: Uniq Hotels
Set in the shade of a towering grove of ebony trees, Tongabezi Lodge is set on the banks of the mighty Zambezi River. Warm and exclusive, the lodge consists of five River Cottages and six private houses, each of which has a dedicated valet who takes care of guests throughout their stay. Boasting high ceilings and expansive wooden and glass doors and windows, the River Cottages combine authentic local style with a beautifully clean and modern design. Each cottage is an exquisite private haven where both indoor and outdoor spaces are focused on the river flowing by. Whether intended for couples or families, each individually designed house features elegant natural interiors that bring out the beauty of the natural setting.
Delectable meals can be savoured one of three open-air dining decks or in the privacy of your own cottage or house. A shimmering swimming pool mimics the colours of the Zambezi and invites guests to cool off. Activities include game drives, bush walks, canoeing, tours of Victoria Falls and much more.
6. Tranquil Resort – Sultan Bathery, India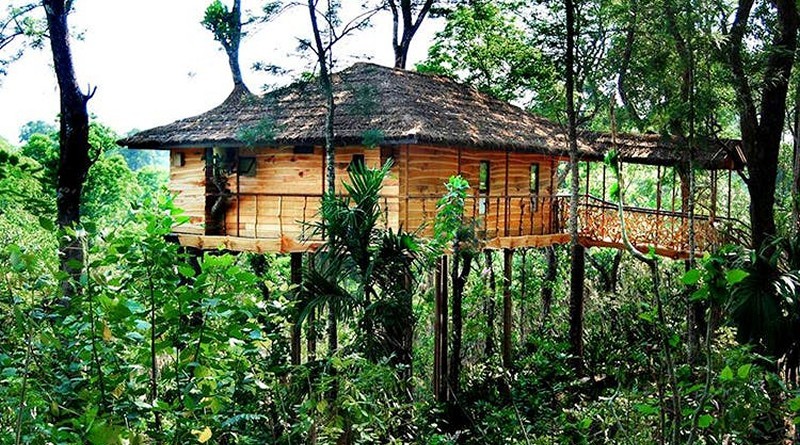 Photo: Kerala Treehouse
There are eight spacious and beautifully furnished, rooms and one tree 'villa', whilst a colonial atmosphere remains in the airy verandas, plantation furniture and open courtyards of the original house. Apart from lazing by the swimming pool, a variety of activities can be arranged, including exploring the plantation, nature treks and visits to the Muthnaga Wildlife Sanctuary or Tipu Sultan's fortress.
Located in southern India on a private 400-acre estate, buried deep in the Kerala rainforest, you'll find Serenetree and Tranquilitree; two very idyllic and spacious tree houses with two very apt names.
At a height of 45 feet from the ground level, the elaborate coffee wood constructions bring you close to all kinds of birds and furry fellas living in the treetops, and a spectacular view of the grounds.
Relax by the pool, try a traditional Ayurvedic massage, or take a tour of the adjoining coffee and vanilla plantation. You might need some peace and quiet after a night's worth of loud monkey-screeching interrupting your sleep.
7. Kadir's Top Tree Houses – Olympos, Turkey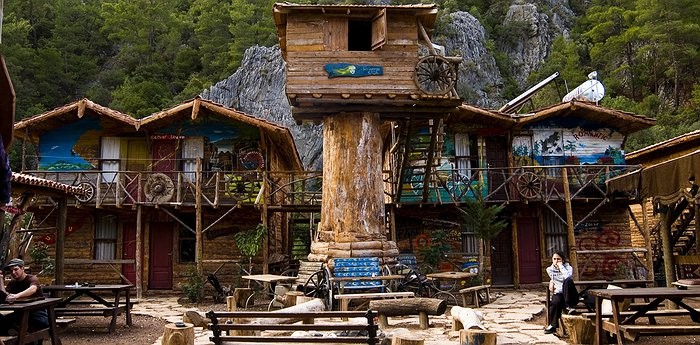 Photo: Uniq Hotels
Imagine the ideal beach with its perfect community of backpackers. Now, if that all happened in Turkey, then you will find something similar to Kadir's. The treehouses are modern yet rustic, with air-conditioning and bathrooms. You could also stay in a beach bungalow.
There is a pizza house, nightclub, two bars, and a restaurant in this family-run resort. With a capacity for over 300 guests in peak season, Kadir's becomes legendary for a party atmosphere. Olympos' amazing beaches are close by, and the warm waters of the Mediterranean are there too clear, clean, and smelling of salt.
You can take part in a plethora of different activities. Olympos is particularly known for rock climbing, and Kadir's offers a special package for climbers. You can also go mountain biking, trekking or do watersports. At night there is a large campfire which you can orbit, sit and relax. Or you could find yourself in a Dionysian dance around the second fire by the world-famous Bull Bar.
Top 7 Best Castle Holidays in The UK

Castles are a part of England's history, many of them stand the test of time and weather, and are turned into luxury hotels, offering nights ...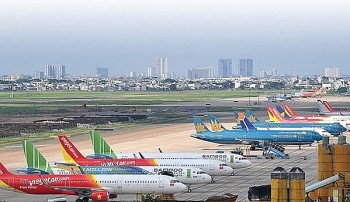 National
Vietnam News Today (Feb. 9): Vietnamese Prime Minister starts official visit to Singapore; Vietnam among destinations for best slow travel holidays in 2023; Vietnamese aviation market predicted to fully recover by year-end; Vietnam weathers crisis to record robust growth thanks to digital boom.