Top Sites to Enjoy Gorgeous White Plum Blossoms in Moc Chau
Moc Chau Plateau is entering the most beautiful days in spring when everywhere is covered with pure white plum flowers. You may take a lot of great shots here, just like you would in a snowy landscape.
Top Sites to Plum Blossoms Watching in Moc Chau
Moc Chau is one of the most attractive destinations in spring for travel enthusiasts in the northern region of Vietnam. Located less than 200 kilometers from Hanoi, Moc Chau is an ideal destination with low cost, mild climate, poetic scenery, and a trending spot for photos on social media. January and February is the time when plum blossoms bloom the most beautifully.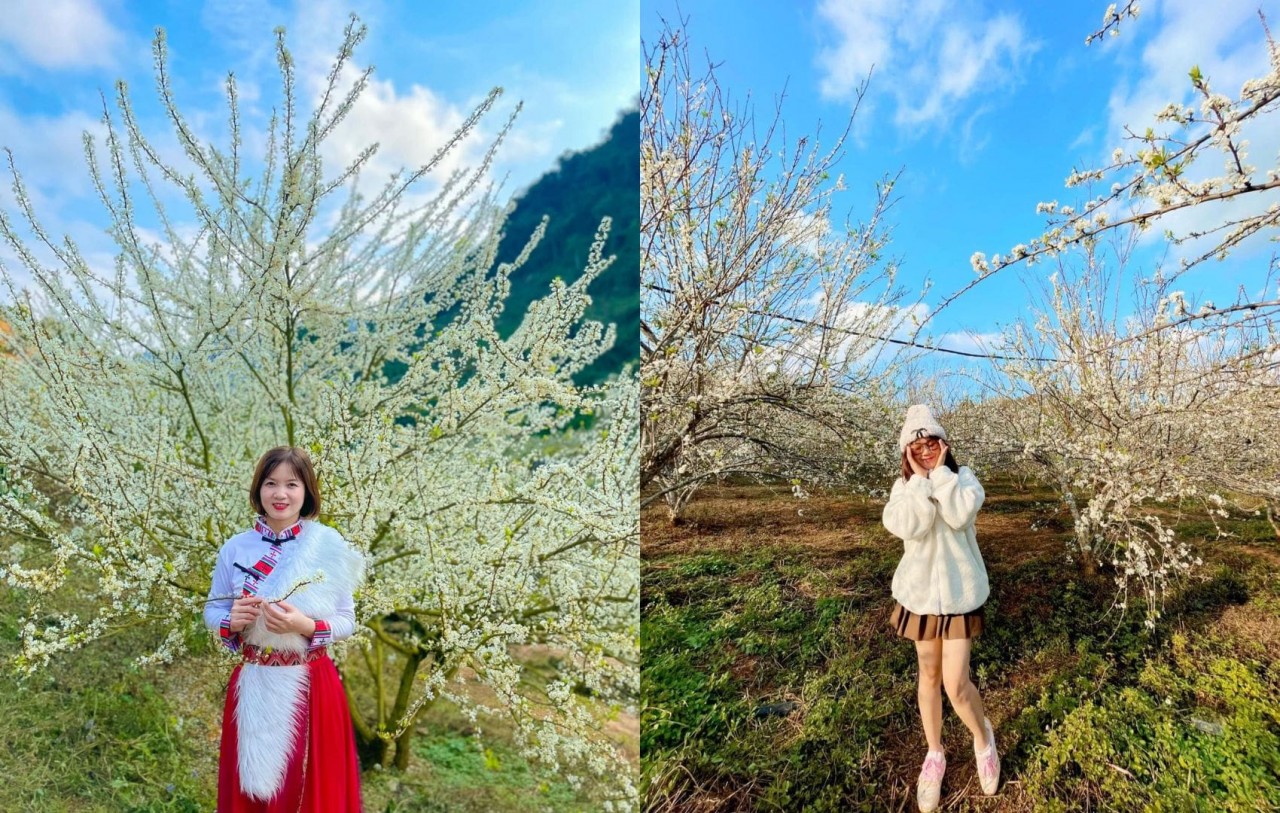 Photo: Nguyen Nga, Huu Nguyen/Facebook
Traveling to Moc Chau
You can go to Moc Chau by limousine bus from Hanoi, which takes about four hours, and pay VND 500.000 (US $21.29) per person. Or you can try a sleeper bus with lower prices. Tickets range from VND 200.000 (US $8.52).
In Moc Chau, visitors can go out by taxi to tourist spots because the weather is quite cold. Or you can rent a motorbike, usually from homestays, which costs VND150,000 (US $6.39) and VND200,000 (US $8.52).
Accomodation
Le Chalet du Lac
Address: No. 13, Po Pip hamlet, Ban Mon sub-area, Moc Chau town, Son La City.
Tel: 0984 855 786
Room price: from VND1,050,000 (US$44.71) to VND1,550,000 (US$66.01)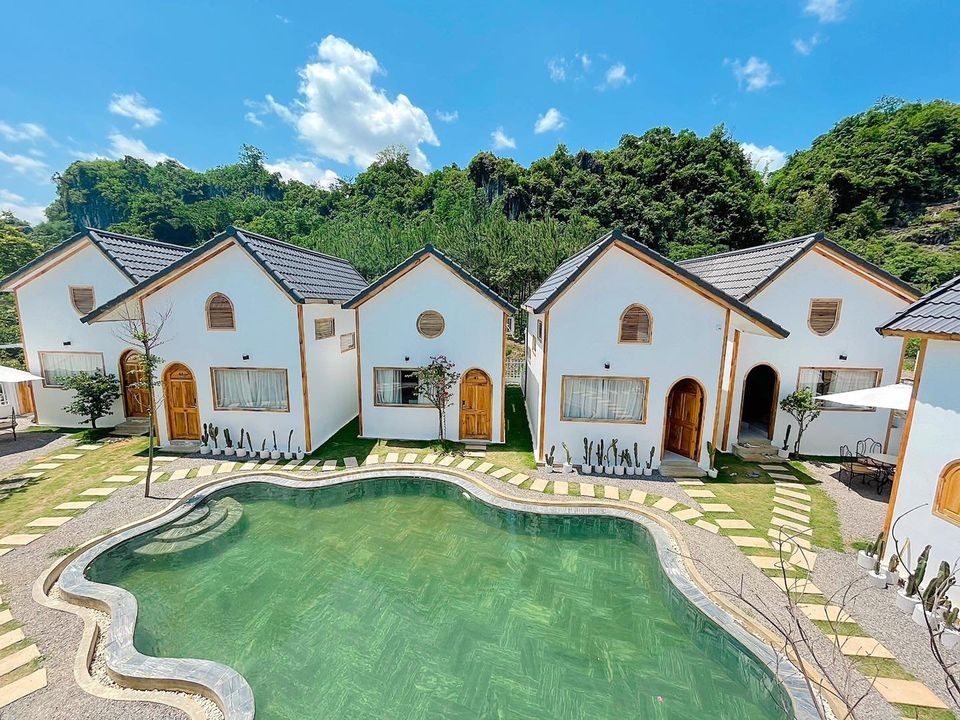 Le Chalet Du Lac Homestay/Photo: Duong Phat/Facebook
Located in the center of Moc Chau town, Le Chalet du Lac is very convenient for visitors to find. The space of each room for two people is quite big with two beds. Besides, this homestay has a large garden, bathtubs, and a swimming pool.
Mận Home - House on the hill
Address: Nam Tom sub-area, Nong Truong town, Moc Chau, Son La city
Tel: 039 389 2897 - 0965545628
Room price: From VND550,000 (US $23.3)
Located on the top of a hill, Mận Home immerses in the poetic and green color of tea. Here, you can easily enjoy the plum blossom season because of the large plum garden around the homestay.
In addition to rooms and dorms, this homestay has camping tents in the garden for visitors to freely choose a form of accommodation. The staff here is very enthusiastic when suggesting the entire Moc Chau travel schedule for guests for free.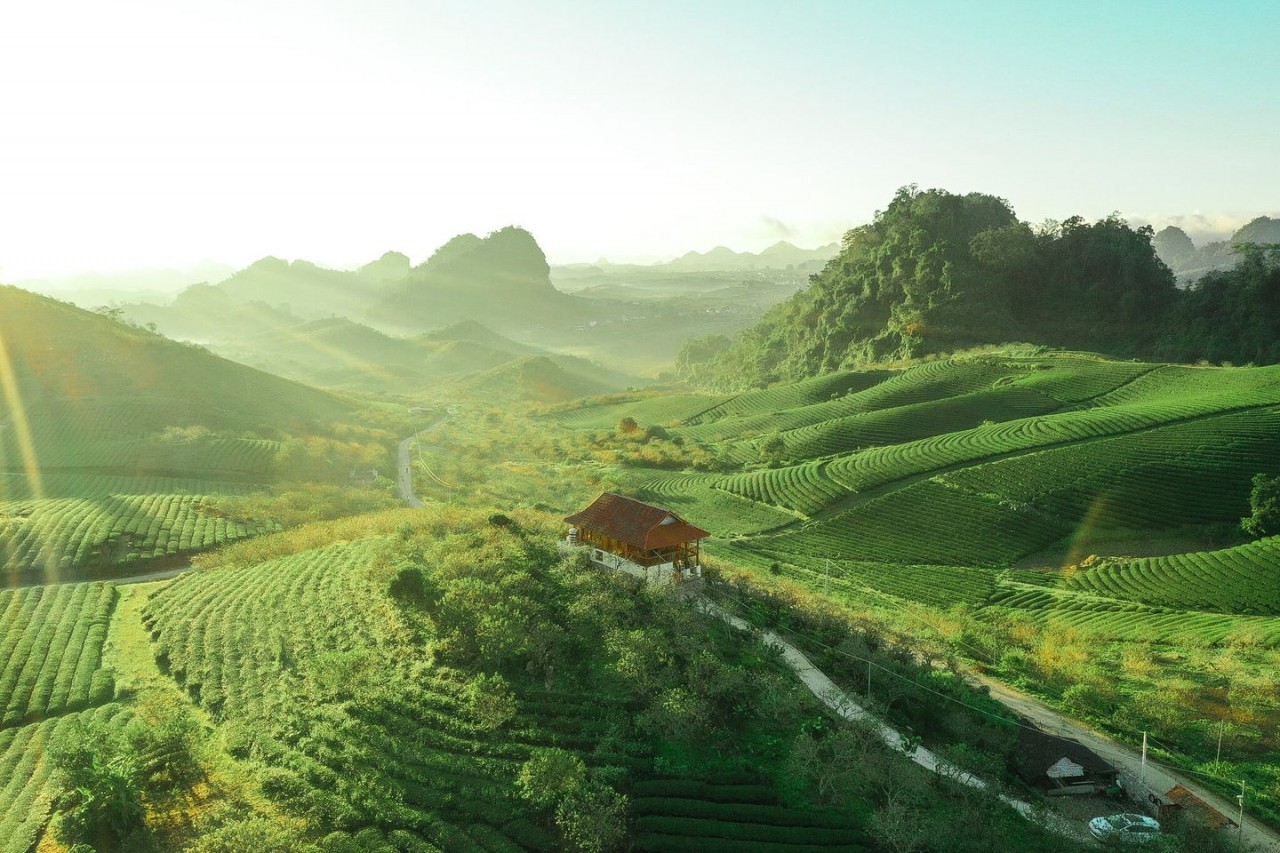 Mận Home. Photo: Mận Home/Facebook
There are also several other accommodation places that visitors can try such as A Vang, Trang A Chu, Moc Suong Hotel, Milk Flower Homestay, Suoi House, Huong Sen Moc Chau Homestay, etc.
Attractions
In February, the weather is dry, cold, and sunny. The daytime temperature is about 12 to 13 degrees. At night, it drops below 10 degrees. Therefore, it is suitable for you and your family to have a trip to start the year.
Visiting Moc Chau at this time, you may admire the beautiful white plum blossom season, which looks like a fairyland. The blooming plum blossoms can last for more than a week. Moc Chau has many plum gardens, namely Pa Phach, Mu Nau, Na Ka, Nam Tom, etc. and visitors can freely take photos.
Na Ka valley
The distance from Na Ka valley to Moc Chau farm town is about 16 kilometers and about 20 kilometers from Moc Chau town. The road here is not beautiful but wide, so large cars can also enter. The parking ticket price is about VND30,000 (US $1.27).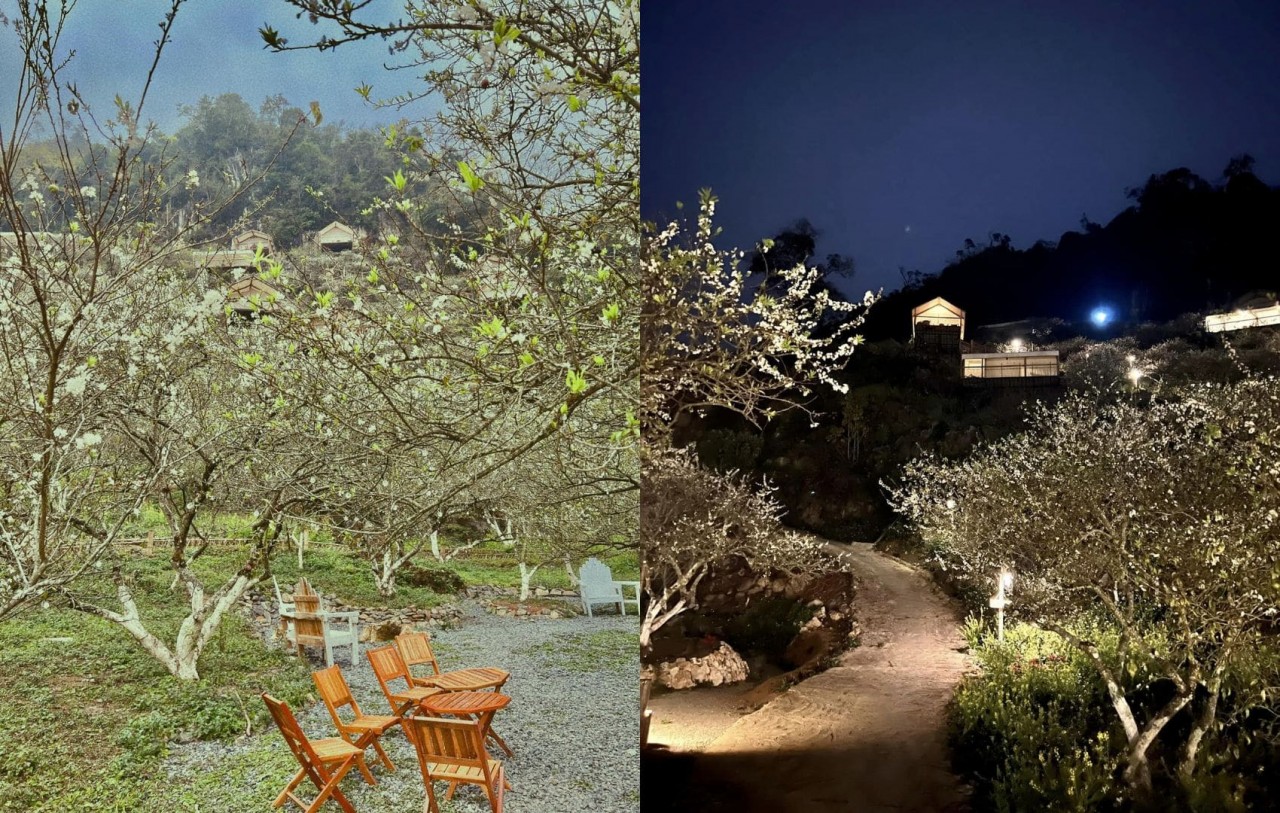 Na Kha valley. Photo: Ha Thanh/Facebook
This is a not-to-be-missed spot if you want to enjoy the plum blossom season because there are hundreds of hectares of plum trees here. The tickets to enter the plum garden are about VND30,000 (US $1.27) per person. If you want to take more interesting photos, you can rent traditional costumes, which costs VND30,000 (US $1.27) per set.
Mu Nau Plum Valley
Located in Muong Sang commune, about five kilometers town center, Mu Nau plum valley is near the Pa Hang junction. There are thousands of plum trees here, so you can take various amazing photos. The path leading to Mau Nau is quite difficult to go through. You can only go by motorbike, and cars must be parked at the foot of the hill.
Pa Phach Village
Pa Phach, a small village of the H'Mong people in Dong Sang commune is about four kilometers from Highway 6. It is currently in full bloom with beautiful white plum flowers. Because the village is located in the mountains, surrounded by limestone ranges and forests, and in the middle of the valley, this place is almost isolated from the outside area. Although the road to the village is a bit difficult, Pa Phach impresses visitors because of its beauty.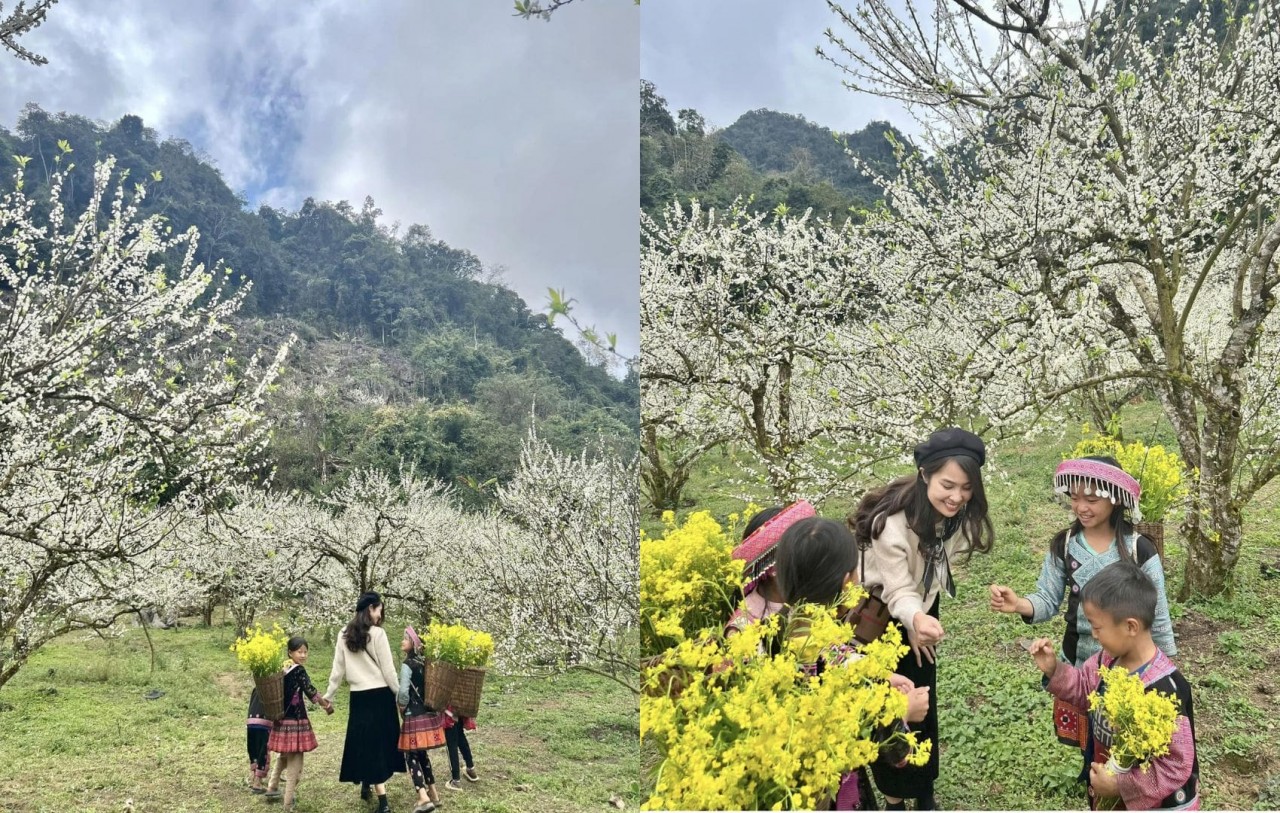 Photo: Ha Thanh/Facebook
Nam Tom Valley
This is one of the most beautiful plum valleys in Moc Chau. Nam Tom Valley this season attracts visitors with thousands of white plum blossom trees on two sides of its roads. There is no fee to enter the plum garden in Nam Tom, so visitors can conveniently stop by anytime on their schedule.
Ngu Dong Ban On plum forest
Plum blossoms here bloom vastly along the road, spreading the white color from the hill down to the valley. Because this place is a bit far from Moc Chau town, you should stop by the heart tea hill before admiring this plum forest.
In addition, when entering the village, you can also learn about the local culture and the Thai people's lifestyle.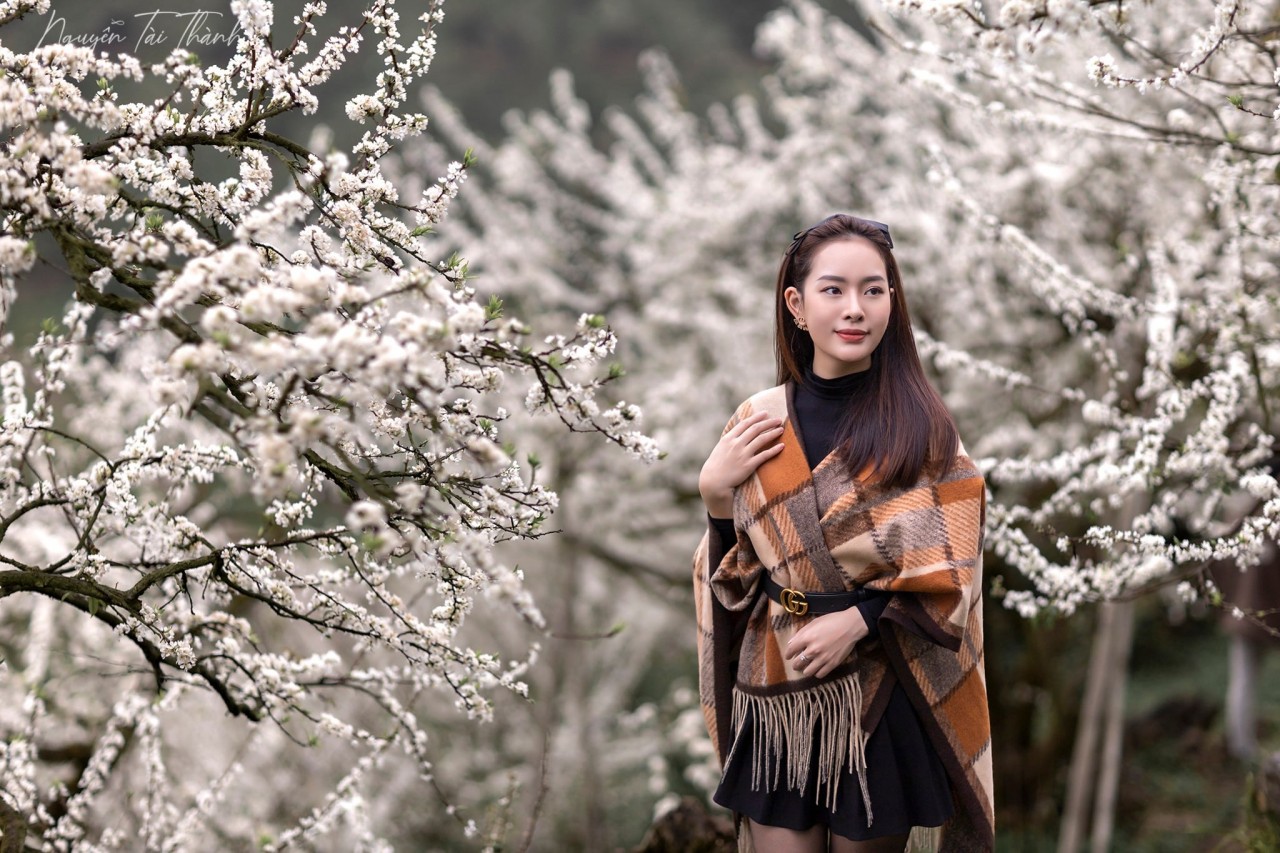 Photo: Nga Ruby/Facebook
The entry fee to the plum garden range from VND20,000 (US $0.85) to VND30,000 (US $1.27) per person. There are spots where you can visit gardens at the ends of valleys for free.
Besides taking pictures and watching plum blossoms, coming to Moc Chau, there are many other beautiful scenes for tourists to visit such as the heart tea hill, the vast green meadow, the fields of white and yellow cabbage blooming throughout the plateau, and the pine forest in Ang village.
In Moc Chau, strawberry is also in the harvest season. Strawberry gardens are in many spots throughout Moc Chau, especially around the pine forests of Ang village and Moc Chau town. Therefore, it is suitable for tourists to visit and buy as gifts.
Visitors can also explore the Dai Yem waterfall, Chieng Khoa waterfall, Nang Tien waterfall, and Pha Luong peak.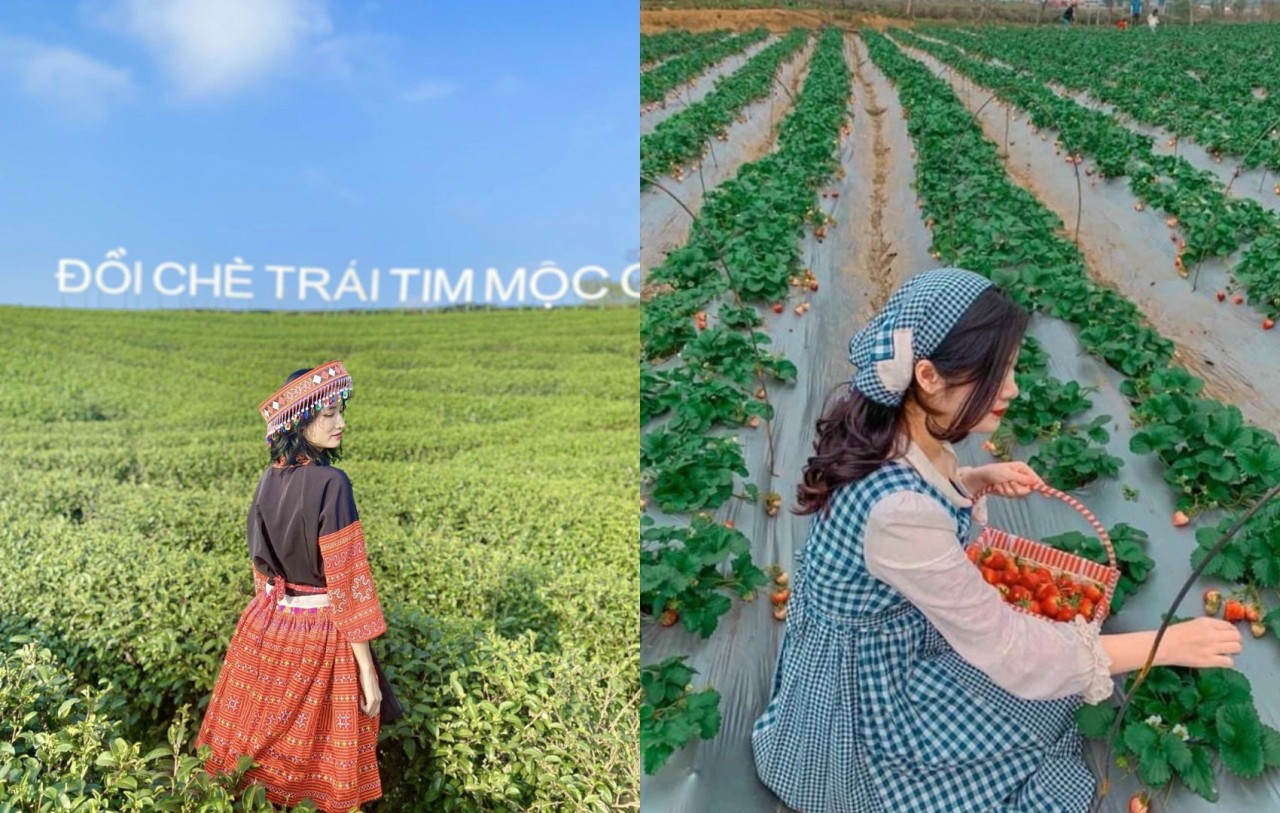 The heart tea hill and strawberry gardens in Moc Chau are also attractive to visitors. Photo: Phuong Thao, Chimi Farm/Facebook
Specialties in Moc Chau
In Moc Chau, visitors can stop to eat stream fish, and taro soup in eateries at 64 and 70 Xuan Bac, and veal hot pot at Dong Hai restaurant. If you want to experience local specialties, you can try restaurants such as Ban Mon Lake Meeting Point - Homestay & Cuisine.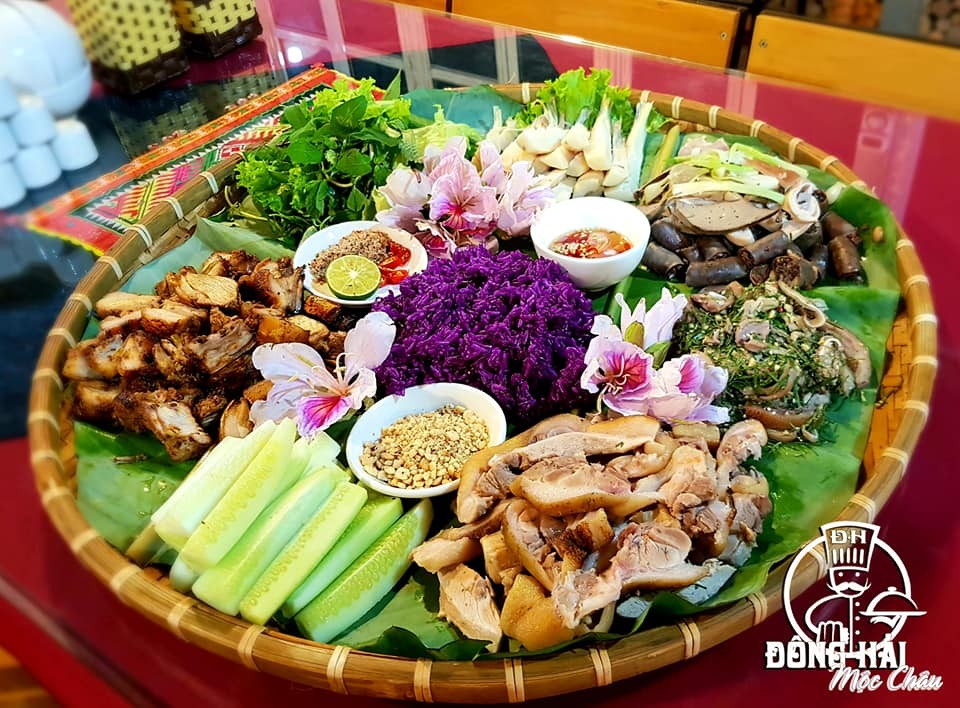 Photo: Dong Hai Restaurant/Facebook
Schedule suggestions
Day 1:
- Move to Moc Chau and check-in accommodation
- Visit Thanh Binh rose garden
- Visit the heart tea hill
- Visit the plum blossom forest at Na Ka plum valley
- Go to a coffee shop to rest
- Visit Moc Chau walking street
Day 2:
- Go to the pine forest of Ang village
- Go to Fairy Waterfall to admire the charming scenery here
- Visit Mu Nau plum valley
- Rest at a nearby coffee shop with a beautiful view.
- Back to Hanoi
Moc Chau Travel Tips for October

Moc Chau does not have canola flowers or plum blossoms in October, but this place is still a destination chosen and loved by many people ...