UKVFTA Strengthens Vietnamese Goods Competitiveness
When the UK-Vietnam Free Trade Agreement (UKVFTA) took effect, Vietnamese goods gradually gained the attention of British importers and consumers.
Iron and steel exports to the UK increased rapidly. Photo: congthuong.vn
Improved competitiveness
With the UK-Vietnam Free Trade Agreement (UKVFTA), in 2021, two-way trade in goods between Vietnam and the United Kingdom (UK) has reached US$6.6 billion, an increase of 17.2% compared to 2020.
Nguyen Canh Cuong, Vietnamese trade counselor in the UK, said that UKVFTA has played a solid "leverage" role. Thanks to the reduction of import tax to 0% after January 1, 2021, many Vietnamese products have a superior competitive advantage in the UK market compared to similar products of China, Thailand, Malaysia, Indonesia. The main reason is that these countries do not have an FTA with the UK.
In fact, after nearly a year of UKVFTA, Vietnamese products with strengths such as agricultural products, instant noodles, dumplings, vegetables and fruits have been on the shelves of mid and high-end supermarkets in the UK.
Many industrial products also had high growth such as Export of iron and steel of all kinds increased by 1,269 %; ceramic and porcelain products increased by 32%; means of transport and spare parts increased by 34%; machinery and equipment increased by 16%. According to Nguyen Khanh Ngoc, deputy director of the European-American Market Department (Ministry of Industry and Trade), it is the bilateral trade support that has helped the two sides make effective use of this agreement.
Vegetables and fruits make good use of the UKVFTA, with the export turnover to this market increasing by 67%.
Dinh Cao Khue, vice chairman of the Vietnam Fruit and Vegetables Association, said that Vietnam has a geographical position stretching from North to South with areas of Luc Ngan litchi, Son La mango, and Binh Thuan dragon fruit.
The Central Highlands region has passion fruit products that can compete with products in South America. Some UK customers are gradually getting used to Vietnamese fruit and vegetable products.
Nguyen Thi Thu Trang, director of the WTO and Integration Center said that UKVFTA is an FTA with a relatively strong advantage compared to other FTAs that Vietnam has signed.
Expanding market share
Currently, the UK Government has implemented the "Global Britain" trade strategy to strengthen exports. This country is also ready to open the domestic market in a "reciprocal" method with foreign partners through FTAs.
Photo: diendandoanhnghiep.vn
Nguyen Canh Cuong said that the UK is enhancing the negotiation of FTAs with 19 countries or alliances of countries, in which, priority is given to major trading partners such as the EU, US, Japan and India.
The UK is also determined to join the Comprehensive and Progressive Agreement for Trans-Pacific Partnership (CPTPP). "At that time, many Vietnamese products in the UK market will have to compete with strong competitors from CPTPP countries," said Nguyen Canh Cuong.
Currently, the Government has issued an Action Program for ministries and sectors to carry out the UKVFTA, and support businesses to seize opportunities.
However, according to Ngo Chung Khanh, deputy director of the Multilateral Trade Policy Department (Ministry of Industry and Trade), there are Vietnamese enterprises doing business in a safe way, focusing a lot on the familiar market, but not the markets that Vietnam has FTAs, including the FTA that has just been signed.
"There are many businesses that are not ready to export to the UK because they are afraid of barriers and high standards. To make effective use of UKVFTA, businesses have to change their thinking, and get out of the safe zone to do business in new markets," Ngo Chung Khanh said.
Enterprises need to organize production according to British and European standards; develop relationships with large distribution corporations.
"If Vietnamese enterprises can maintain the trust of their customers, fulfill their commitments to delivery and ensure quality, the market share of Vietnamese goods in the UK will gradually increase," said Nguyen Canh Cuong.
From March 18, the British Government lifted all regulations restricting international travel. This is a great opportunity for Vietnamese exporters, especially in the context that this country's economy recovers quickly after the pandemic, and the demand for consumer goods increases.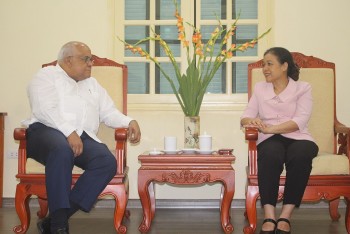 Friendship
Ambassador Nguyen Phuong Nga - President of the Vietnam Union of Friendship Organizations had a meeting and worked with Cuban Ambassador Extraordinary and Plenipotentiary to Vietnam Orlando Nicolas Hernandez Guillen. The two Ambassadors agreed to work closely in organizing solidarity and friendship activities.