UN Women Seeks Ways to Supports Women to Redevelop Livelihoods Post-Covid
A dialogue seeking ways to help women in climate-resilient livelihood restoration, is part of the project "EmPower: Strengthening Human Rights and Gender Equality through Climate Actions and Disaster Risk Reduction".
UN Women and the Vietnam Women's Union recently have co-organized the policy dialogue themed "Supporting women's climate-resilient livelihood development and recovery after the Covid-19 pandemic" in Hanoi.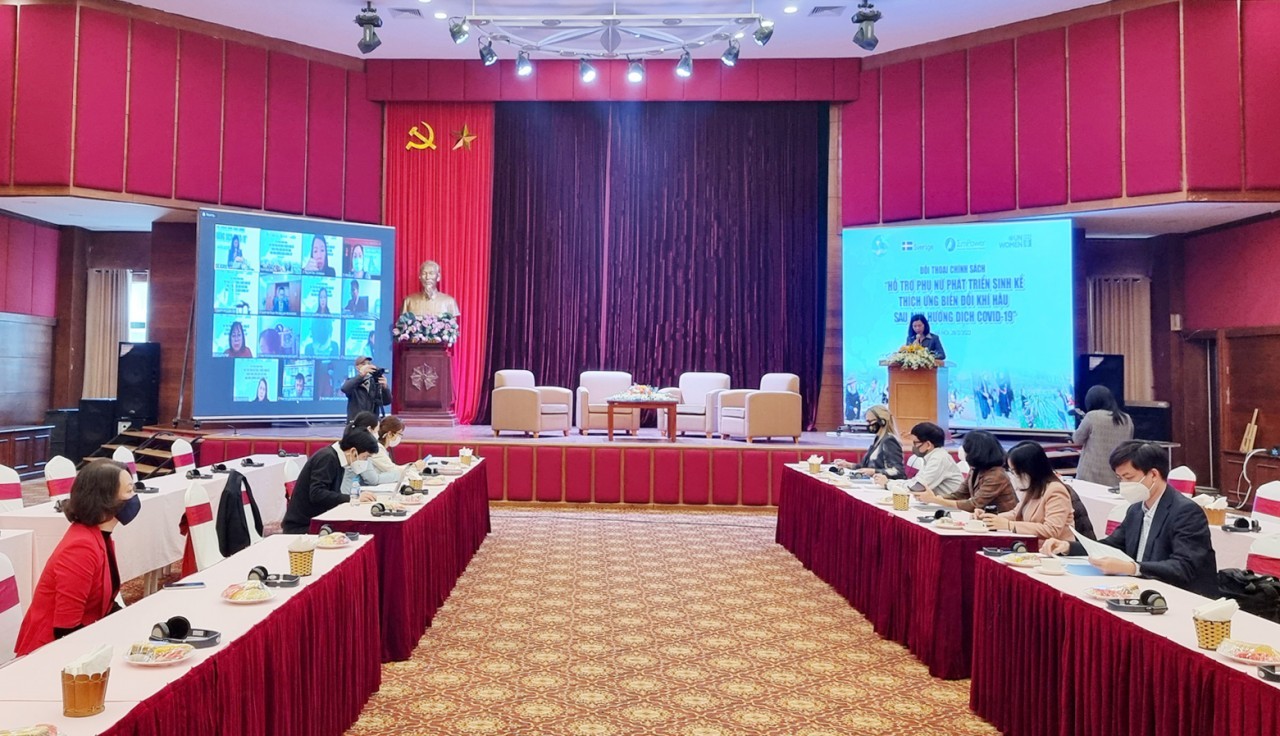 At the event.
Organized in the hybrid format, the event brought together leaders of the Ministry of Natural Resources and Environment, the Ministry of Industry and Trade, the Ministry of Agriculture and Rural Development, the Ministry of Labour, Invalids and Social Affairs, Vietnam Bank for Social Policies and the Vietnam Women's Union; as well as more than 100 virtual delegates from localities.
This is the first event to kick off a wide range of initiatives celebrating this year's International Women's Day (March 3), which are organized by UN Women and funded by the Swedish International Development Cooperation Agency (SIDA).
This is a great opportunity for members of the Women's Union and NGOs to have open discussions with responsible ministries and agencies on barriers and challenges that women face in climate-resilient livelihood development, thus proposing solutions to these issues.
In her remarks at the event, Elisa Fernandez Saenz, Country Representative of UN Women in Vietnam emphasized: "To be most effective, climate, environmental and disaster risk policies and programmes must put women and girls at the centre of the decision-making process."
She also called for gender mainstreaming in policies and programmes on mitigation of natural disasters, climate and environment.
VWU Vice President Nguyen Thi Minh Huong pointed out gender stereotypes about the role, capacity and contribution of women in natural disaster combat and climate change response, stressing women have the capacity to create resources for natural disaster adaptation and mitigation.
Therefore, women should be empowered to meet their own needs, helping themselves, their families and communities cope with extreme weather events caused by climate change, she continued.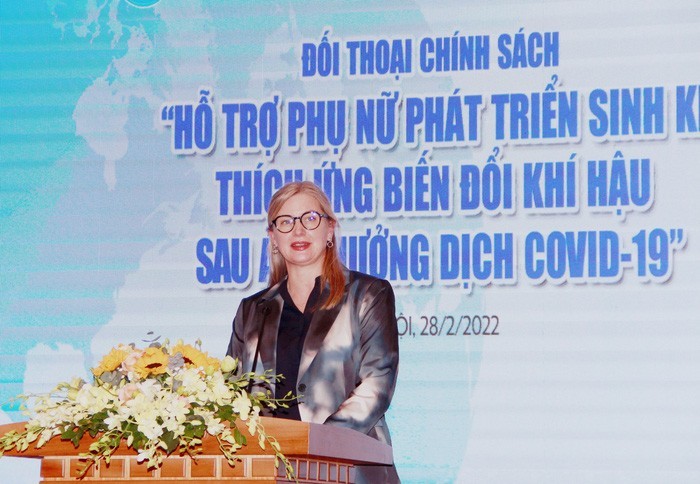 Swedish Ambassador to Vietnam Ann Mawe at the event.
Swedish Ambassador to Vietnam Ann Mawe briefed the delegates on Sweden's "feminist foreign policy," and emphasised the responsibility of policy makers for forming a resilient community.
The Swedish government recently announced a doubling of climate change financing contributions to $1.75 billion by 2025, making Sweden one of the highest contributors to climate finance compared to with per capita.
"Climate change is a challenge in today's times. It is our responsibility to create resilient communities, so that they not only recover from disasters, but also ensure that gender disparities are not exacerbated," emphasized Mawe.
More than 100 virtual participants from provinces and cities also asked many questions to the guests, revolving around the difficulties and challenges that women face in the process of developing their livelihoods to adapt to climate changes such as: access to engineering and technology, linkage in production, processing and consumption of agricultural products, access to capital to invest in machinery technology for women-owned enterprises and cooperatives ownership, vocational training programs and green job for women, and policies and programs on climate change adaptation and mitigation that prioritize women.