UNDP, Embassy of Sweden Launch National Consultations in Vietnam Towards Stockholm+50
The Embassy of Sweden, the UN Development Programme (UNDP), and the Institute of Strategy and Policy on Natural Resources and Environment (ISPONRE) held the official establishment of the Stockholm+50 National Consultations in Vietnam in Hanoi on April 13.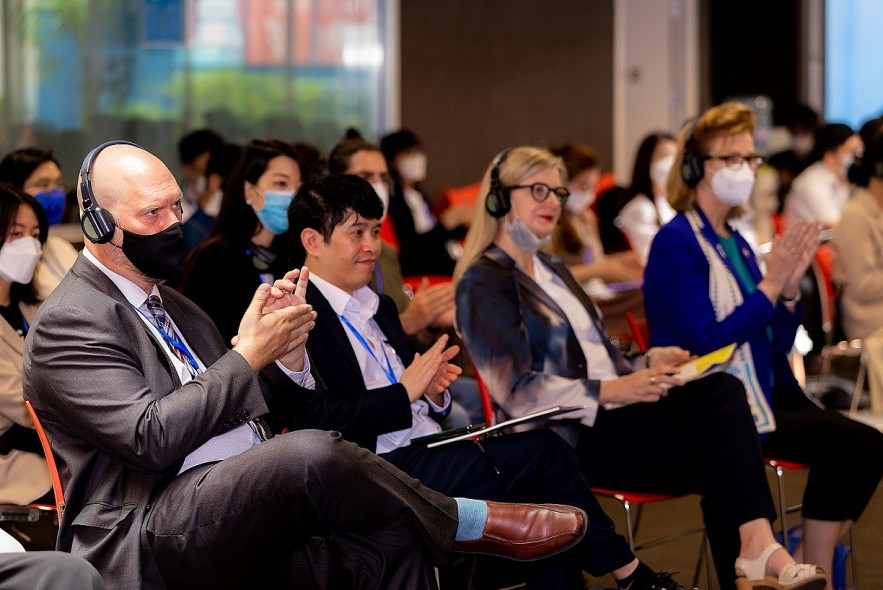 Event's speakers.
The series of events, which will last till June, aims to bring the views of the Vietnamese people to Stockholm+50, a global stage on the key challenges that people and the planet are facing.
"Stockholm+50 aims to significantly contribute to hasten the necessary green and sustainable transition. Time is running out and the global challenges we face must be met with a collective response that drives action on the ground," said Swedish Ambassador to Vietnam Ann Mawe at the event.
She quoted late Swedish Prime Minister Olof Palme's saying: "The future is common. We must share it together. We will create it together," to emphasize the importance of international cooperation in dealing with environmental challenges.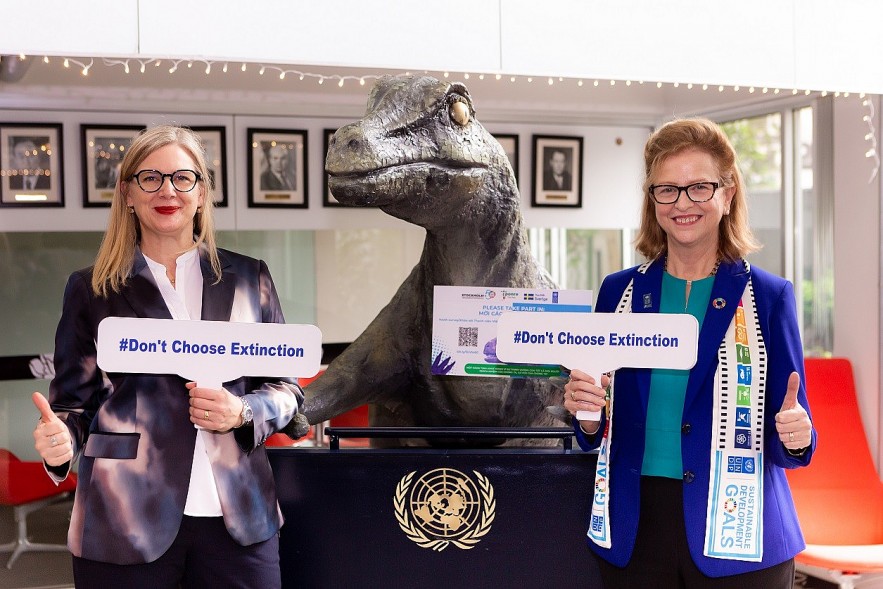 Swedish Ambassador to Vietnam Ann Mawe (L) and UNDP Resident Representative Caitlin Wiesen (R).
UNDP Resident Representative Caitlin Wiesen advises that national consultations will address areas critical to a just climate transition in Vietnam and achieves the Prime Minister's bold commitments made at COP26 to zero net carbon emissions by 2050.
"The consultations will grapple with three questions: First, what nature-based solutions will reverse dangerous environmental trends in Vietnam. Second, what actions will ensure a green and just energy transition that creates sustainable opportunities to lift millions out of poverty. And thirdly, which leveraged actions would accelerate a circular economy and address unsustainable consumption patterns as Vietnam realizes its full economic potential," said the representative.
Analyzing Vietnam's effort to promote green growth, Assoc Prof. Dr. Nguyen Dinh Tho, Director General of the Institute of ISPONRE said: "Recently, the government of Vietnam has made strong commitments to and determination in protecting natural resources and environment as well as responding to climate change, thus contributing to the global joint effort to develop circular economy towards net zero emissions."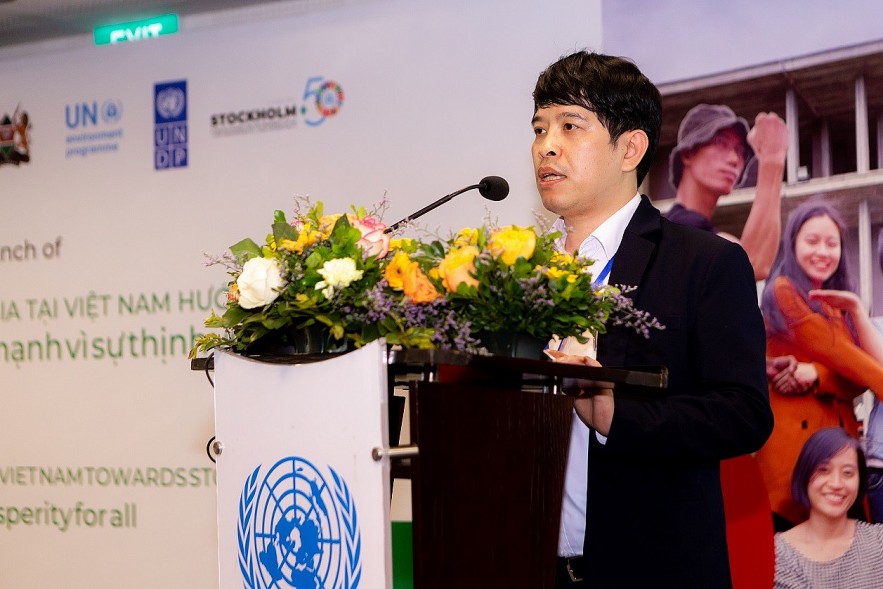 Assoc Prof. Dr. Nguyen Dinh Tho, Director General of the Institute of ISPONRE.
At the event, attendees were introduced to the famous UNDP short film showing a dinosaur bursting into the iconic General Assembly Hall at UN Headquarters in New York, delivering a speech about environmental protection. Frankie the Dino made a special guest appearance with the message: Don't choose extinction, save the human species "before it is too late".
Regarding UNDP and Vietnam's cooperation in promoting sustainable development, UNDP Resident Representative Caitlin Wiesen said: "UNDP has been working very closely with the government and many different sectors of Vietnam. One of our works is addressing the climate vulnerability of Vietnam, in which we work with local communities as the frontline people affected by natural disasters, such as storms, typhoons, and floods. We have been looking at an integrated package - building housing on one hand and restoring mangroves on the other hand."
"We help the government access the vertical funding of the Green Climate Fund, 60 million dollars, to address the issue in coastal areas and the central highland," she said, adding that UNDP places focus on water management and capacity improvement for smallholder farmers in the central highland.
UNDP also concentrates on Just Energy Transition, which is crucial to Vietnam's green growth and Circular Economy, an important part of UNDP's effort to eliminate waste and pollution, according to Wiesen.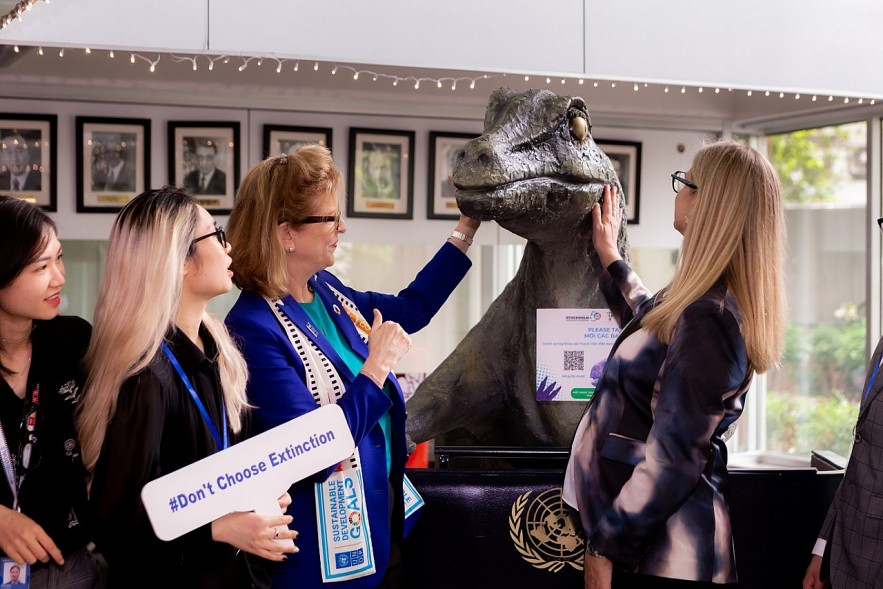 Delegates take a photo with Frankie the Dino.
As an important partner of Vietnam in sustainable development and one of the largest contributors to global climate funds, Sweeden hopes Vietnam will be able to access resources from those funds to implement its fuel transition commitment, said Swedish Ambassador Ann Mawe.
Regarding Vietnam-Sweeden's people-to-people exchanges on the field, the ambassador stated that the upcoming Stockholm meeting was not only for political leaders but also for businesses, societies, and young people. Thus, she hopes the Vietnamese delegation to the meeting will include young representatives to interact with young people from Sweeden and other countries to discuss the environmental issues.
In 1972, leaders from 113 countries came together in Stockholm, Sweden, for the first-ever United Nations Conference on the Human Environment, concluding that humanity's own activities are the principal determinants of our future. Now, 50 years later, the world faces a triple planetary crisis of climate change, pollution, and biodiversity loss, as well as other global issues, including the Covid-19 pandemic.
The UN General Assembly has decided to convene a high-level meeting entitled "Stockholm+50: a healthy planet for the prosperity of all – our responsibility, our opportunity", to define urgent, concrete actions we as a people can take to protect our planet to ensure a strong, long-term foundation for a green, inclusive future. The meeting will be hosted in Stockholm, Sweden, on 2-3 June 2022 by the Government of Sweden, with support from the Government of Kenya.
Prior to the main conference, an inclusive process will be held to collect the opinions of people around the world. Vietnam is among 58 countries to organize multi-stakeholder national consultations to inform the discussions at the global conference. In collaboration with partners, UNDP will conduct a series of national consultations in Vietnam.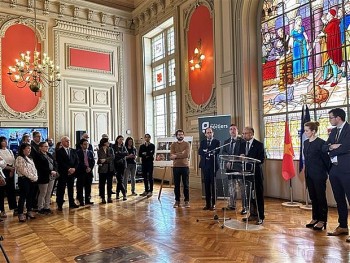 National
Vietnam News Today (Mar. 26): Vietnam and Thailand promote labour cooperation; Vietnamese, French localities look to step up cooperation; Attractive incentives on offer at Hanoi Tourism Festival 2023; E-commerce accounts for 60% of Vietnamese digital economy.