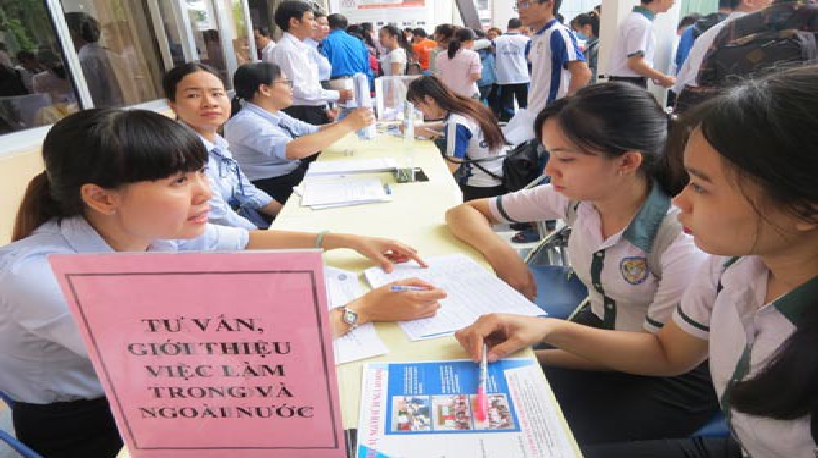 A job consultation and introduction session (Photo: baodautu)
The unemployment rate in Vietnamese urban areas in the second quarter jumped to the highest in the past decade due to the adverse impact of the COVID-19 pandemic, the General Statistics Office (GSO) revealed.
The national jobless rate in the first half of this year was estimated at 2.26 percent, as compared with 1.99 percent recorded last year. The rate in urban and rural areas stood at 3.26 percent and 1.59 percent, respectively.
The average monthly wage of labourers in the second quarter was also lowered to only VND 6.3 million VND (USD 273), down 2.78 percent year-on-year.
Meanwhile, their average monthly income in the first half was VND 6.7 million (USD 290), down 0.16 percent as compared with the corresponding time last year, the office reported.
It estimated the Q2 labor population of 15 years and above at 53.1 million people, down 4.32 percent over the same period last year. For the first six months, this figure was 54.2 million, representing a year-on-year decline of 2.34 percent.
The GSO calculated the labor force participation rate for the January-June period at 73.8 percent, down 2.8 percentage points year-on-year.
In the first half, 565,000 people received unemployment benefits, a year-on-year rise of 32 percent.
The government has paid VND 7 trillion (USD 300 million) in benefits, a 40 percent increase, the office said.
More than 29,200 firms temporarily suspended operations in H1, a hike of 38.2 percent year-on-year. (Photo: vov)
Statistics show more than 29,200 firms temporarily suspended operations in the six months, a hike of 38.2 percent from the same time last year.
Some 19,600 others stopped operation and are waiting for dissolution procedures, down 10.2 percent over last year.
Earlier, the GSO unveiled that Vietnam' gross domestic product (GDP) expanded 1.81 percent during the first six months of 2020, the lowest first-half growth pace since 2011.
In the second quarter alone, the GDP rose by just 0.36 percent year on year, which was also the smallest expansion in Q2 during the 2011 – 2020 period, it said./.
Rosy Huong