US Ambassador to China to retire next month
US Ambassador to China Terry Branstad will retire from his position as US envoy and depart Beijing in early October.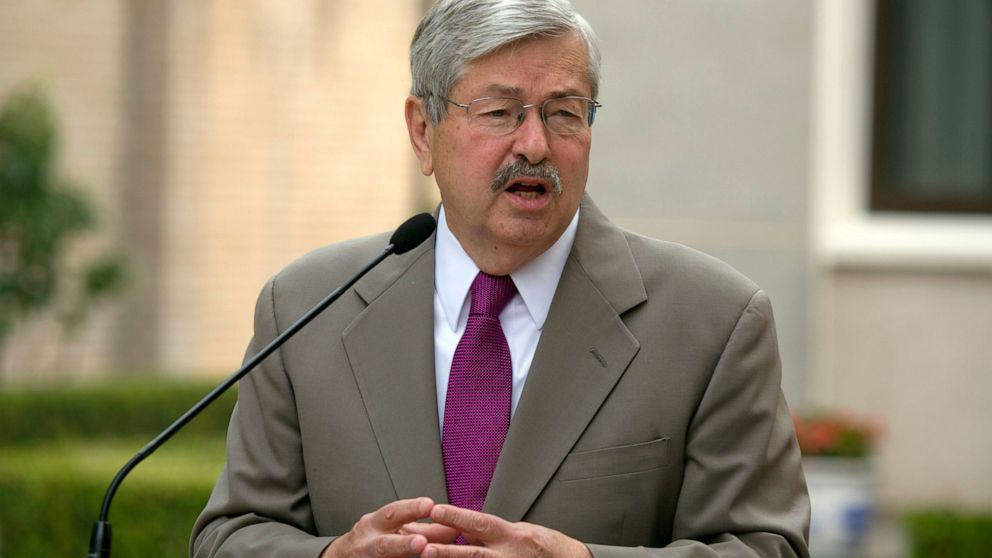 US Ambassador to China Terry Branstad. Photo: AP
The US ambassador to China will step down early next month amid a spiralling rivalry between the world's two largest economies.
"US Ambassador to the People's Republic of China Terry Branstad will retire from his position as US envoy and depart Beijing in early October," the US Embassy and Consulates in China said in a statement. The Ambassador confirmed his decision to US President Donald Trump by phone last week.
Ambassador Branstad and family arrived in China in June 2017. In an internal "Town Hall Meeting" at the US Embassy on September 14, Ambassador Branstad thanked the staff of the US Embassy and Consulates in China for all of their hard work.
"I am proudest of our work in getting the Phase One trade deal and delivering tangible results for our communities back home. Our goal remains meaningful, measurable results for American families. We have made significant progress and we will not stop pressing for more."
The Ambassador helped lead the embassy's successful effort to reduce the flow of Chinese fentanyl to the US, according to the statement. In 2018, following months of negotiations, China agreed to schedule fentanyl and all its derivatives as a controlled substance. The agreement will likely save thousands of American lives.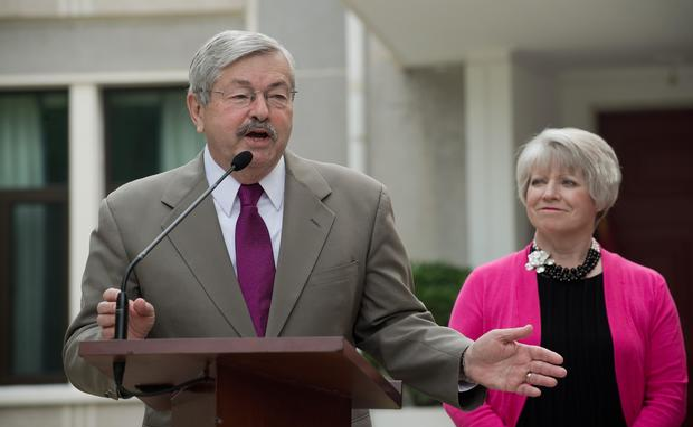 US Ambassador to China Terry Branstad speaks to the media next to his wife Christine during a news conference at his residence in Beijing, June 28, 2017. Photo: AFP
The Ambassador noted that it has been an extraordinary honor to represent the US President and the American people over the last three years and three months.
"We are rebalancing the US-China relationship so that it is fair and reciprocal and can fuel positive growth in both countries." He also noted that during his tenure he travelled to 26 provinces and autonomous regions in China, and would have visited all of them if COVID-19 had not limited his domestic travel: "Getting to know the Chinese people, meeting them in their homes and hearing their personal stories, has been one of the great privileges of this job."
US Secretary of State Michael R. Pompeo thanked the Ambassador for his service via Twitter, saying that Ambassador Branstad's contribution to the rebalancing of US-China relations will have lasting, positive effects on US foreign policy in the Asia-Pacific for decades to come.
The Ambassador will return to Iowa after leaving Beijing.
Chinese People's Daily refuses to publish article by Branstad
Branstad was embroiled in controversy recently when the Communist Party's official People's Daily newspaper rejected a column he had submitted in defence of Trump's tough approach on China, titled "Resetting the relationship based on reciprocity," according to South China Morning Post.
Pompeo strongly criticised the party mouthpiece, saying it exposed Beijing's hypocrisy and fear of free speech and serious intellectual debate.
Chinese foreign ministry spokesperson Zhao Lijian responded that Branstad's article was "full of loopholes, seriously inconsistent with facts and wantonly attacks and smears China," AP said.
The US Embassy had contacted the People's Daily on Aug. 26 about the piece, asking that it be printed in full without any edits before Sept. 4, the People's Daily said in a statement posted online.
Does Trump want him back to help campaign in Iowa?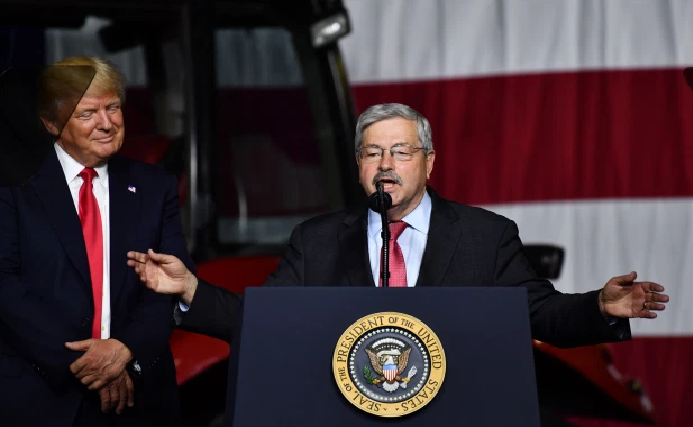 US President Donald Trump is introduced by US Ambassador to China Terry Branstad before speaking at Kirkwood Community College. Getty Images
Branstad, 73, is a native of Iowa and was governor of the major farming state for 22 years over two spans, from 1983 to 1999 and 2011 to 2017.
A source familiar with the move says Trump wanted him back in the US to help campaign in Iowa. Branstad had told the President in recent months as they discussed his departure that he wanted to stay on in his role through the agricultural purchases that happened over the summer.
The Trump campaign believes that Branstad could have an impact on voters in Iowa, Wisconsin, Missouri and even Minnesota, according to two sources familiar.
"He still plays well in the Midwest. He has high name ID and is probably the best person to talk about the China influence," said a source close to the Trump campaign.
Biden and Trump remain in a very tight race in Iowa, according to polls over the last few months. Trump won the state by about 10 percent in 2016.
It is unclear if someone told Trump that it would be a good idea for Branstad to come back and campaign or if the President came up with the idea on his own.
One of Trump's first ambassadorial picks
President Xi Jinping and Terry Branstad (right) in 2017. Branstad's term as US ambassador to China will end in October. Photo: AP
Branstad was one of then-President-elect Trump's first ambassadorial picks in December 2016, shortly after Trump won the US Presidential election, CNN reported.
Trump said at the time that the then-Iowa governor was picked for his experience in public policy, trade and agriculture, as well as his "long-time relationship" with Xi, whom Branstad had known since 1985 through US-China government exchanges.
During that period, the two were believed to have maintained a friendship of sorts, with Xi meeting again with Branstad during a visit to the US in 2012 while still vice-president.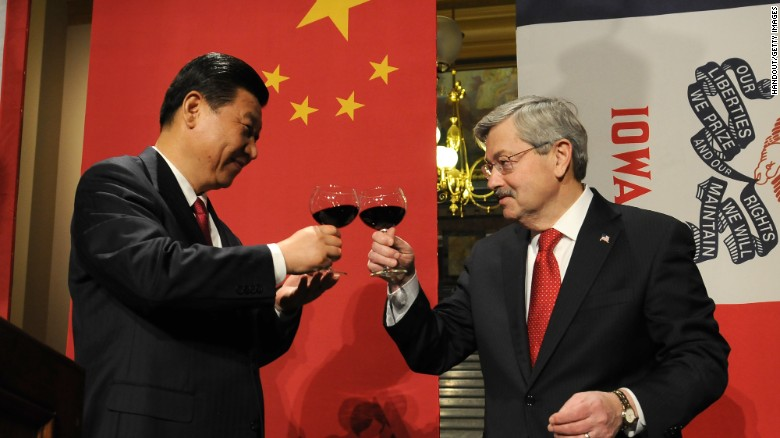 Then-Chinese Vice President Xi Jinping and then-Iowa Governor Terry Branstad raise their glasses in a toast at a state dinner on February 15, 2012 in Des Moines, Iowa. Photo: CNN
Originally Branstad's appointment was welcomed by Beijing, with Chinese Foreign Ministry spokesman Lu Kang lauding him as an "old friend of the Chinese people."
But Branstad has overseen one of the rockiest periods of US-China relations in recent history. Since his appointment, the Trump administration has placed tariffs on hundreds of billions of dollars of Chinese goods as part of a long-running trade war. It has also banned Chinese technology firms such as Huawei from the country's communications infrastructure and receiving US components, and tightened visa restrictions on Chinese state media journalists working in the US./.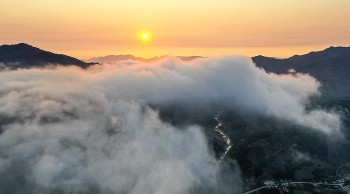 Multimedia
The gorgeous dawn behind a sea of fluffy white clouds creates a wonderful and beautiful picture of Truong Son Dong peak, Quang Ngai.