US – funded project helps develop rattan, herbal plants in Quang Nam
About 2,500 residents in mountainous districts of central Quang Nam province, mostly women and impoverished ethnic minorities, are expected to get stable jobs and higher income thanks to a US-funded sub-project.
Illustrative image (Source: baoquangnam.vn)
The sub-project, worth 57 billion VND (2.45 million USD), was recently launched by the Vietnam Handicraft Exporters Association (Vietcraft) and Truong Son Xanh (Green Annamites) – a project on climate change response funded by the US Agency for International Development (USAID).
The sub-project will be carried out in Dong Giang, Tay Giang, Nam Giang, Nui Thanh and Phuoc Son districts for a year starting from September 2019.
More than 600 households in the target localities will be supported to plant 100 hectares of rattan and exploit 50 hectares of rattan in wild forests sustainably. They will also receive training on making rattan and bamboo handicrafts.
Notably, showrooms will be set up to display the handicrafts, serving community-based tourism.
Under the sub-project, a centre will be established in Hoi An, a popular tourist destination in Quang Nam, to design and promote the handicrafts.
According to Le Ba Ngoc, Vice President of Vietcraft, rattan in wild forests in Quang Nam province is on the edge of exhaustion. Meanwhile, there is a huge demand for rattan to serve handicraft production to replace plastic products.
Therefore, the sub-project will contribute to giving a facelift to the bamboo and rattan craft in Quang Nam, while improving locals' awareness of forest protection, he said.
Besides, the sub-project will help develop the cultivation of local herbal plants in forest and persify herbal medicine products in the localities, focusing on intensive processing.
VNF ( VNA )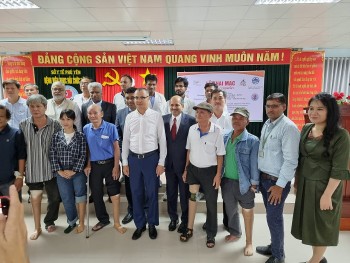 Friendship
This is the 5th time the Jaipur Foot Artificial Limb Fitment Camp has been held in Vietnam since 2018 by the Indian Ministry of Foreign Affairs, Indian agencies and organizations.