US, Vietnam Customs Work to Reduce Congestion at Vietnam's Busiest Container Port
Ensuring quick customs clearance at Cat Lai Port helps to limit goods congestion, ensuring smooth import and export activities and facilitating production chains in Ho Chi Minh City and the southern region.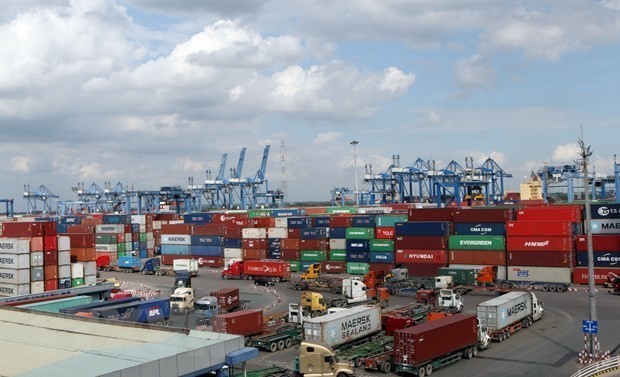 At Cat Lai port. Photo: VNA
The United States Agency for International Development (USAID) and the General Department of Vietnam Customs (GDVC) released an action plan for reducing congestion at Cat Lai Port - the largest and most modern container port in Vietnam.
The action plan, unveiled at a workshop co-organized by USAID and GDVC on May 19, contains 21 recommendations to help position the port to meet increasing demand.
Before Covid-19, the port was operating at full capacity, with demand as measured by container volume expected to double by 2030.
The workshop brought together more than 70 representatives from Vietnam Customs, ministries, and the business community to discuss the action plan—the result of a Pre-Feasibility Study on Anti-Congestion and Facilitating Trade Logistics at Cat Lai Port conducted by the USAID Trade Facilitation Program between May 2020 and March 2021.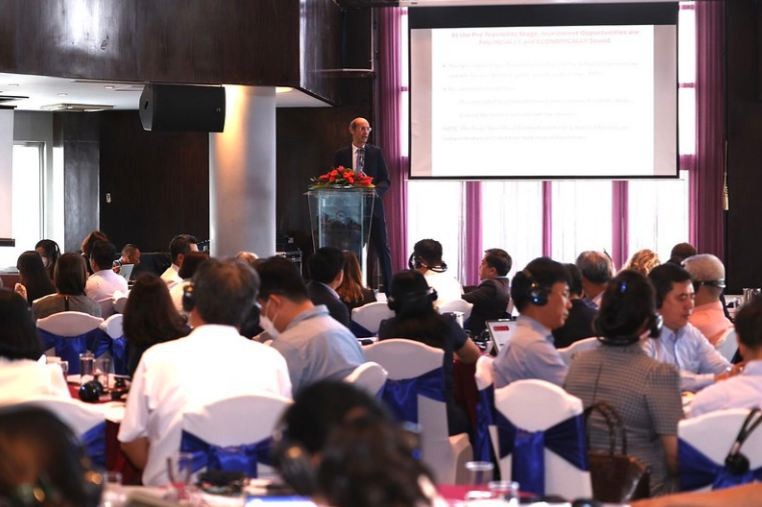 At the workshop. Photo: USAID Vietnam
The study takes a comprehensive look at the 160-hectare port's operations, to assess performance, bottlenecks, and constraints to increasing port handling capacity, and offers 21 recommendations in the form of an action plan for government and local stakeholders to consider.
These recommendations range from leveraging IT solutions to enhance information flows and cargo clearance, to new or expanded port facilities and improved operational performance.
In addition, through USAID's INVEST project, USAID is working with the Ministry of Transport's Vietnam Maritime Authority to examine likely areas for public-private partnership, which is an effective way to mobilize investment for large-scale infrastructure projects.
Director of the Ho Chi Minh City Customs Department Dinh Ngoc Thang said that to ensure smooth operations at the port, the department has implemented several measures to speed up goods clearance, introduced quick response teams, on-the-spot teams, and consulting groups, and encouraged online declarations.
They aim to reduce procedures and apply IT to further shorten the time of procedures, reduce travel costs for businesses; reduce cargo congestion at Cat Lai Port and traffic around it; improve the level of satisfaction of enterprises with the process of carrying out customs procedures; enhance national competitiveness, generate state budget revenue, develop sustainable economy; raise the Vietnam's rank in Logistics Efficiency Index and the Cross-border Trade Transaction Index.
"With the above advantages, the project to build a system of convenient customs services, with the goal of reducing 70% of time for customs clearance of goods, saving costs for businesses and society is estimated at VND 5,000 billion/year. At the same time, improving regional connectivity, increasing the ability to circulate import and export goods from Cat Lai Terminal to the belt area and neighboring provinces," said Thang.
"As international trade recovers from the impacts of Covid-19, addressing congestion at Cat Lai Port has become a priority. When implemented, the anti-congestion measures identified at today's workshop will facilitate international trade, contributing to Vietnam's competitiveness both in the region and in the world," said Mai Xuan Thanh, GDVC Deputy Director General.
"Easing congestion at Vietnam's ports will become increasingly important as trade rebounds in the post-Covid-19 environment. The Cat Lai Port Pre-Feasibility Study conducted by USAID recommends an action plan for Vietnam's busiest container port to help position it to handle a projected surge in container volume. This effort reaffirms our ongoing commitment to support the Government of Vietnam in its efforts to facilitate trade and investment and increase its competitiveness," said Ann Marie Yatishock, USAID/Vietnam Mission Director.
Approximately 4.9 million 20-foot containers (TEUs) are handled in Ho Chi Minh City each year, which equates to about three million trucks, or more than 8,000 trucks per day transiting in and around the city to discharge or load containers from the port area. Cat Lai Port handles over 92% of this volume and roughly 50% of the country's total container volume.
The five-year, US$-21.7 million USAID Trade Facilitation Program (2018-2023) is supporting the Government of Vietnam to adopt a risk-management approach to customs and specialized inspection, strengthening implementation of the World Trade Organization's Trade Facilitation Agreement.
The program works with the Ministry of Finance's GDVC to standardize customs procedures, strengthen national and provincial coordination, and build the capacity of customs officials. The aim of the program is to support Vietnam in developing a more attractive trade and investment climate for enterprises, traders, and investors.